75 + 140 points
December 26th, 2007 12:28 PM / Location: 37.749889,-122.4040


On a wall in my neighborhood, there was a bunch of graffiti. The city decided that they ought to cover it over with vague rectangles of gray. This of course is much more palatable to the discerning plebeian.

One recent evening, while feeling a sense of pride and ownership over my homestead and its surroundings I found my self with one very large permanent marker.

Upon looking at each rectangle I reflected on how they were each unique and asymmetrical, yet all obviously similar. That sentiment reminded me of mustaches. Admittedly, mustaches are often on my mind. But I thought that it would be especially appropriate to highlight the personality of each rectangle by issuing a different variety of mustache to each one. It is an ongoing project and has turned into one which is collaborative. I have had guests to my home and roommates assign appropriate facial hair to the gray frames.

Most recently Mryna Minx was visiting from St. Louis. I handed her the pen and it seems that her pride for St. Louis overtook the artists appreciation for upper lip facial hair. Instead, my neighborhood is graced with an image of The Jefferson National Expansion Memorial (aka: "The Arch"). Taking a step back she said with a shrug "It could be a really long Fu Manchu". I agreed, and I think that it suits that particular gray rectangle.

Having lived in the neighborhood for the last couple of years I feel that the mustache tattoo is particularly suiting. The myriad ethnicities and cultures provide for all sorts of mustache sizes and style.

The cohabitaters of my abode are considering other notions of modification of this particular wall. We've considered giving each rectangle a gold frame. Other suggestions are quite welcome.
Up and Down Mustaches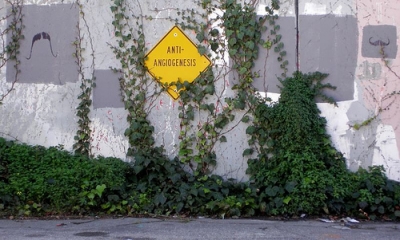 Anti-Angiogenesis: This would be the Neighborhood Tattoo from our neighbors. The meaning? I'll let you figure it out.
28 vote(s)
Favorite of:
Terms
(none yet)
11 comment(s)