25 + 40 points
January 23rd, 2017 11:51 AM / Location: 37.756741,-122.4510


Introduction

I wander back into what remains of this once-great civilisation, with no idea whether there is anyone still around to observe me. But it doesn't really matter if nobody sees. I'm doing this for me, and if anyone else stumbles across it that's just a bonus. If they don't, maybe

I win

. Either way, I couldn't let my final contribution to this society be a

long-abandoned attempt at a webcomic

. I needed to write a more fitting conclusion to the story of Sombrero Guy, and if it turns out to be a long rambling mess, so be it!

I've tried to explain SF0 to people in the past, and I assume they just think, "so it's a game that you used to play." But it was so much more. It was a unique community, a way of life that I allowed myself to get far too heavily invested in. And then it started dying. Others had found new directions to take their lives in, new challenges to conquer; but I wasn't ready to move on. I couldn't let it go.

So I tried to keep going. And it worked for a while, there were still a few players around and even new people joining who seemed promising. But it couldn't last. The player base had dwindled and the game could not sustain itself. And life got in the way, as it had for everyone else. I never really left, I just stopped. To this day, SF0 is still my homepage; I never found anything worthy of replacing it, so every time I open an internet browser I am reminded of it. And it's nice to think that if it did ever come back to life, I would know almost immediately.

But why have I returned now? Well, recently I was given an opportunity to visit San Francisco. Back in the day I thought it would never happen; it was such a faraway place and one filled with the history and legends of this great game. Of course, as soon as I found out I would be able to go there my head started filling with ideas; to fit in a bit of

tourism

, or

install some clocks

, or maybe

have a picnic on the BART

. Unfortunately I was going to be very busy during the week of my stay and I had to plan around the academic conference which was bringing me to the city in the first place, which didn't leave much time to fit things in. So I needed to temper my expectations and plan something simpler. I realised what this was: a pilgrimage. Not an extravagant collection of mind-blowing tasks, but the story of a journey to the place where it all began. And of course, while I had no plans to actually

plant flags

, I knew what the final destination of my pilgrimage would be.

When the time came, I was accompanied by my small gnome sidekick. With my trademark hat being too big to fit in my luggage, someone had to come along and wear one!

Part 1 - The Sutro Dérive

In the afternoon of my first day in San Francisco (after sleeping through the morning to recover from the long flight and accompanying jetlag) I had some free time. I decided to explore the city a little, with the goal of setting eyes on that famous Tower which adorns the logo of this game. I had only a vague idea in which direction the Tower lay from my hotel, so I decided the most appropriate approach was to just walk out and let the city guide me in reverence to that great tradition of

dérive

.

I was expecting it be be easier to spot the Sutro Tower; it is on top of a large hill, after all. But due to the terrain of the city and the height of the surrounding buildings, this afternoon excursion took me much further than I'd thought it would. My starting point was Hotel North Beach at the intersection of Kearny Street and Columbus Avenue, on the edge of Chinatown. I knew that my target was roughly southwest of here, but also that the goal for now was merely to see it, not necessarily to get anywhere near it. And I was also interested in looking around Chinatown, so I followed this instinct and set off westwards.

After perusing the shops and bakeries of Chinatown (I have very few pictures from this day, unfortunately) I continued west. The reasoning was simple: hills!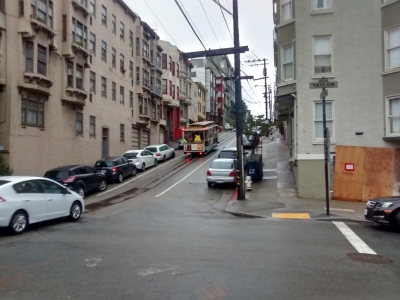 A very San Franciscan image, the long hill with steep roads and the iconic tram (or cable car, as they are called locally) on the track down the middle. And I was hoping this famous geography would help me to achieve my goal. I planned to get as high up as possible following the roads, from where I would surely be able to spot the Tower.
But it didn't work. I got up to the top and there was no sign of it. I could look back down at the city behind me, but the surrounding buildings didn't allow much of a view anywhere other than down the straight lines of the roads.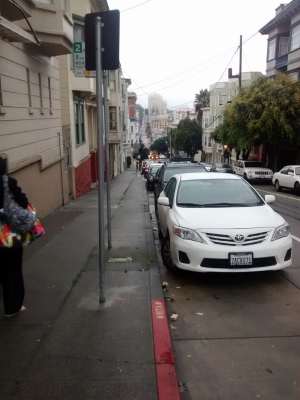 I continued west down the other side of Nob Hill while considering my options. From what I remembered of the map I'd glanced at earlier, the road I needed to get to for a chance at a straight line view to the Tower was Market Street. That was a long way south from where I'd ended up, but I wasn't about to give up. I ended up walking down Polk Street, a road lined with many bars and pubs. And outside every one was a huge number of people dressed in Santa costumes.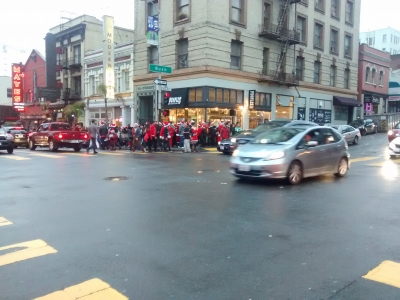 Navigating the crowds of red-clad revellers was a slow process. It was like this for a dozen or so blocks, until the pubs and bars gave way to some high-rise office buildings and then this: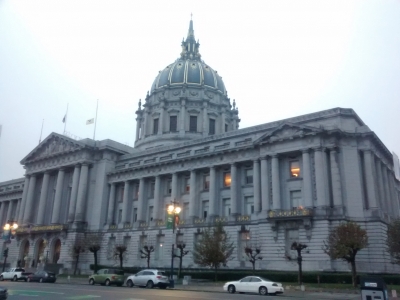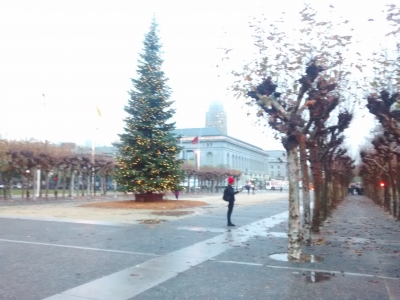 The City Hall, and a large square opposite with a Christmas tree. There were some other interesting buildings around, so I deviated from my southward path to investigate what seemed to be a theatre district, including this Symphony Hall, which is the only photo I have from the area.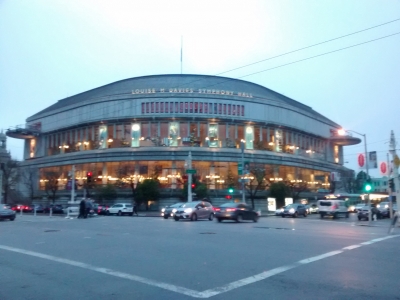 After a little more wandering, I finally made it to Market Street, where the famous cable cars were in operation.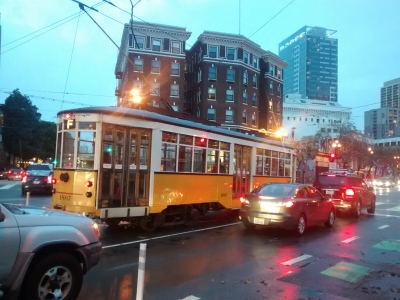 It was starting to get dark, but luckily I didn't have to go very far before a hill started to appear from behind one of the buildings, and I saw in real life for the first time a very familiar silhouette: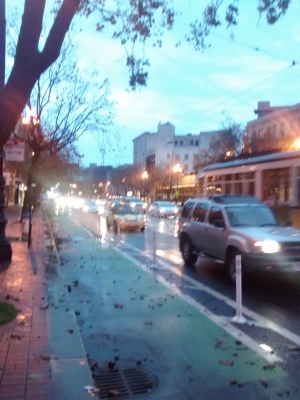 I went a little further to get a good view. I was finally successful! The
dérive
was at an end and I could head back for a well-deserved meal in Chinatown. But I knew that this was just the first step of course, and at some point before leaving this city I was going to have to climb that hill!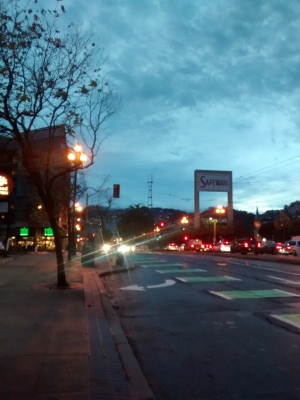 Intermission
The rest of the week was taken up by the conference (the Fall Meeting of AGU, for those who are interested). I enjoyed a week of scientific presentations and discussion with not much time for anything else. I caught no more glimpses of the SFZerian world within the city during this time, and it was only at the end of the last day of the conference that I was finally given a reminder of my mission. And what a reminder it was! Having left the Moscone Center after a very enjoyable session of presentations in the
up-goer five
format, I joined a couple of colleagues for a drink at the Top of the Mark. The sun was setting, and I was treated to a stunning view which my phone camera does not do justice: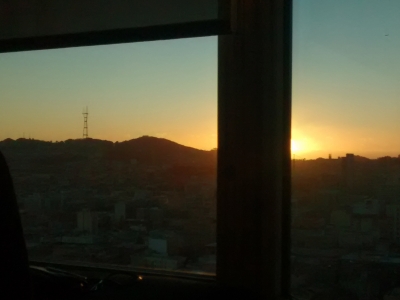 I've had a very similar (albeit more close-up) photo as one of my desktop backgrounds for many years, and to see in person the beautifully colourful sky as a backdrop to the silhouette of the Tower was truly amazing.
The conference over, I had two days left before flying home. On the first, I was offered a chance to join my colleagues on a trip north of the Bay. I didn't want to pass up the opportunity to see the famous coastal redwood forests and beaches of California, so I went along. We stopped at Vista Point on the far side of the Golden Gate Bridge, and I got my first proper look at the entire San Francisco skyline, and a sense of just how big a city it is:

And of course, standing proud on its hill overlooking the city, the Sutro Tower was on full display. And that wasn't the last I'd see of it during the day. After walking around Muir Woods for a while (which is home to no city views, but lots of very tall trees) we found ourselves on Stinson Beach.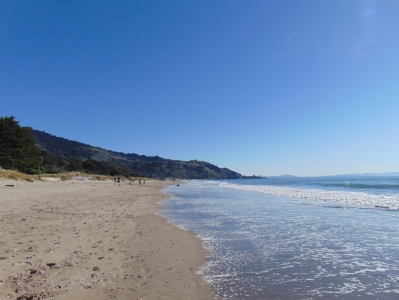 And to my surprise, as I looked south, I saw a familar shape beyond the headland in the distance: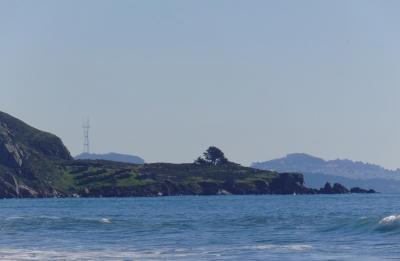 We travelled even further north to the lighthouse at Point Reyes, a full 35 miles from the Tower as the crow flies, and could still make out the distinctive shape atop a hill on the horizon, as well as one of the towers of the Golden Gate Bridge. The inevitable final destination of my pilgrimage, it seemed, was determined to keep my mind on the task. And the remarkably clear weather was doing a lot to help it!
Part 2 - Pilgrimage Day
So now, on to the main event. I had one day left to explore the city, both as a regular tourist and as a pilgrim from SF0. I had done a bit of research beforehand and planned out a route to try and fit in as much as possible.
From the hotel, I started by going north. I was going to see a few of the more general tourist sights first, with things becoming more SF0-centric as the day progressed. The first sight I passed was the wiggly block of Lombard Street. It's advertised as "the crookedest street in the world" but, as a colleague had said earlier in the week, you'd probably find similar in many European cities. It was a stark contrast to the straight lines I'd come to expect of US city roads though.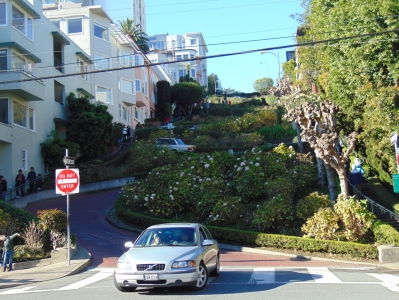 Moving further north, it wasn't long until I set eyes on another famous landmark: Alcatraz. The island and its famous prison out in the bay was a place I would not have time to visit, but it was certainly nice to get a view of it.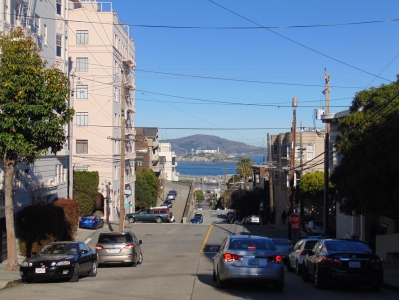 Finding a good vantage point, I could look back across the city. My travelling companion (I mentioned him back in the introduction. You hadn't forgotten, had you?) decided it was about time he had his picture taken as well, and chose Alcatraz as his first backdrop.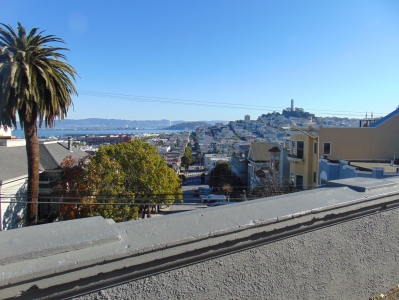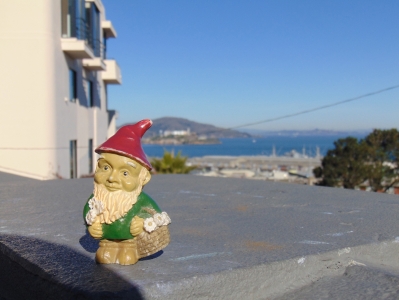 We moved on towards the bay, and I got my first full view of the Golden Gate bridge. It is a very impressive construction, and while it has no direct links to SF0 that I can remember I had still allowed myself the time to walk all the way along the edge of the bay from the Maritime National Historical Park to the bridge to make the most of the amazing views on what turned out to be a very clear day.
On the way down to the waterside, we passed through a park, from where I was treated to another remarkable example of how uneven the city's terrain is (a map leads me to believe this is the view up Octavia Street), and a nice reminder of where I was hoping to end up before the sun set.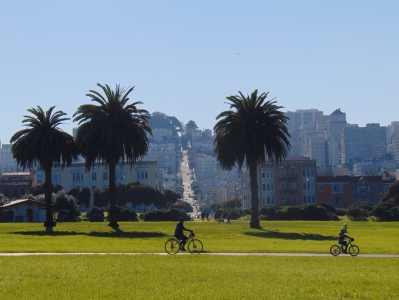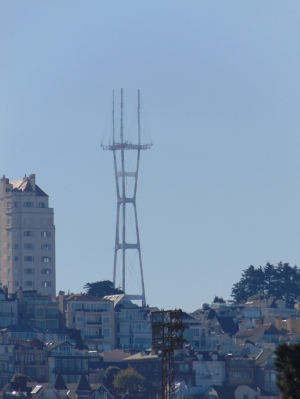 The next hour or so was spent on a lovely walk along the bay getting ever closer to the bridge. As we got closer, I took a few photos to prove we were there, which is apparently a necessary part of tourism. Having this praxis in mind probably means that the total number of selfies I've taken in my lifetime doubled on this trip.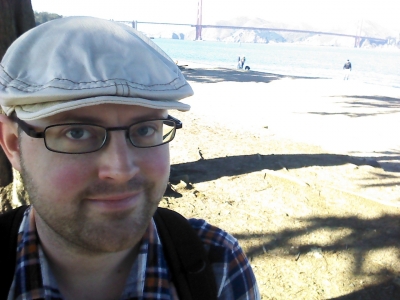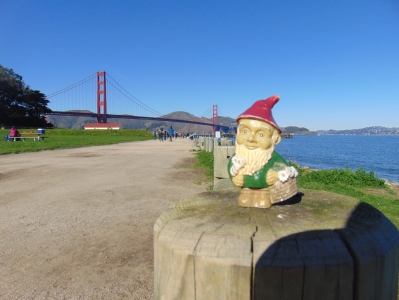 After stopping off to buy some souvenirs, it was time to make my way to the second leg of the day's journey. I caught a bus from the end of the bridge and travelled south towards the Pacific coast. We arrived at the other end of the bus journey to an area with a very familiar name in its title.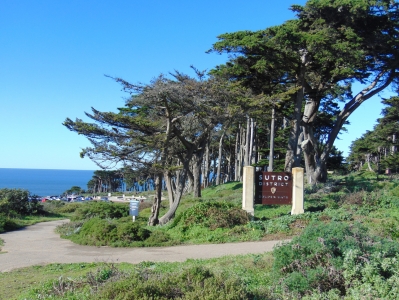 I had experienced the Pacific before, when I spent a couple of months on a research ship two years previously, but this was the first time Norman had encountered the world's largest ocean, so felt a photo was necessary.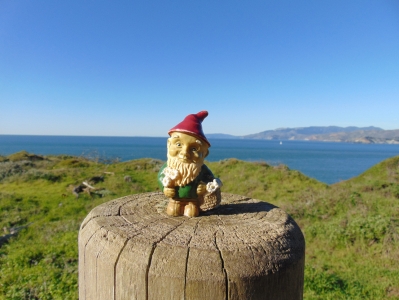 The reason for starting the second leg here? We were going to take a look at the Sutro Baths! And no, I did not actually
take a bath
. I can't remember any instances (other than the task linked to in the last sentence) of this location being used in SF0, but the landmark must have been mentioned enough to stick in my mind when I was making a list of places I needed to see. I don't think it's somewhere I'd have gone had it not been for my time in this game at least, which made it a good location to visit at this point in my tour, to smooth the transition between traditional tourist locations and specifically SFZerian attractions.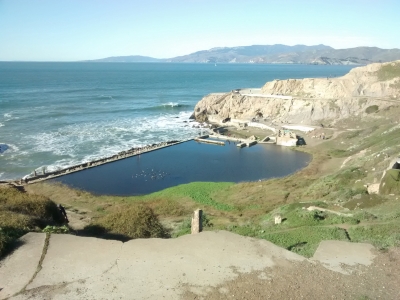 I walked south down the coast towards the next destination. My next planned stop was as SF0-centric as they come, and involved a little prior research. I was well aware that the site where
Doorhenge
once stood lay somewhere within Golden Gate Park. But that covers an area of 1017 acres, so I really needed to narrow it down a bit if I wanted to find the former position of this sacred monument. I have no idea who
Johnny Grim
is or whether he is the mind behind one of the many awesome characters in this game, but his description of the location was very helpful:
"For anyone who wants to see it in person before someone (i.e., the no-fun brigade that seems to be ruining this city) decides to cart it away, you can find it on the path that runs behind the police equestrian circle that sits between MLK and JFK, just to the west side of the street that runs north-south between 43rd and 41st."


This gave me a clear idea of where to start looking. I headed for the area and found the equestrian circle quite easily. At this point it was well past lunchtime and the stands provided a good place to sit down for a bit and refuel myself in preparation for the rest of the day.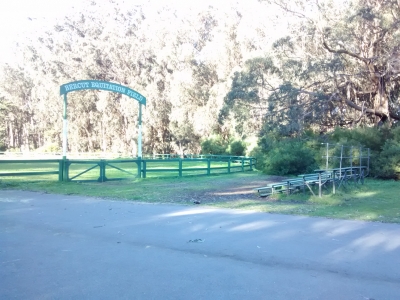 After the break, it didn't take me long to discover a secluded grove in the woodland which seemed promising.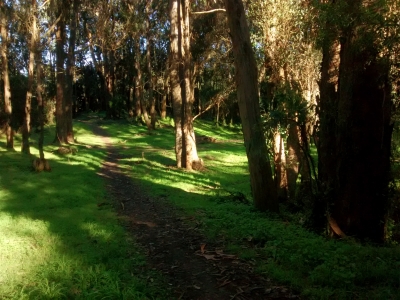 Armed with a few photos of Doorhenge, I surveyed the area. The ground seemed a bit too green, with no signs that any kind of structure had ever stood there. However, it had been nine years so the landscape wouldn't necessarily be the same. After a while, I managed to orient myself so that the trees in front of me matched those in the photos I had, albeit slightly thicker now with an extra decade of growth. I took photos of my own, and later analysis (in Microsoft Paint) gave me confidence in the conclusion I reached that day; that I had managed to find the place where Doorhenge used to be!


The ground looked very different, but the layout of the surrounding trees gave away the secret history of this woodland. A history which any other tourist passing though would know nothing about. Not that there were any other tourists. I stayed at this historic site for about half an hour and not once did anybody else walk through. For our obligatory photos, Norman decided it was about time he started wearing his sombrero, as a mark of respect to the venerated ground upon which we stood.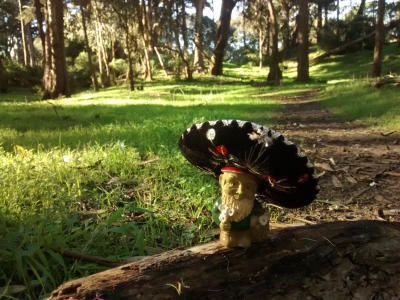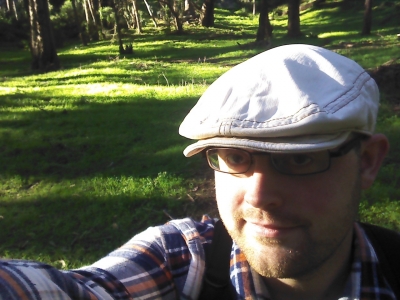 We eventually left the woodland behind, taking one last look back at this site. Maybe I'd be
back one day to visit again
, but it could be difficult. Rather than dwell on the unknowable I looked instead to the more immediate future and headed further through Golden Gate Park, my quarry in sight through the trees ahead.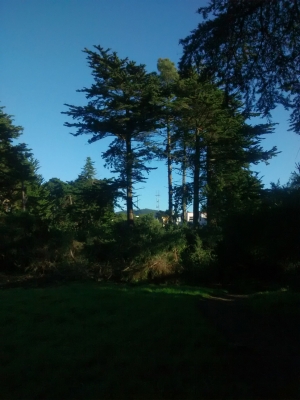 Yes, it was finally time to make my way to the Tower. No more distractions or calling points along the way, just a long walk to the top of a hill in a race against the light; I wanted to be there before the sun went down. It was a very long way up. I could see, far above me, the roads I would need to travel on my way.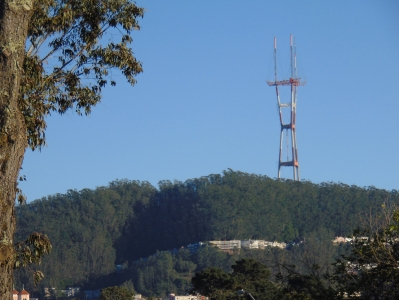 After walking along the edge of the remainder of the park (which is 3 miles long!) I had to turn south and then tackle the most unforgiving hill I had encountered yet: Warren Drive. It was extremely steep. I was the only person walking up it, perhaps because not many people have the desire to torture their legs in this way in the name of reaching a radio tower. But about halfway up I got a nice view back across to the Golden Gate Bridge, where I had been several hours earlier.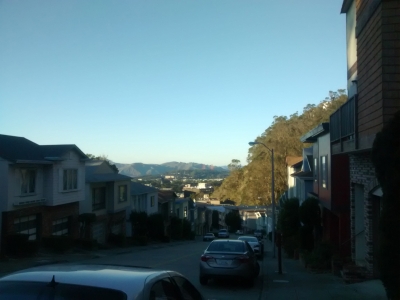 Then I turned the corner onto Christopher Drive and was met with a wonderful sight: the Sutro Tower, far closer than any of the various views I'd had of it through the past week. I was actually nearly there, and I felt a new wave of excitement which would power me through the remainder of my ascent.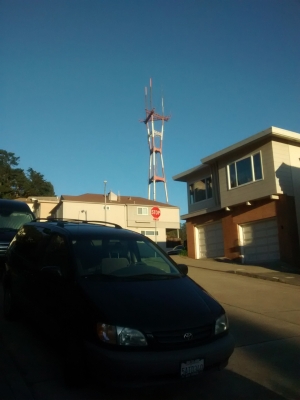 As I wound around the bends of Christopher Drive, I grew ever closer to my final goal. I became envious of those who lived up here, probably not fully appreciating the beautiful structure which towered above their houses.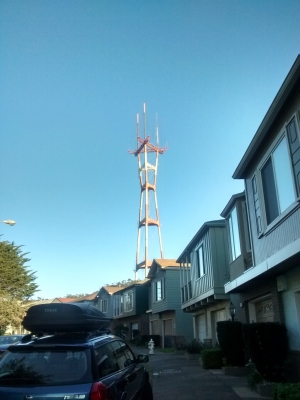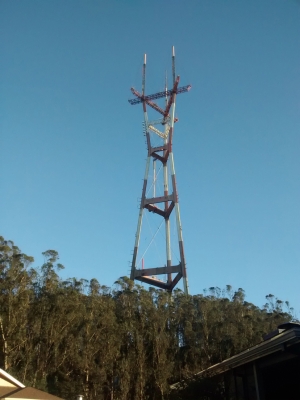 I was gradually encircling the Tower on the route I was taking, but eventually came to the road which would take me towards it again. I lost sight of it for a while, despite how close I knew I was. From under the surrounding trees I could only catch glimpses.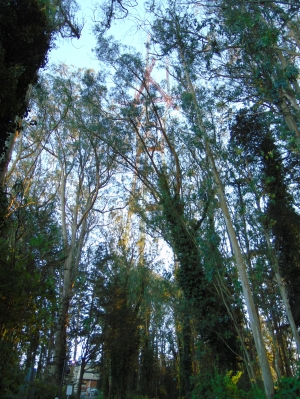 But finally, I found the way through. And it was at the top of Glenbrook Avenue that I discovered the place I would choose to live if I were ever to spend a long time in San Francisco. The Tower stood just a few hundred metres away on the hill overlooking everything, and looking down the road I was met with a fantastic view of the city, bathed in the warm light of the setting sun.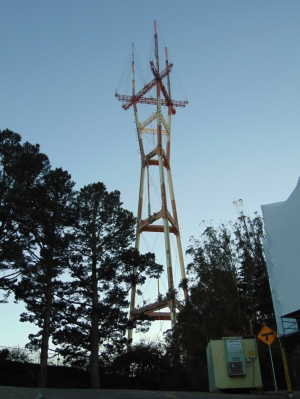 After standing around in the middle of the quiet road, in awe of the view, for several minutes, I moved on. Because just around the corner was the final destination of my trip. The pilgrimage's end. I had made it, on my last day in San Francisco, all the way to the Sutro Tower. The symbol of SF0, this great game that gave me so much joy in younger years of my life. I was overcome by a great sense of accomplishment, and remained atop the hill for some time, enjoying both the sight of the Tower and the expansive view of the city as the sun gradually sunk below the horizon.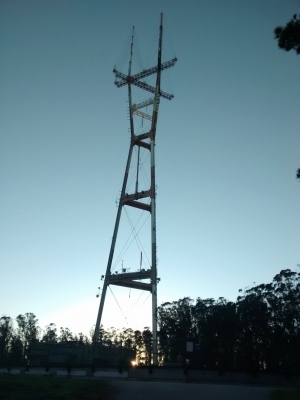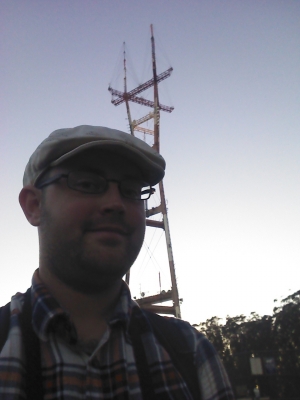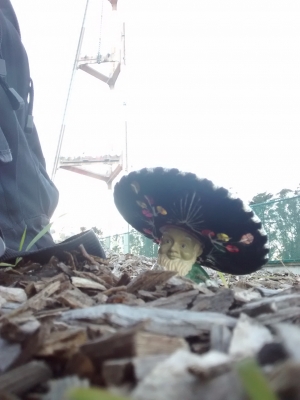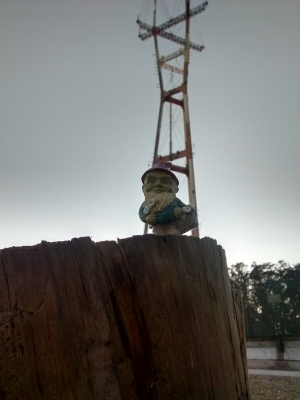 Epilogue
And now, my pilgrimage complete, I am finally able to let it be over. Not just the journey chronicled here, but SF0 as a whole. It's likely that this will be the last thing I ever write for the game, and that's fine. It is a good, triumphant (albeit rather delayed) ending to a great chapter of my life. Rather than weep for that which has been lost, I rejoice that it ever existed at all. Even now, I get lost in the archives every now and then, making new discoveries and stumbling across old memories, long-forgotten and gathering dust. There is such a rich history of brilliance preserved here, and I can only hope that it will never disappear.
8 vote(s)
Terms
(none yet)
9 comment(s)