| | |
| --- | --- |
| | Lincøln |
Player 1393

I am able to create effective political movements!
I used to take a photo every day.
I am also a member of a powerful secret society. Want to know more? Ask me about it. Or better yet, search this site for the word
Albescify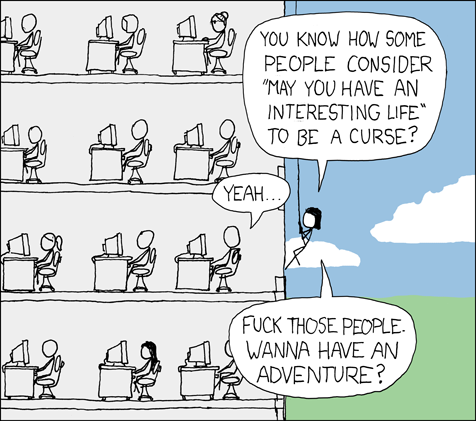 If you're not having fun doing it, you're doing it wrong.
or
I have completed 160 tasks.
One has been flagged.
69 have a fleur de lis associated with them.
That's a 43% fleur percentage.
54 have been collaborations.
That means I'm 66% loner.
53 have been groupless (33%)
23 have been University of Aesthematics (14.5%)
12 have been BARTpa (7.5%)
12 have been Humanitarian Crisis (7.5%)
11 have been Biome (7%)
11 have been EquivalenZ (7%)
9 have been S.N.I.D.E. (6%)
3 have been Chrononautic Exploritorium (2%)
24 have been multi group (15.5%) (24 had UofA, 15 HC, 12 EQ, 11 BART, 8 Biome)
And these are the tasks I'm proud of:
My personal list of awesome:
Bold tasks have Fleurs. Check out the non-bold, non-fleur tasks. They need your love.
The blue colored tasks I'm particularly proud of. Go vote for those if you're looking for something to vote for.
Bigger, Better, or More Bizarre
Please Standby For Love
Saint George
Please Standby For Love
Secret Wall Tattoos
Up, and Up and... Up
A Picture is Worth a Thousand Words
Days of Silence
Bob Realised That Jane Was Really Going For It With Her Task Completions
Sexually Originated Art
Fashionista
Nice To Meet You
Lux Aeterna
Trajectory Of Desire
Lounge Against The Machine
24 Carrot
The Low Score Task
Tramp Bouquet
Welcome
Anthropologist From Mars
Dérive
Material Response To Derrida Stumping Question
Work Is So Strange
Player Portrait
Designated Group Membership or Basis of Disadvantage
Physical Representation Of A Virtual Occurrence
The Graphic Sonnet
A Strange Kind Of Love
The Beautiful Letter
What Do Cell Phones Mean?
Future Hero!
Alternative Medium Art
Document A Construction
Sunset
Sunrise
Reduction To The Body
Vote
Audio Montage
High Fived
****** Anybody Want A Peanut? ******
Photo Challenge Redux
Document Documentation
Fortress Of Solitude
The Archive of _____
As He Believes, So He Is. She'll Beg For More...
And God Said, 'Let there be a Little Less Light, Please'
Bernoulli Snackums
Leave Clues
The Things We Bury For Our Friends
SFZEROSAT
Escape To The Camera
Fight The Future
Fun With Food
The Deep End
Dead Zone
Qualia Feast
Journey to the End of the Night L.A.
The Longest String
*** Human Seed ***
The Odyssey
****** Mapping in Minute Precision ******
1,001 Things We Can't Live Without
*** Trespassing The Future ***
*** The Taking Tree ***
Sports Basement
Sign Recontextualisation
Dimensional Leakage
Mundane Journey
Calvinball!™
Helen
Journey to the End of the Night: Oakland
****** Regular Animal Documentation ******
Journey to the End of the Night: Los Angeles 2009
The Callouses On Your Hands
Saucy Tales
Stripping
Human Trafficking
Naked Mail
Yellowbear's DIY Orchestra
Freeway Excursion
****** Correspond With A Spammer ******
Room With A (Better) View
Biking
Just Add Water
Ode to Sean:
Ten years ago, a crack commando unit was sent to prison by a military court for a crime they didn't commit. These men promptly escaped from a maximum security stockade to the Los Angeles underground. Today, still wanted by the government, they survive as soldiers of fortune. If you have a problem, if no one else can help, and if you can find them, maybe you can hire... The A-Team.
I have written 84 tasks that have yet to be approved.
Seven of my tasks have been approved.
Five of those have since been retired.
Two are active.
(go sign up for them)
Tasks Created
Terms
dangerous, burrito, dangerousburrito, senator, casyj, theodoreroosevelt