45 + 85 points
October 21st, 2007 1:26 AM


I took this photo two weeks ago from that little park between Carl and Clayton in San Francisco.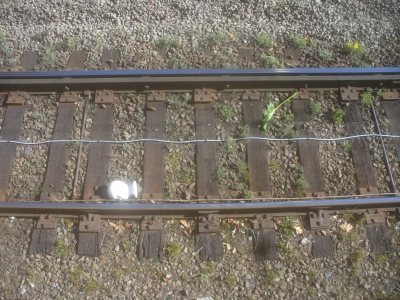 I printed it up and carried it around with me everywhere I went in Tucson. and asked every person I met what they thought the title should be.
I will tell you a little about each person and then give you a picture of them looking at the photo and then post their idea of what the title of the piece should be.
---
This is Susan, she is the Artistic Director of the Invisible Theater.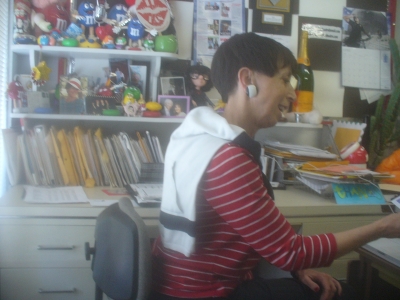 Head of the Track
---
This is Sandy (left) & Cathy.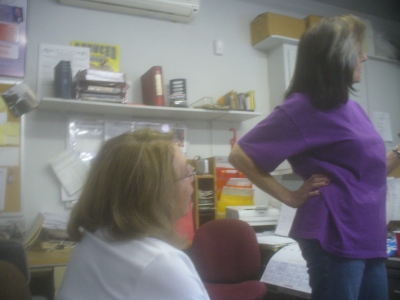 Head to the Tracks
(Sandy)
Between the Tracks
(Cathy)
---
This is Hank (left) & Jim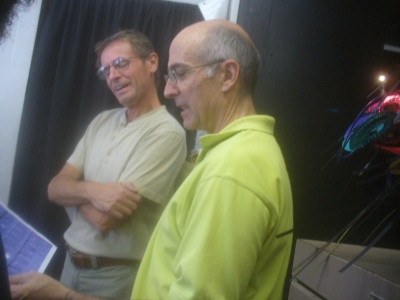 Head Lettuce
(Hank)
Broken Dreams
(Jim)
---
These are two girls I met outside of their house as they were playing with a dog.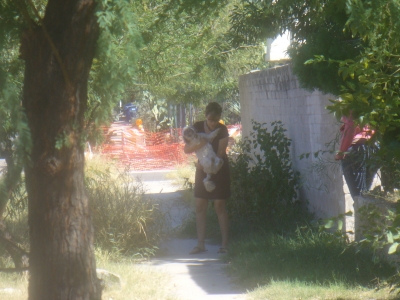 Expediency to Perdition
(girl with dog)
Crime Scene
(girl hiding on right)
---
This is the guy that was working behind the counter of the little Mexican joint I got a burrito in.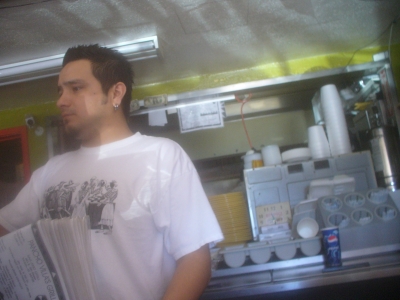 Pedazos en la Villa
He came up with three
Memorias de la Villa
He thought that each was better than the last, so this was his favorite:
Una Villa Mil Memorias
---
This is a guy waiting for his menudo. It took him a very long time to come up with his title.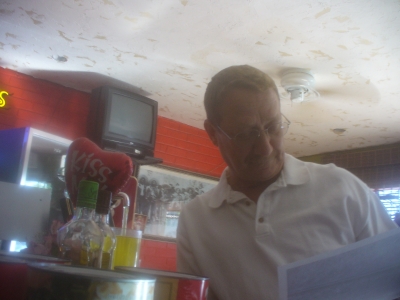 SF Transport
---
This is a guy that came into the Mexican joint looking for bottlecaps for an art project.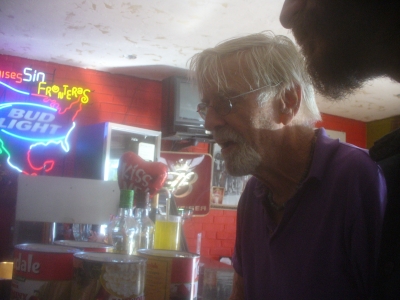 On the Tracks
---
This is a cute little waitress in a bar/cafe with nobody in it.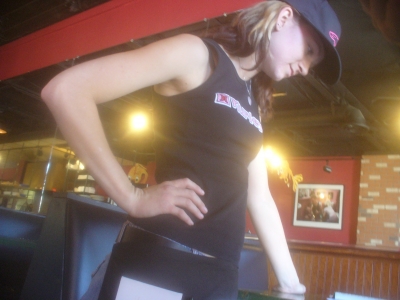 Becoming
---
This is a woman sitting outside of the food co-op feeling depressed and angry.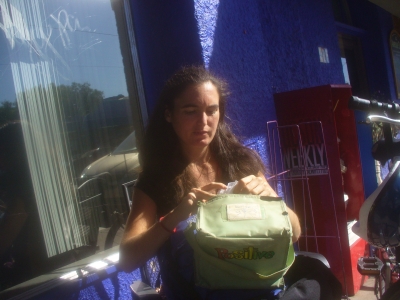 Getting Fired From the Co-op
This man was sitting next to the disgruntled ex-co-op employee and struggled artistically with coming up with a title for quite some time.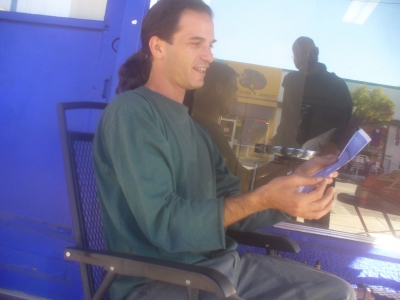 "I think I hear one coming"
---
This woman was working in a lingerie and sexy costume store.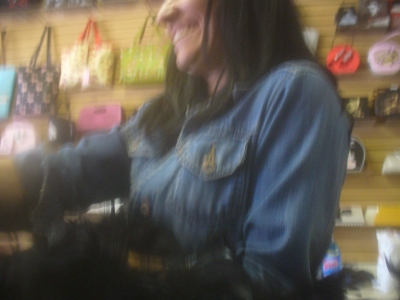 Headin' Down the Tracks
---
This woman worked in the same sexy clothing store, her name was Erin and she moved fast.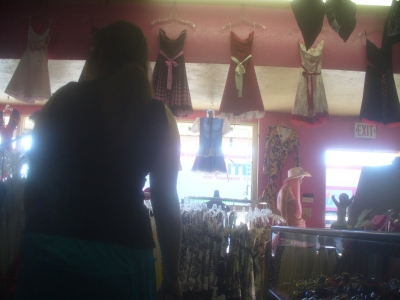 Flotsam
---
This guy was sitting outside of a tattoo parlor, acting all tough and covered in tattoos.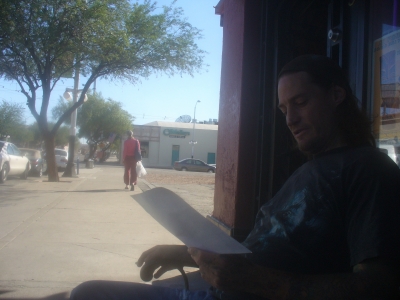 Tracks of What's To Come
---
This guy was inside the tattoo parlor, presumably he worked there.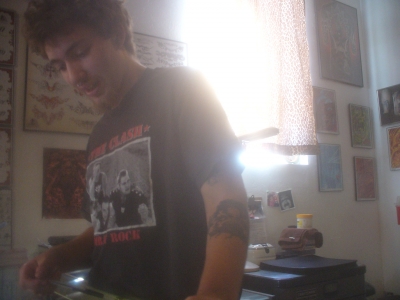 Nothing Comes to Mind
---
This guy was crossing the train tracks and listening to his iPod when I interrupted him.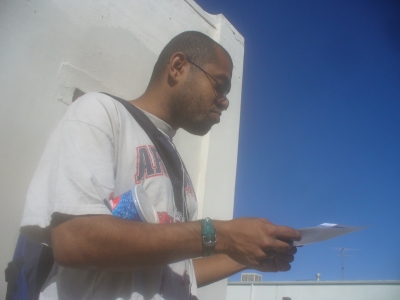 Tracked Across
---
This guy was very scary. He had a very "don't fuck with me" vibe going on. But was very friendly and nice.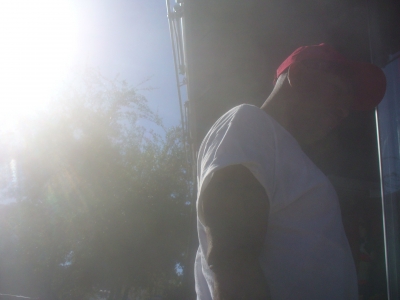 Mind The Gap
---
This is my friend Victor. He's here doing the show with me in Tucson.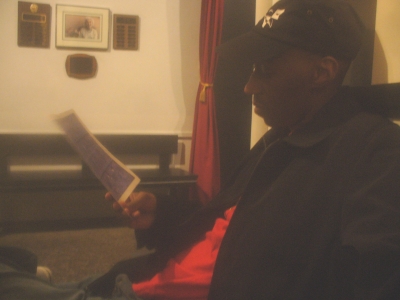 Traveling at the Speed of Thought
---
This is my cousin Nancy.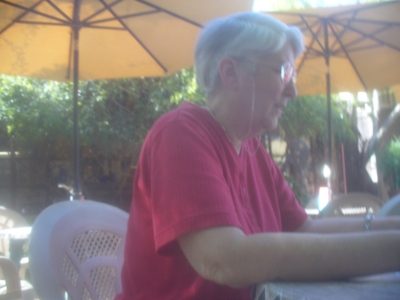 Lines
---
This is a waitress at this cool outdoor patio restaurant Nancy and I went to in downtown Tucson.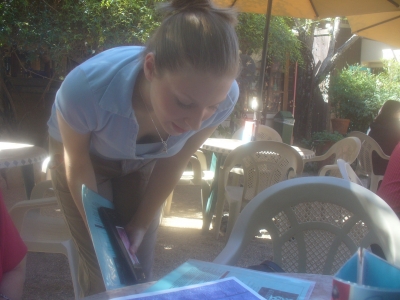 Unhappy Accident
---
This is my friend Dean (star of stage and screen), the reason we're here in Tucson.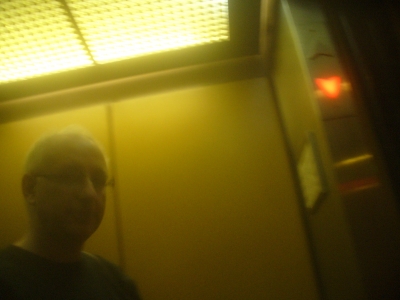 Travel
---
This is a drunk man I met on the street when he asked me for change. He just got out of prison.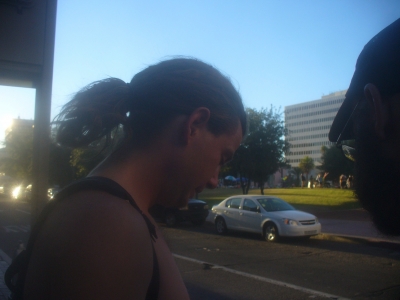 Treasure Huntin'
---
This is a waiter in a cool little diner I found on Congress down the street from my hotel.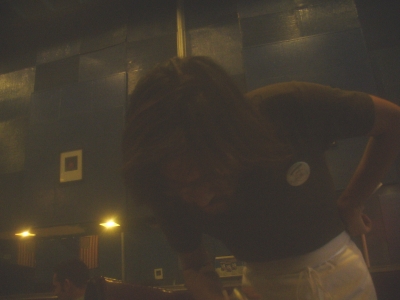 Bindle Debris
---
This was another employee at the cool diner.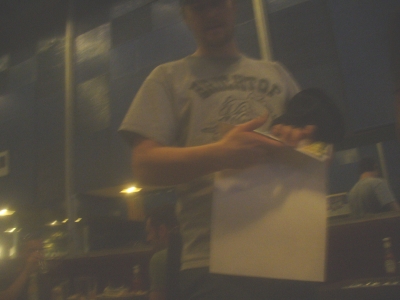 Ode to Terry Trash
---
This is a security guard I saw sitting alone in a lobby, so I had him open the door and title this for me to break up the monotony of his day. I even made him laugh, but didn't capture it on film, so I have no proof and do not qualify for
Susy Derkins' task
.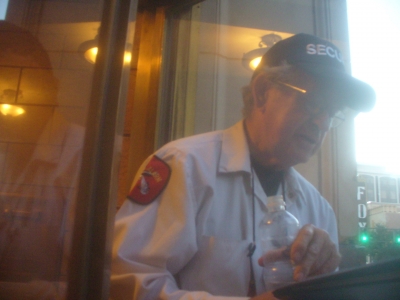 Track to Nowhere
---
So, I fulfilled the first part of this task by hitting the streets.
I was going to also fulfill the second half by hitting the streets as well and do a double whammy task completion, but didn't think I'd be able to get a whole lot of responses judging by the responses I got doing the first part.
(I will also point out that women are much quicker to respond decisively with an answer than men. Men want their answers to be perfect and often debate for a very long time before coming up with an answer, and most men's first response was "I have no idea" and I had to prod and ask things like "What first popped into your head?" and "What does the piece make you feel?" "What do you think of when you see this?" etc. Whereas women have no problem trusting their instincts and shouting out an answer. Interesting.)
But I
am
going to do the second part of the task as well, but not quite the way it's intended.
I am "Holding a public Caption Competition" right here. SFØ is a public place and I'm fairly certain I will get a fairly large showing here. So, I would like everybody here to pick the caption they like best of the 29 titles provided. Just write the title you like best. The title that gets the most nominations will be the winner. And all those who voted for that caption will win a prize.
And the winning title of this piece is:
Getting Fired From the Co-op
With a whopping three votes.
So, Loki, Cyber Kitty, and Charlie Fish are the winners (what's new there, right?)