45 + 60 points
March 3rd, 2012 5:03 PM

The first meal:
Lincoln, relet & Sam Archer
Following a
discussion
of the how and when, three sfzerians actually managed to meet up in cyberspace to share pancakes. It was a BYOP party, since the technology to share the actual pancakes is yet to be invented. Once we have that ready, Lincøln calls dibs on all your pancake scraps.
Lincøln
Google hangout worked brilliantly. It was my first time using it, and it sure beats Skype.
I made pancakes and eggs, but was unsure of how long it was going to take, so I made them too early, and had to sit with delicious food sitting next to me for about fifteen minutes before I could eat it. But it was shockingly delicious.
I may have been a bit of a jerk and hogged the conversation in the almost hour we hung out during and after lunch. But I did let them talk a little bit and it was nice getting to meet two SFØ players I had only known through praxis.
relet
Google hangouts worked pretty nicely, except for Kattapa which I only managed to talk to after it all had happened. If anyone is interested, we could make that an irregular event. The SFØ Saturday Pancakes or something like that.
I made pancakes with a hint of coriander. Part of them were banana/blueberry jam - the second helping was fried vegetables and "cottage cheese".
I also learned about pancake lore, such as what a small stack is. And about silver dollar(?) pancakes.
And of course, we planned how to plant a flag on Sutro Tower.
Sam Archer
I got the chat started at 11:30, went to go start cooking, and got back to my desk at 11:55 to find relet and Lincøln waiting for me. Almost like it was planned.
My brunch was one large whole wheat pancake with maple syrup and one massive turkey, cheese, and avocado omelette. (The
eggshells
and
avocado pit
are destined for use in other praxis; stay tuned.) If I'd thought ahead better I'd have had a bloody mary (the ideal brunch drink) but I made do with cranberry juice and rum.
Since my webcam sucked at capturing the view out my window, I took a picture after the fact: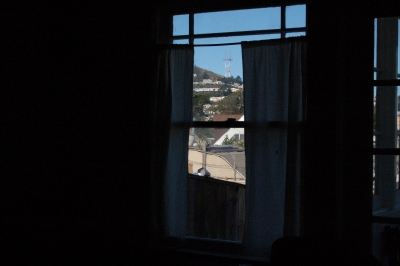 During the course of the meal, I learned that relet snowboards, and that Lincøln can clean a plate even faster than I can. When I was futzing around with my camera, they learned that I have a massive Scotch collection within arm's reach of my desk. Educational all around.
The second meal:
Kattapa, Samantha, Form, Lincøln, Pixie, Ty Ødin, and Remy
May 12th
After creating a doodle and sending out invitations, two new dates for pancake deliciousness were arranged. The pancakes were eaten as breakfast, lunch or dinner (depending on the time zone), as many SFZerians saw each other for the first time and picked each others brains.
This made many people happy: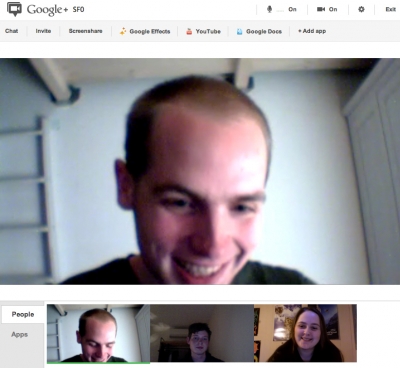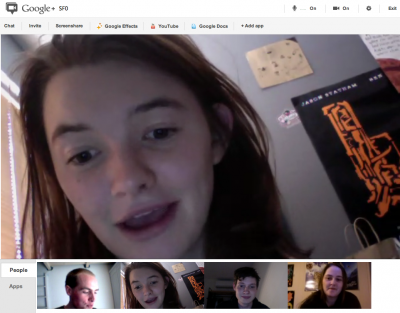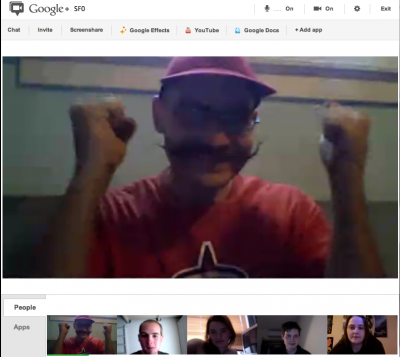 Kattapa, Samantha and Form were the first to appear. Form and Kattapa know each other from a secret mission in a forest in Berlin, Samantha joined us from Minnesota, and after about 15 minutes Pixie and Lincøln came as well. Little did we know that Pixie was also hiding Ty Ødin, and that Remy would drop by as a suprise guest.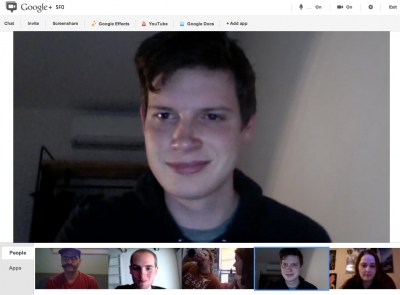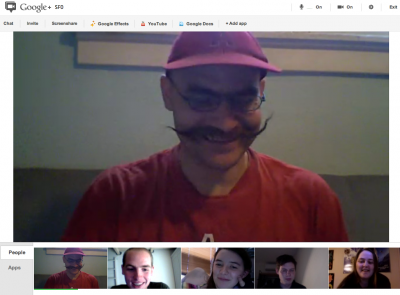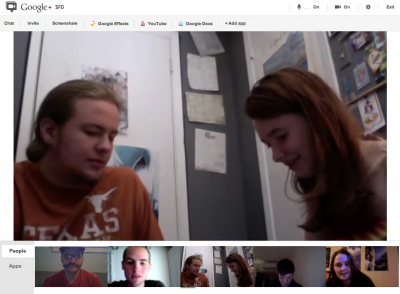 The hangout was a lot fun and it was awesome to see everyone. These couple of hours might have only been enough to scratch the surface, but it has already made SF0 more alive. There was a lot of added value to getting to know the people behind the tasks. Also, there's a huge potential for brainstorming when creative minds meet.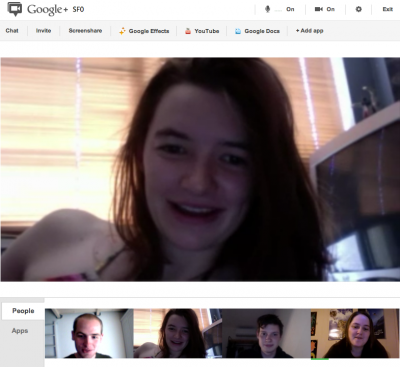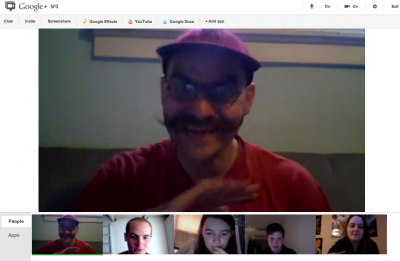 The third meal:
Lincøln and Kattapa
May 19th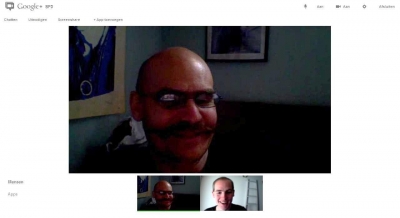 This time we were only two people, but that has it advantages as well. It was nice to be able to focus and it also resulted in the creation of a
new task
.
Already looking forward to more get-togethers and sharing pancakes with awesomesauce! :)
More pictures: