25 + 87 points
December 27th, 2009 8:10 AM / Location: 34.251181,-118.3571


"Do not be too moral. You may cheat yourself out of much life so. Aim above morality. Be not simply good; be good for something."

                           - Henry David Thoreau

My cheating ways started back at the end of Glasnost. As I became more familiar with the game, I started to understand certain things. Now it should be noted that I agree whole heartedly with

anna one's suggestion here

. And if this suggestion were implemented, I wouldn't have had to cheat at all, well, yes I would have, but I wouldn't have learned how to do it so easily or quickly. It should also be noted that I am not a computer geek. I am many other kinds of geek including but not limited to; comic book geek, theater geek, movie geek, sports geek, and geek geek. So not being a computer geek, and not

knowing

or

understanding

many EquivalenZ tasks or

how they'redone

, figuring out this cheat is very impressive for me, to me (and I did this in a very

EquivalenZ

fashion even though my chosen affiliated group is

UofA

, and I couldn't think of a really UofA way to do this task other than the way this write up looks and feels.

Like I said, I started cheating back at the end of

Glasnost

when I realized that a lot of tasks would probably be retired. So I created a

sock puppet

to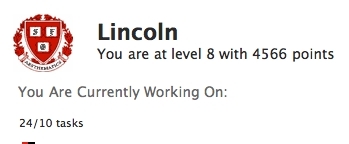 sign up for tasks and then add me as a collaborator and then drop said task. Which worked great and I got to horde a few tasks from that era. But I could only grab level one tasks from one group as my sock puppet was only at level one even though I was at eight. I was only as powerful as my sock puppet.
Then came the Interregnum,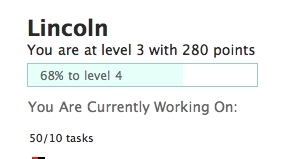 and not only were
groups
thrown out the window, so were levels. Which meant that my sock puppet could sign up for any available task, including the
High Score Task
. And we did. We signed up for everything we could get our hands on. I was a hording fool. Now mind you, none of this would have been necessary if
anna one's suggestion
was not a suggestion but a rule we lived by every day.
Then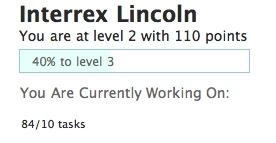 Insatiability rolled through and the levels system was implemented once again. So my sock puppet could only sign me up for level one tasks no matter how high I rose through the ranks. Then I saw this task, CHEAT! and I thought to myself, I have been technically cheating for quite some time now. But there were problems there. The first and foremost being that it would be a retroactive completion. So never mind everything written above this. Or rather keep it in the back of your mind as it's the tool for how I achieved this particular cheat. My cheat? I signed up for and completed a level 6 task that is unique to Insatiability while only being myself a level 3 player, and my sock puppet only being a level one player. How did I do this you ask? I cheated, of course.
I went a bit mad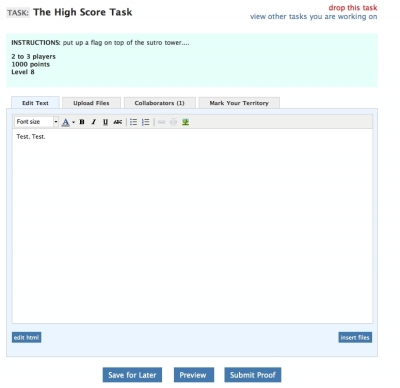 with power like I sometimes do, and I co-collaborated with my sock puppet on a number of high point and high level tasks like The High Score Task, and then (thinking how clever I was[am]) set my alarm for 3:30 and woke up in the dead of night and submitted the proofs at 4:00am when most of SFØ's players would be asleep.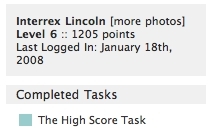 And when nobody was watching the praxis boards (or so I thought), I boosted my sock puppet up past level 6 by completing a bogus High Score Task and he went and signed up for all kinds of high level tasks that neither of us could have done before. And once I was all signed up for everything I wanted to sign up for, I un-submitted all of the high score tasks.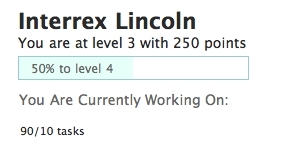 Dropping us both down to levels we should have been at. And after he'd dropped me I had a crazy amount of tasks to compete with. And I almost got away with it too. See, what I didn't realize would happen (well, I did realize it was a possibility, but I thought it would be slim and negligible) would be that our players from other countries would be alert to the new praxis board. And at 10:00pm the following day (his time) 
niallsb
saw my proofs hit the page and found me out.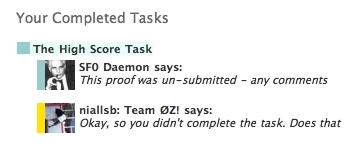 But I don't think he understood what I was doing exactly. And then when I un-submitted moments later, I'm sure he thought it was just a fluke. I'm sure he didn't catch on to my actual nefarious dealings. Until now! Mwa-ha-ha!
I did this same tactic a couple more times to sign up for newly added tasks. And it was my last time that I put my computer hacking skills to the test. When I submitted the High Score Task for the third time, and was done monkeying around in the high level tasks,

I went to un-submit and I got a grey Cannot be un-submitted button instead of the usual blue un-submit button. I forgot about only being able to un-submit three times. D'oh!
So (after a frantic email to SSI) I did some fancy computer hackery. Maybe not so fancy to some of you, but very fancy for me. I submitted another task, just picked one at random, and submitted it. Then I hit un-submit, and while I got that warning screen shot asking if I'm sure, I copied the IP address for that page. Then I took the end of the extension (&unsubmit=1) and pasted it onto the end of the High Score Task edit page, and was able to fool the page into thinking it was getting an un-submit command and I was able to get away with un-submitting it like nothing had ever happened. I suppose that's cheating as well. I'm just a big fat cheater.
And I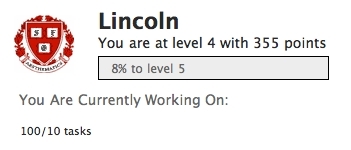 have continued this cheating up until this day. I am quicker and more efficient in my cheating now and have the luxury of working on any of the 100 tasks I have in my cache.
And it wasn't until I decided to do
Part-time Writer Full-time Waitress
that I figured out a much more elegant way of storing tasks (I'm not very smart, you see). I wanted to sign up and do the task, but I couldn't do it, as I had no more room for additional tasks (obviously), and my sock puppet couldn't sign me up for it either, as he couldn't add collaborators as it was a task for one person only. So what I did, is added my sock puppet to all of my tasks, and

then dropped them all myself, using him as a sort of storage space for my tasks (I know this'll sound obvious to most of you, but most of you are either much smarter than I am, or better cheaters). So I made an internal hard drive for task storage here on SFØ. That has to be cheating as well (and I know I'm not the only one who does this, but I'm the only one admitting to it, so that's something, right?).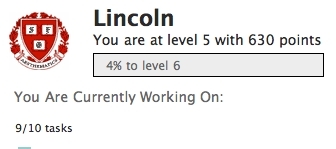 And now my task list is back down to a much more manage-able size. And I can sign up for a much wider range of tasks than before. Even tasks that require just one person to complete, which until I figured this all out, was beyond me.
The way I actually completed the active part of CHEAT! was to submit the praxis for
The Odyssey
before I was at level six (I actually did the old boost-the-sock-puppet trick to get my sock-puppet up to level six so he could sign up for The Odyssey twice. The second one I added
Vena Nightmare
as a collaborator on and then dropped the task. Because I wanted to encourage her to get out and do it rather than
talk about it
) (and yes, you clever readers out there, that does mean I have more than one sock-puppet).