125 + 181 points
October 16th, 2007 11:25 PM


This is without question the toughest task I have yet attempted. I've wanted to do it for a very long time, but have been scared to try it. I was at a party on Friday night and was thinking that it would be really difficult to interact at this party without talking. I was thinking about what a terrible time I would have. Talking is very important to me. I don't talk much, but I kinda really need it. And I knew going three days without it would be very difficult for me. But I like to do tasks that push me. So when I woke up the next day, I decided that today was the day, because I had a job to do at my theater that night, and there would be a party afterwards. I knew it would be very difficult for me. So in an effort to push it to the limit, I decided on Saturday to start.
---
Day 1
Saturday. As soon as I made up my mind to start this task and "clocked in" so to speak, I was immediately challenged. The phone rang. I had no contingency for such a thing. I just had to listen to it ring like those cows from the Gary Larsen cartoon with no opposable thumbs. I made a plan for talking to people in person, I had a note pad and everything. I wrote "I'm Not Speaking Today" on the back as an explanation that would be easy to flash to the curious.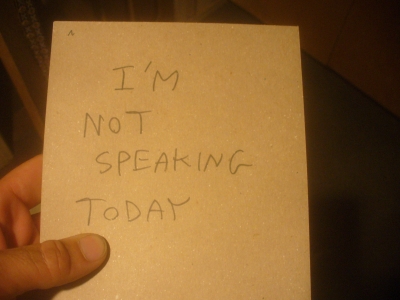 But I had no plans for phones. Oh well. I suppose it helps that I have no cell phone. So I'm not really accustomed to talking on the phone, but I was house-sitting and I was supposed to answer the phone and take messages. But since I couldn't, I just pretended that I wasn't there.
Most of the day, I sat in bed watching movies and ignoring the phone when it rang. I thought about writing a few phone responses in Final Draft and then answer the phone and play back what I'd written in that awful computer voice, but felt that since I'm not Ferris Bueller, and even Ferris (who
is
Ferris) didn't succeed in his pre-recording scheme, I decided to not even try. And it only rang twice, so, no big deal, right? So I sat in bed and IMed with a bunch of people (which is very handy when you can't speak).

I used email a lot. I wound up watching the entire game 2 of the ALCS where the Indians won in 13 innings, and as soon as it was over, I had to go to the theater. Time to really put this no talking thing to the test.
So as soon as I showed up people started talking to me. I showed them my prewritten note that says I'm not talking today. And they get it. They know me, and they figure I'm just trying out something new. A few people wonder if I'm sick. A couple people actually admit that they often will go a day without speaking at all to preserve their voices. These are singers. So the cool thing was that everybody at the theater got it and understood. But I wound up not hanging out close to people. Even though I had my notepad, there was still a barrier between us. And most people steered clear of me. Even people that stuck close found that they had nothing to say. It was strange, me not talking made others not want to talk either. Maybe it was not wanting to show off with their voices around a guy who couldn't use his, or maybe it was because usually when people don't talk it's because they're deaf, so they didn't see the point. But maybe it was that they knew that I couldn't respond, so they chose not to communicate at all. But I did feel bad because people decided to not speak openly when I was around. I began to feel like
Charlie Fish when he was blind.
People just couldn't act themselves around me. I will talk more on this as it comes up in the day to day.
I went off to the theater.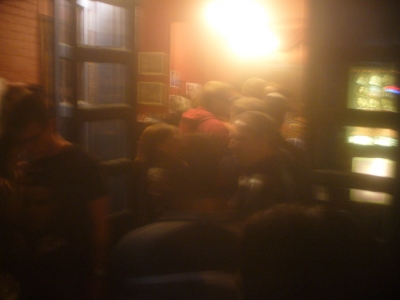 Before the show, I hung out alone outside mostly. When people approached I would show them the back of my notepad which had the "I'm not speaking today" message, and they sometimes asked a few questions, but mostly just left me alone in my silence. Not being able to talk is a very isolating experience. Nobody really has the patience to sit and wait for me to write out a response to every question. I wound up writing many responses that never got read, as either the conversation had moved on, or the actual person had moved away. During the show I sat in the front and mostly alone. And of course I don't have to talk during the show. Except the host of the show is my friend and he kept talking to me and making jokes about me not speaking, which I couldn't reply to.
Then the hard part of the night. I have to hand out pencils to the audience so that they can vote, then I have to collect the ballots once they're filled out. Usually I shout really loud for this part, but this time I wrote the word Ballots! really big.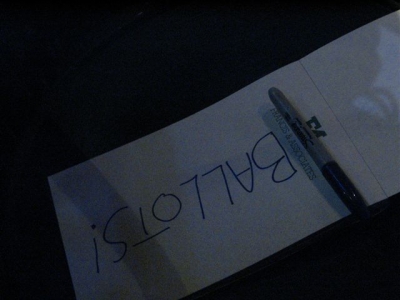 And stood on stage and held it up so the audience could see.
This worked out very well, because once I got into it, and people could see what I was doing, it was much easier. People are good at following what others are doing. So collecting ballots was surprisingly easy.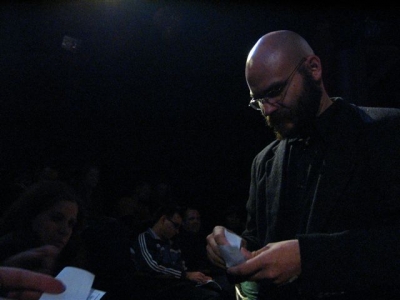 So the vote counting went off without a hitch.
And then after the show I got to hang out and let the brave come up and try to engage me. Which a few did. I
did
wind up using pantomime a bit, but not as much as I'd thought I would. As most of the thoughts I wanted to express were a bit more elaborate than can be handled in mime. But I did use a lot of head shaking and nodding, waving, the thumbs up, and "OK" gestures. And was referred to as Harpo on more than one occasion. But I am a charades master and thought this would come in handy during this task, but found out that to be successful at charades you need good guessers to win. And most people didn't have the patience or the will for that. So I mostly sat and wrote out my responses to those that wished to wait for them.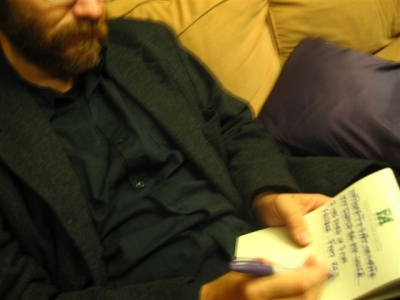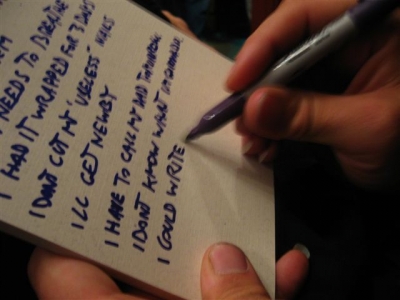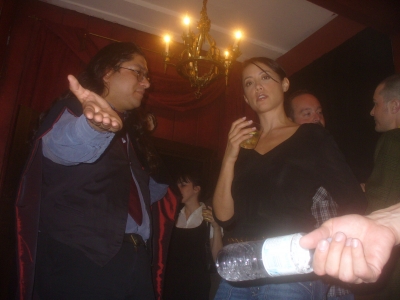 I stayed as late as I could, but found being at a party and not being able to talk a bit too much. So I went home before the party ended. I stuck it out pretty long though.
On my way home I had to stop to buy power steering fluid and oil, but thought I could pull it off with little problem by picking up the items and dropping them on the counter with my money. But as it was after 3:00am the door was locked at the gas station and I had to tell the clerk my order through the window. So I had to write it down and pass it to him under the counter. He was not pleased.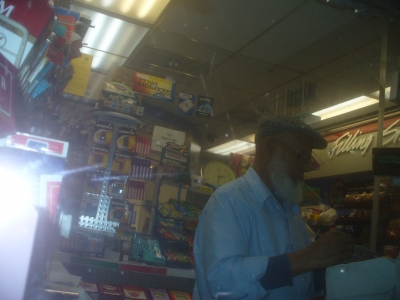 But I succeeded.
Then, on my way home, up and down the twisty curvy canyon roads on this dark misty night, I encountered a car that had flipped over. It looked terrible.
(sorry the picture is so bad, but I didn't stop to try and compose a perfect shot. I barely remembered to try to document)
I almost broke my silence here. If somebody was really in trouble, I would have had to do everything in my power to help, even if that meant speaking. But when I got out and ran over, nobody was in the car, and some neighbors were outside and nobody looked badly injured. I wrote to see if everybody was OK, and if anybody needed help. They assured me that everything was fine, so being of little help and keeping my vow of silence intact, I went home to sleep.
---
Day 2
I awoke Sunday morning with not much to do, really. I had made tentative plans to do some work with my dad, and maybe go to my sister's to help with some stuff over there. But I started off by laying about and doing nothing (and ignoring the phone when it rang once). Then, at about 11:00, a girl emailed me and asked if I wanted to go see a play at 1:00, I said sure and informed her that I wasn't talking all day. She thought it'd make for an interesting date. So she came and picked me up, and off we went.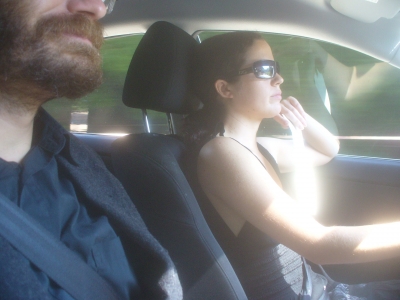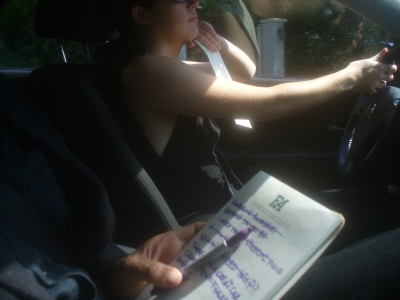 The play was really good, but we couldn't really discuss it too much afterwards. Susan was the most gun-shy about talking to me when I couldn't talk. She barely said anything all day. It was very strange. I was completely comfortable in my own silence by then. So I just found the situation interesting. We laughed, we shared some good common inside jokes, but we didn't really talk and exchange awesome intimate thoughts like we usually do. Very interesting.
I got back home after the play by 5:00, and there was a play reading at my theater at 6:00, and I wanted to go, and was planning to go, but I just didn't want to be in a room full of people again when I couldn't speak. So I stayed home and watched more baseball. I thought about why I didn't go, and really wanted to, both to support the show and to experience more for this task, and have more stories to relate here, but just felt that that would be false. So I stayed in bed.
---
Day 3
Monday morning, I was supposed to go over to my sister's to help her get things done all day and help fix stuff around the house. And she was going to be home at noon, so I made breakfast and whatnot and then went over to her place. This was the day that changed everything for me.
When I showed up, my nephew ran up excited to see me. Kaaden is only two years old. He doesn't yet know how to read. And no matter how many times his mom explained what I was doing, he continued to ask "Why aren't you talking Uncle Aaron?" That was tough. He was at times scared and amazed and full of joy at me not speaking. Here's one of him full of joyful incredulousness: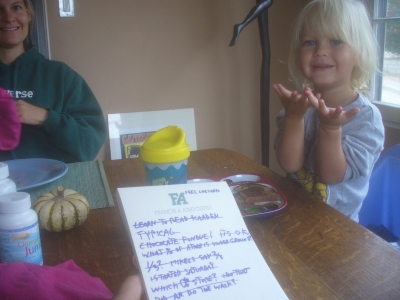 He took this photo of me: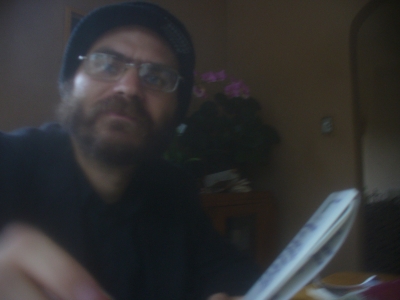 After a quick lunch we went out on errands.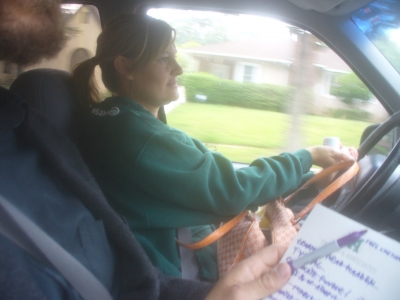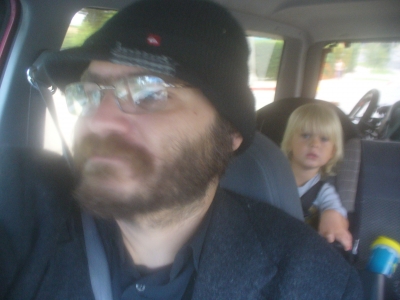 When we got to the Apple store I had to run in to keep the appointment while Kel went off to find parking. I found myself alone in an Apple store needing to ask for very specific work to be done, and only a pad to write on. Everybody thought I was strange, especially when I took pictures (which I often forgot to do, what with a pad in one hand and a sharpie in the other).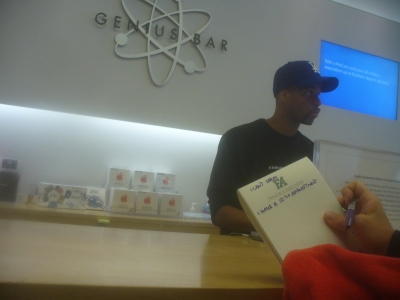 When Kel showed up and took over at the Genius Bar, my job was to entertain the kiddo. And thankfully there is a kid's play station all set up with games to distract.
We went to a mall and to Ikea and picked up my niece from school and other places, but none of that was exciting enough to photo-document. I kept feeling lame for taking pictures, because every one is of me not speaking. And oddly enough, I used a lot of speaking without words to communicate and my niece just didn't get it at all. I had to write everything down for her. And even then, she would often need further explanations. Communicating with her was toughest. Even harder than The K.
We went to Home Depot where I had to order paint and shop for stuff. And that was pretty good and photo-worthy.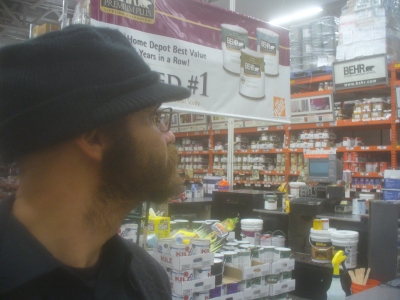 Very strange. But the thing that made this day very interesting is that because Kelly knows me very well, she was talking like normal, and she knows what my reaction is going to be anyway, so just looks at me occasionally to be sure by my face that she's right.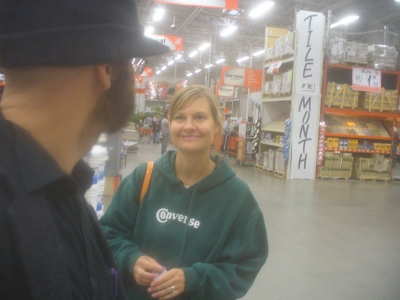 I often don't finish writing, because she reads while I write and gets it before I'm done and finishes my sentence and answers. She is a pleasure to be around, but The K is the opposite. He can't quite figure it all out. Then we got home and because my brother is very good at charades, so we used charades to communicate. we even went through the setting up his iPhone on his computer, mostly using charades.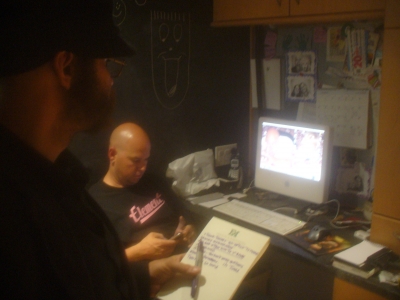 So once I fixed the stuff I was supposed to and had a delicious meal of fish tacos, I went home, but had to pick up a prescription on the way home. That was very strange. The people at the pharmacy were very wary of me and my non-speaking ways.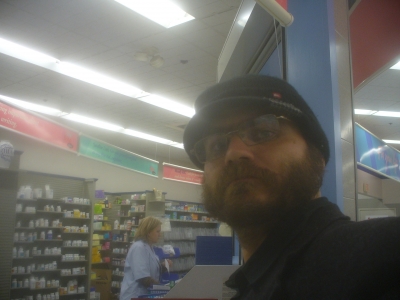 ---
Day 4
Tuesday. I awoke and had to go to the theater. I woke up alone, and drove in my car alone and there was nobody at the theater, and I didn't encounter any other humans all morning. I was supposed to figure out what was wrong with our light board. I spent a few hours trying to find a problem, didn't find one, so moved on. Driving. Driving was actually tougher than you'd maybe imagine. Because I drive with the radio on. And I like to listen to oldies when I drive, and when Elton John comes on it's hard not to sing along. I wound up putting on Indie 103.1 which is all indie music, most of which I don't really know, and if I do, I don't know the words. Which helped. When I got home, my friend who lives on the property with me here was home and she didn't know what I was doing, so I showed her the back of my pad and then explained my plans for leaving tomorrow and for doing my laundry today. She asked if I was sick or something, and when I told her no, she nodded and understood. She knows I'm pretty weird. Besides that one small exchange, today I spent most of my time alone. Which is funny, because I felt pretty alone throughout this whole deal. I walked up to the main house to take a bath at about 6:00 or so and my other friend was sitting on the couch watching TV, and I waved "hi" to him, and he mumbled a response. I pointed to the bathroom, and he told me to go right ahead. I didn't say anything, and I don't think he noticed that I wasn't speaking at all. I'm pretty sure my three days were up by then, but I'm not really sure. And since I won't be seeing anybody until Wednesday morning, I figured I'd just keep not talking for the rest of Tuesday.
---
Day 5
I didn't think I'd make it to Wednesday, because I didn't have to, but since I really didn't see anybody on Tuesday, I didn't speak on Tuesday, so day 4 came and went without speech from me. Completely unintentionally. And as of 10:00am on Wednesday I didn't speak, so I thought I'd write that up. But as of 10:00am, I went to my friend's place where we went on a road trip to Tucson, where my speaking resumed. It was an interesting journey.
This is where that non-speaking fool was last seen getting in his car to meet friends.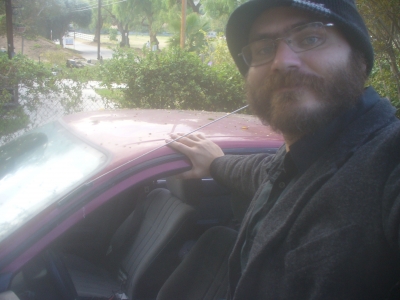 .
---
.
---
---
I asked some people that I spent some time with in those three days to write a little something about what it was like for them. Hopefully they will fill in some blanks in my post. I will post those now.
---
My friend Mike from Saturday night:
Haiku/Short Essay 4 A-Ren:
Aaron does not speak
He writes on a pad
Only Yes or No questions
All questions answered
Aaron's silence provoked a slightly intoxicated idea in my head for sketch comedy. Silence. Comedy. Vodka. Bad idea? Probably. Nevertheless silence begets inspiration, inspiration begats art. Therefore Aaron's silence must be art. It's a logic question just like on the SATs. Way to be art, Aaron, way - to - be - art!
---
Terry from Saturday:
Aaron and I talk a lot. We are both little chatterboxes. The other day I am onstage hosting a show at the theatre we both work at. I needed to ask him a favor and he answered by showing me a pad where he writes responses.
I thought, "Oh, he is not speaking today, whatevs."
Someone else was all, "Aaron, are you okay?"
Funny, didn't think that there was a problem. I guess I would have known by his face if there was. He didn't seem distressed. Also, Aaron going mute for a day is no big surprise.
During the show he was in the front row and I spoke to him a couple of times, nothiing new here. I talk to the audience a lot because most often they are funnier than me.
Nothing. So I grabbed the sheet and calmly explained that Aaron was not talking today. Very confused audience.
Lastly, I told him to fuck off cuz I knew he couldn't say anything back.
---
My friend C.M. from Saturday:
"In hindsight, hanging out with a voluntary mute is not as obnoxious as you'd think it might be.
Watching him explain repeatedly what he was doing got to be fun. You know how you'll find yourself at a party, being asked to repeat the same anecdote repeatedly? You'll explain over and over why your arm is in a cast? By the end of the night you've developed a sort of patter, a little routine. Well, he pulled it off mute. I don't know many people that could pull off this sort of thing. It's not that I don't know folks that have the sort of self discipline required to remain mute for three days, I just don't know many that folks won't immediately get fed up with.
A few times, I was asked why he was doing this. I responded by saying that he was hoping for a fleur de lis. This didn't make them less confused.
That he has a very expressive face came in very handy. It was surprising to see how much of a conversation our friends could have with a person who shrugged and scribbled notes on a pad."
---
And Susan from Sunday:
I was a bit worried on the way to Aaron's place I would get lost somewhere on Benedict Canyon and not be able to call and ask for directions. But I found it. Aaron was waiting outside, eliminating the need to honk or call.
He got into my car and half of me didn't want to say hi, because he wasn't going to say hi back. But I did. He nodded a greeting. He had a notepad with him, which could have explained why he wasn't speaking on this particular day but for some reason I didn't feel compelled to ask. I figured it was either a bet or some weird self-realization experience. Aaron is weird like that.
Getting to the Kirk Douglas Theatre wasn't too difficult. I had written down directions but Aaron pointed or gestured or wrote on his notepad when I was confused. We didn't communicate too much on the way there. Which was completely fine with me as sometimes I get annoyed at too much talking in cars. Especially if a good song is on. I did wonder if Aaron was enjoying Assembledge 23 as much as I was.
When we were looking for parking, Aaron saw someone leaving and tried to point the spot out. I had no idea what he was refering to. He wrote it down. Then he wrote it down again when we were in line and saw the guy that stole our parking spot walk inside.
Aaron spotted the house manager Meredith as soon as we got there. I think he showed her on his notepad that he wasn't speaking. She didn't seem to think it was out of the ordinary either.
There was some question as to our tickets at will call, which Aaron couldn't exactly help out with. But it didn't matter. We got in. Clay was amazing. I'm really glad that actor has retained his gift of speach. And song.
Afterwards, we crossed the street through one of those chirping walk lights I almost said, "Hey! Now you know when to walk!" forgetting he was temporarily mute, not blind.
On the way home we stopped at the Save-On so I could get some painkillers. Nothing interesting to point out there. Except there's a sign for "WC Auto Parts" above that Save-On on Venice Blvd.
I talked more on the ride home. Aaron wrote some interesting things down on his notepad, which I commented on. Basically, I think we both see the humor in other people's assumptions.
Sunday was a fabulously sunny and beautiful day in LA with a slight breeze. The play was awesome and inspiring. Aaron is pretty much good company with or without words.
---
My sister Kelly:
When I first heard of Aaron's idea to endure three days of silence I immediately thought it would be very difficult to communicate with him and I wasn't sure I nor my two year old son were up for the challenge. I also worried that my son might be afraid and worried by his uncles silence.
Aaron arrived in the early afternoon, pad and purple pen in hand and we began our adventure together. First the apple store then Ikea and finally Home Depot. I was surprised at the peaceful ease I felt from the quiet and the intuitive conversation we carried out. We settled into a very easy almost mental dialog that was natural and fluid. My son thought the whole "game" was hilarious, saying out loud continually 'It's so funny Uncle Aaron won't talk. I enjoyed the experience and the day thoroughly and would recommend it to anyone with the discipline to do it.
---