15 + 156 points
January 4th, 2008 3:28 PM


I don't wear shoes. Ever.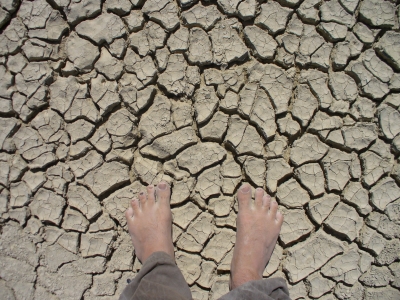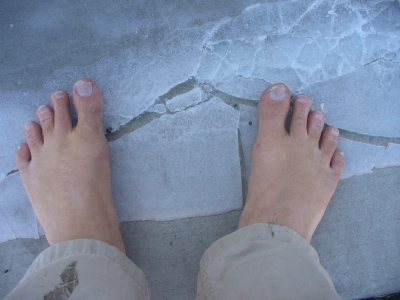 This often leads to extreme reactions. And actually whether the reactions are extreme or not, everybody has a reaction. Some people love it, some people actually hate it. Hate it. Can you believe that people would have such a harsh reaction to some other person not wearing shoes? It's pretty remarkable. Usually I get derision.
But before I get to the bad, and the disadvantageous, I'll tell you a couple of cool things that have happened.
Once I was on the 6 train going downtown in New York, when a man walked up to me. Now, I'm not one for fashion, and I haven't bought myself clothes in many years, and even I could tell that he was wearing a suit worth many thousands of dollars, and shoes that might have been more expensive. He walked up to me, and put a gentle hand on my shoulder and said in a very kind and sympathetic voice "Excuse me, can I help you in some way?" he looked down at my feet and then added "I could buy you some shoes." I explained that not wearing shoes was a choice, and after a ten minute conversation in which he kept insisting on buying me shoes, he understood my point of view and wished me luck as I got to my stop.
And a month ago, I was walking down the New Jersey Turnpike, when a car pulled over and the man inside offered me the shoes off of his feet. Which was nice. Then he offered me food.
And these are good stories that help reaffirm my faith in mankind in general, however, they all thought I was barefoot because I was destitute, not because it was a personal choice. They all assumed that if I'd had shoes, I'd rather be wearing them than not. Which is a good example of how people's reactions are determined by what the see. Whether you're
fat
or
gay
or you don't wear shoes. Which I find just awful. People should always always be judged by the content of their character, not because of anything else like how they were born, or who they like to sleep with or what they wear. Now on to some stories of how I have been affected negatively by not wearing shoes.
Restaurants. I get kicked out of restaurants all of the time. I used to carry around a letter signed by the Governor of California stating that there was no law in California about attire of customers in eating establishments, there are laws about food handlers and clothing, but not for customers. Unless what they were wearing was indecent and against the law (which is another bullshit law). So no laws. That sign that you see that says "No Shirt, No Shoes, No Service" is not law, it's a rule they've made up. Just like "Whites Only". So usually after explaining this to people, they acquiesce. But it's usually this person that gets all stubborn and can't admit he's wrong and will then insist. I always end before leaving by saying "There's no law I'm breaking, but this is a private business and you do reserve the right to refuse service to anyone, So if there's something you don't like about me you have every right to kick me out, if you don't want my money, that's OK, I'll go spend it elsewhere." and then I leave. I like to throw in the bit about them not wanting my money. Everybody wants money.
We have a really cool semi-independent record store here in L.A. (this is for people who don't live in San Francisco or Berkeley who had the original two) called Amoeba Music which is giant and amazing and you can literally spend an entire day in wandering about, and every single time I go in I get kicked out, I usually make it past the guy at the door, because he's looking for backpacks and whatnot (but sometimes he catches me too), but I will always always be nabbed by one of the patrolling employees and they'll call security, and I'll be asked politely to leave. Which I mention because being such a cool place, you'd think they'd be a bit cooler about and alternative lifestyle choice. And if you've never been to Amoeba, the staff are all tattooed, dyed hair, face piercing, rock 'n' roll characters who dress any way they like. Except they all wear shoes.
I sometimes get gruff from airports, but usually only on actual planes. They love me in terminals, because I just walk through security (ask Lank how fast I breeze through security) without a care in the world, I always go to the airport in my pajamas. No pockets, no metal buttons or buckles, man I fly right through.
Side note, if there's really long line for security and you need to get to your flight fast, at the very head of the line when they ask you for your ID say you don't have one, or show them an expired one, they flag you as a problem right away, and send you straight to the front of the line to go to secondary. The search of your person will take less than ten minutes and usually less than two, while the line lasts more than thirty. Try it sometime.
But it's the actual plane that has a problem with the no shoes thing, so when I fly I bring a pair of "stunt shoes" with me in my bag just in case. So when they ask where my shoes are I tell them right here in my bag. That's usually enough to appease most of them.
And luckily I have lived on the fringe and sometimes off in the wastelands on the other side of normal my whole life, so it doesn't phase me when I'm told that I'm crazy for not wearing shoes. "Even when it rains?" "Especially when it rains." "Even in the snow?" "Even in the snow." "Doesn't it even get too hot?" "I've been doing this for awhile." After fifteen years of never wearing shoes, I have heard and seen just about every reaction not wearing shoes can bring. And even when people understand, they still think there's something wrong with it, or me. I'm looked at differently.
And so all of you know, my feet are healthier than all of yours, and not wearing shoes is a great way to ease or eradicate any chronic foot problems you may have. My toes are spread out and doing their job, they're not all squished together and incapacitated. I've had many many doctors tell me I have the healthiest feet they've ever seen. Plus it feels so good. To be able to feel where you are, to feel the grass beneath your feet, the rain on the ground, the mud between your toes, the warm ground on a hot day. It's really a great feeling. I tell people that I haven't been angry in about fifteen years, and they think I'm lying, but I just now realize that maybe the reason I haven't been upset in about as long as I haven't been wearing shoes is because of the fact that I don't wear shoes. My happiness might be a causality. Something to think about.
Also worth thinking about is this: Even though not very many people understand or accept my barefoot life, and I am often met with hostility and crass behavior my mood of joy and understanding has never faltered.
32 vote(s)
Favorite of:
Terms
(none yet)
24 comment(s)