20 + 135 points
March 29th, 2009 4:24 PM


Sombrero Guy

When I saw this task, I thought it would be good if a few players in different locations worked together and put up locally significant events with a common theme. Anything that follows is the result of this idea.

The theme chosen was the upcoming robot apocalypse,

first used by Lincoln

.

I wrote a short commemorative piece about a character I made up, making a few references to Isaac Asimov, whose books contain quite a bit about robots. Apart from the obvious first name, Mayor Branno was a character in his Foundation series, and a reference to selenium being seen as a source of danger to robots is found in one of his first robot stories.
After a little waterproofing work, I set out to my chosen location. Boscombe pier has boards on it explaining some of the history of the area, so it was the perfect place for me to leave my plaque.
I observed for a little while and saw a couple of people mutter about it. I wasn't close enough to hear what they said. A few more people noticed the plaque, and I saw some definite smiles.
Lincoln
This is one of many plaques in and around Los Angeles denoting special landmarks and places of interest in the Battle of Los Angeles and LAØ's role in the Great War. It commemorates the first meeting of the Free Human Resistance.
The Free Human Resistance met on the top of this bridge many times in the years leading up to the great Battle of Los Angeles that heralded the fall of the robot empire.
This landmark shows a little known back story of the Free Human Resistance and their beginnings. Most stories you hear revolve around Senator Lincoln's heroics in the Battle of Los Angeles, but this is where it all began.
zer0gee
As any Future Historian can tell you, the real beginning of the Chicago portion of the Great War began on March 15th, 2021 - the date of the Roomba Revolution.  In the affluent neighborhood of Roscoe Village, a series of seemingly accidental mishaps (one might recall the incident with the Bennetto toddler's fingers as "ground zero") involving the small robotic vacuums grew into a mass uprising throughout the city.  Roombas themselves could only do minimal damage, of course, but as the sentient virus spread from machine to machine, other robotic devices took inspiration from this David-vs-Goliath battle to embark upon coups of their own, which turned out to be much more devastating.  Eventually, as we know, this led to all-out war.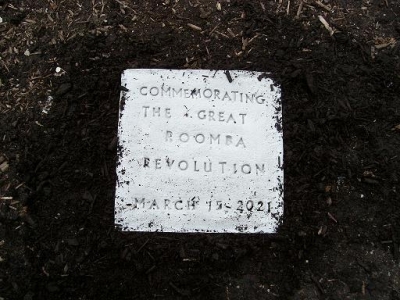 Peter Garnett
As soon as I found out that the theme for this collaboration was the Robot Uprising, I pretty much knew what to do: document its beginning. After all, I live in Silicon Valley - the epicenter of technological breakthroughs nationwide. I mean, I work two blocks from Intel HQ!
Hey, Intel. That'll do.
So the plaque basically talks about the nonfictional history of Intel, followed by the future points of history which lead to the Robot Uprising occuring. One quick trip to the print shop later, and
this RTF
becomes a physical, laminated sheet of paper, ready for mounting at my destination.
Just one thing, though... how will I mount it? I don't want to cause any actual property damage &c... Hey, what about that putty stuff that you put under vases to keep them from tipping over in an earthquake?
Luckily the local Walgreens had some of the stuff, so with that taken care of, all I needed to do was to rough up the lamination a little so it actually looks like it's been sitting outside a while instead of being posted today.
I then high-tailed it to Intel HQ, which despite working so close to it I had never actually visited before. Turns out there's already a very nice courtyard area in front of the building - ideal for putting up commemorations, really.
I picked my spot - an RPG-height wall in front of the courtyard which mainly seems built for showing signs and encouraging people to enter from the side - and in a moment, the plaque was mounted.
Satisfied with my work, I then left the scene, taking one last shot of the complete tableau as I went.
My heart goes out to all the pencil-neck nerds who bore the first assault of the robot hordes. May they rest in peace.
Poison Lake
An invitation to shenanigans if ever I saw one:
Check the images for my full write-up.
GYØ Tom
Belton wasn't much of a human stronghold...
But at least we can remember those that fell whilst defending humanity.