45 + 25 points
October 26th, 2007 7:12 AM


I really wanted to do this task. But I'm a fairly weird fella to begin with, so wearing clothes made of unusual material wouldn't be seen as too incredibly strange. No matter how strange that material was. So I decided I would have to wear the same

ensemble

for a week. But again, a week wouldn't be enough to make a real impact on my friends and family. Because I have no normal routine, there isn't really anybody who might notice if I was dressing strange. But I had a solution to this problem. And I had a very specific window that this task could be completed in.

I started doing this task on Saturday the 13th of October. I decided that that would be a good day, because it would include at the end of the week, my trip to Tucson, where I would be with my two friends Dean and Victor for the entire duration (as well as the staff of the theater we would be working at). And hopefully one of them would notice and react.

The other group of people I hoped would notice was you guys. I hoped that SFØ would help me out. I thought for sure somebody would notice that

for five straight days

I was wearing the same clothes.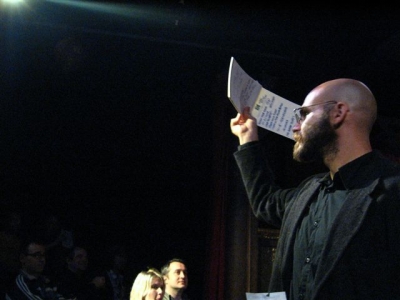 But not one person in my beloved SFØ community did. Not too surprising, because I wasn't speaking, that's very distracting. And you'd have to really look hard and concentrate on exactly what day it was a nd what I was wearing, which admittedly isn't easy. So then I did
this task
. Once again, wearing the same clothes. You would have had to have been paying real close attention because I only show up in a reflection in one photo. But still, I was trucking around Tucson in an all black suit for four days hoping somebody would notice. Most notably my friends I was doing the show with, or the people who ran the theater I was working at.
And now I wish
this task
wasn't retired. Because I think I did it as well as can be done. Three tasks being done simultaneously without one task bleeding in or interrupting or commenting on the other.
And nobody here on SFØ noticed and nobody in Tucson seemed to notice. Not even my friends who drove there and back with me. I wore the same black suit every day in the desert and in the eight hour car ride both ways and nobody said anything or reacted in any way. So I decided to keep the suit on for longer than the task requires in a hope of getting some kind of reaction. Once I got back to my life in L.A. I kept the suit on for the next four days hoping my friend who lives on the property here with me would notice. I also work with this guy, so there'd be some opportunity for him to give a reaction I could observe. But no luck. And I did manual labor in the suit. I rearranged the garage and helped finish off a deck and did some gardening. All in the suit. And he didn't seem to notice.
I should point out that it was over 100° in L.A. and hotter in Tucson. And nobody noticed that I was wearing a black suit every day in either place. It should be noted that I am
not
Johnny Cash.
One guy last Friday in Tucson as I was walking to a museum commented that I was lucky it wasn't last week, because apparently last week the temperature was up at 110°, so that guy noticed I was in a black suit, but not that I was wearing it for days on end. So, he was really the only reaction I got.
I changed my clothes on Wednesday October 24th. So I wore the same black suit for eleven days straight. Once I decided that I was done with this task and that suit, I emailed everybody I came in contact with and asked if they noticed that I was wearing the same suit every day, and nobody did. I was supposed to go out with a girl on Tuesday, so I specifically went by her work the night before so she could see me in the suit the night before so she could tell that I was in the same clothes. She didn't notice.
It should also be noted that I'm not a suit wearing kinda guy. So it wasn't like I was in the same type of clothes I normally wear. But I suppose that's the price I pay for being a bit odd and having friends that know that about me. I suppose a guy who never wears shoes doesn't get much attention when wearing a suit. I will often wear a skirt in the summer when it's hot and I need a little ventilation, or a Hawaiian shirt to a wedding, so the suit I suppose wasn't weird or strange enough. I thought it was very out of character for me. But I'm not me. Maybe I should have worn a baby blue tuxedo.
And because just doing the task wasn't enough, and what I really wanted was reactions, and didn't really get any, would you, my fellow players and my community please share your thoughts and observations so I can get a little satisfaction? Maybe go look though
this bad boy
again and see if you can tell, and if you can, tell me what you think.
Because I'll tell you what I think. I think spending eleven days in the same suit was very claustrophobic. But also kinda nice knowing what I'll be wearing every day. And it was very very hot out in that desert, especially when I went for my hike. I was always afraid that people would think I was an idiot and weirder than they already thought I was. But as it turns out, I needn't have worried.
5 vote(s)
Terms
(none yet)
9 comment(s)