15 + 142 points
September 30th, 2008 3:00 PM


zer0gee
Chicago, IL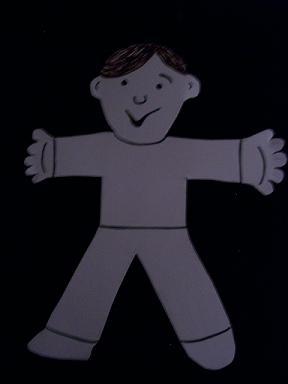 JJason
Saint Paul, MN
Now, I figured that a rumspringa's not just about showing naive amish kids a mindblowing good time, that's just the most photogenic part of it. Really though, a rumspringa is about having an honest appraisal of life outside the amish community, so that youths can make informed decisions. With that in mind I set out to show Flat Stanley how my life usually goes, showing him my average activities. I also figured that since I was his first stop, I'd take it easy on him.
I think they bought it - nobody will know how boring my life is!!
So I took Flat Stanley through a fairly average day, showing him the things I like to do. I also took the time to decorate his back. "Nobody out here in the rest of the world" I told him "will trust somebody without any features on their back."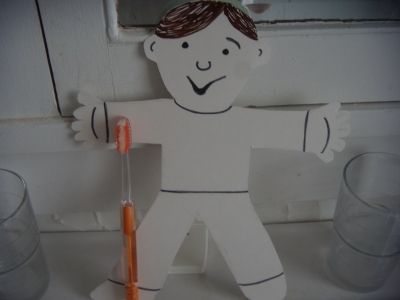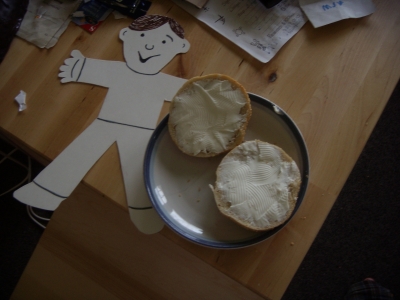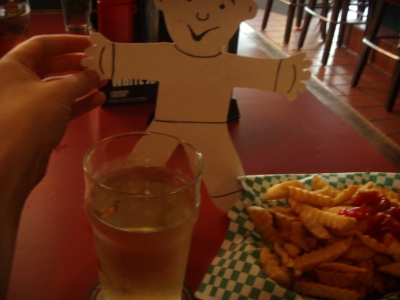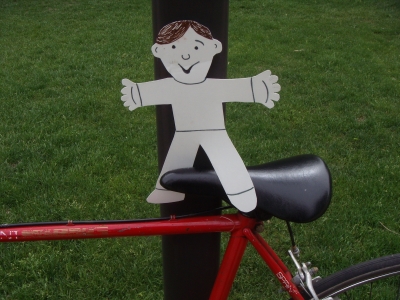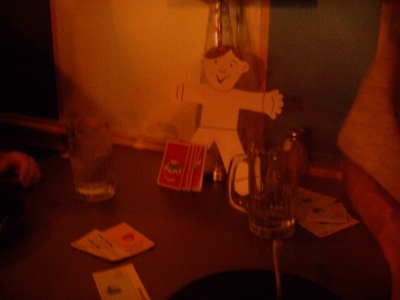 Bjorn Teuleuse
San Francisco
Forgoing the use of "English" worldly possessions up until his ripe young age of 16, Flat came to Bjorn all the way from JJason in Saint Paul to experience, what most have considered, a quintessential countercultural experience. San Francisco, and its uncanny resemblance to Sodom and Gomorrah set the stage for a pleasantly intoxicating first time with Psycotropics. Due to Marijuana's decriminalization, Flat kindly asked for this to be his first experience with mind altering substances. He ended up smoking a fair amount while he was here, and one can clearly say that this is his preferred poison.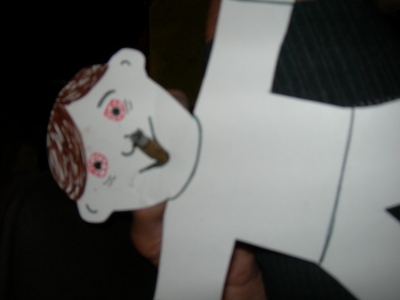 This of course peaked his interest in other things...after all, Mary Jane
IS
a gateway drug. He wanted eagerly to partake in phsychedelia so he went for a stroll in the not so friendly tenderloin... The camera did not follow him here because it would have, in truth, created quite the altercation with the abundant amount of Trans Sex Workers dressed in Superhero Costumes....Wonderwoman isn't doin so hot these days...
HE
has been plagued with quite the rash. ALAS, he escaped the temptation to respond to multiple scantily clad solicitations and wandered into Bob's Donuts where they made Flat one of the largest Donuts he'd ever encountered.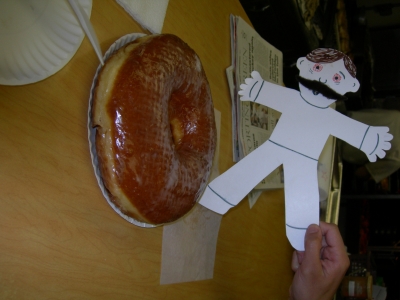 Of course, his drug induced undeniable hunger had set in and he devoured the entire thing...which rendered him done for. This was just one day, the rest were relatively tame but lets just say he was taken by surprise when the fetishistic change of hands that occured had hardly any resemblance to his week with Bjorn...and to Anna One he went...
anna one
San Francisco, California
Stanley seemed pretty excited to come visit me at
work
- I had no idea that he'd jump head first into the fetish world, but jump he did, with gusto! Once he saw what earthly delights we had on offer, he had me make him a custom y-harness. I must say, his sizing was a little different from our usual customers... I went ahead and finished off his gear with some wrist and ankle restraints, since we don't really carry boots and things in his size. Then he made is way out onto the floor of the store and saw the hoods that I usually spend my day making:
He begged and begged me to make him his very own custom hood- so while he got to know a few of the boys on the floor, I got to work. After Stanley played around in the dildo room, the boys took him through a few of the more... ahem, heavy-gear playthings we have around. At this point, Stanley started going places that I didn't think were entirely appropriate to be photographing and posting on the internet... but you get the idea:
When he finally dragged himself home in the wee hours of the morning, Lank decided that he needed to take a little toke and calm the hell down. One look at that boy's tired eyes tells a whole story of how much fun he's been having on this little experimental trip.
He slept late into the afternoon next day, so he missed out on the Shopping Cart Derby, and the Cardboard Tube Battle too- but he finally showed up to hang out in Delores Park with a few other players. I guess he just never got completely out of subspace, because after a little while, he threw his hood back on, and gave Minch a little back massage.
It's been fun showing him around, but I'm kind of glad he's made his way off for adventure with Lincoln...
Sometime in September, I received this message from a non-playing friend:
Hey anna!

Why is there a link in the most recent Burning Man newsletter about a missing S&M Flat Stanley with a link to a picture of said paper doll on your sf0 page?

Curiously,
S
This is what I love about this game. The questions.
Lincoln
Los Angeles, California
(actually Black Rock City)
So I got Flat Stanley in San Francisco, and took him straight away to Black Rock City.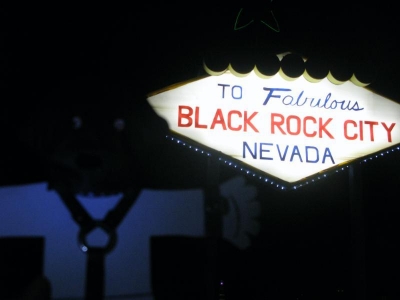 I figured that would be a fantastic place for him to really experience everything he might be missing in his life. And boy was I right.
I made him a little carrier out of his envelope that was taped to my bike and I took him everywhere with me.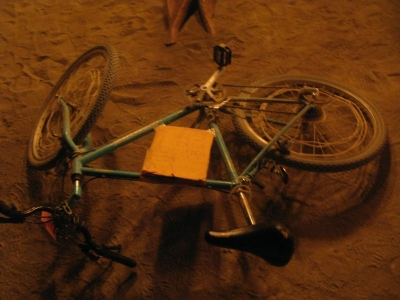 On his adventures in Black Rock City he saw more naked people than any of his friends likely ever will. I let a neighbor friend of mine take him into her tent and do anything she liked to him (Lisa said he performed very well, good going Stan!). He got to see a naughty clown strip tease fire juggling act. He sat at the top of Thunderdome and shouted "TWO MEN ENTER! ONE MAN LEAVES!" over and over again. He drank all night with a group of guys from England who were obsessed with football. He knows well the taste of playa dust (and said he rather likes it). He rode inside the
nekobus
as well as many cool art cars, and he stayed up all night most nights dancing. He really liked dancing.
We saw all kinds of awesome things.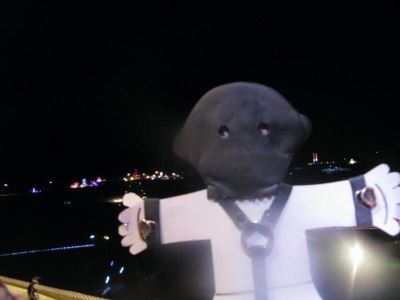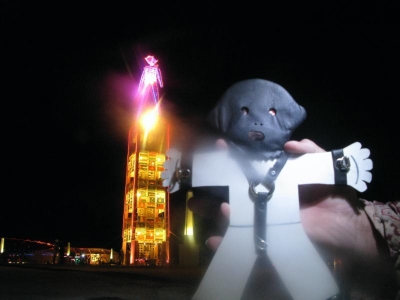 I even took him to a strip club, he seemed to really enjoy that. It was just like dancing, except somebody else was doing it and they took their clothes off.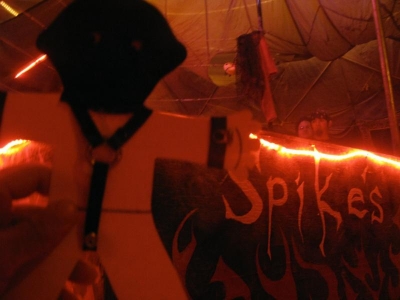 But no good thing lasts forever. During his adventures in Black Rock City, I left him alone in his envelope on my bike when I went roller skating one day, and when I was done and went to get my bike and go on more adventures with my little buddy, I discovered that my bike was gone. And with it, Stanley. I was very upset to have lost him. The next day I went door to door and asked every single camp that was near where my bike was stolen if they had seen him, but that method surely wouldn't work as there are 50,000 people there and there is no way to get in contact with them all. So I did the only thing I could do. I went on the radio.
I recorded an announcement to be played on Radio Free Burning Man.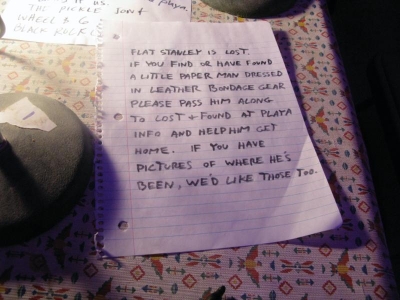 I got no response and nobody had turned him in by midday on Monday after most people had left.
So when I got home I let Jack Rabbit Speak for me by posting a note in the email flier that goes out to all Burners.
I got this message from a concerned Burner in response:
I read with great despair the missing-paper report on Flat Stanley, and I pray for his speedy return. My prayers will be offered with black candles, a pentagram, and a steaming goat head, fyi. If, by some horribly unfortunate circumstance, Stanley is not returned to you, I would happily fabricate another sm-bondage paper guy for you to play with. I realize this could never compensate, nor fully console you, on this loss, but perhaps it might offer some hope while journeying through this dark period.

Steve Dyson
Los Angeles
So I guess that marks the end of Flat Stanley's adventures (that we're aware of).
Stanley was supposed to travel on to
C.M.
&
Insomniac Walking
, but because he went off on his own in Black Rock City they never got to meet Stanley and be enriched by his presence. We're sorry you two never got to meet him.
But we all hope that Flat Stanley is off enjoying his life away from us. I guess he's all growned up now.