15 + 52 points
October 15th, 2009 11:00 PM / Location: 34.225925,-118.3659


I ride my bike everywhere I go (when I'm not working). I have ridden my bike more times than I can count.

I draw. I draw a lot. I used to be an artist. I have drawn more pictures than I can count.

I have never drawn a picture while riding a bike. In fact I've never heard of that ever being done.

Sorry for the poor audio quality. Who knew riding a bike with a camera strapped to your head would make so much wind hit the mic?
The finished product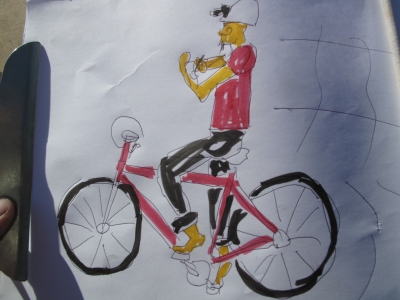 I know it's not very good, but my full attention wasn't on the drawing. It's good enough. Good enough that I'm not embarrassed.
Here we go
Download FLV
The sound gets loud and annoying most of this entire video. Sorry. I didn't take the time to squish all of those spikes. Just turn down your volume if you get too annoyed.
11 vote(s)
Favorite of:
Terms
(none yet)
7 comment(s)