50 + 90 points
July 25th, 2010 1:00 PM / Location: 34.047859,-118.2534


Planning and organizing this was a long, hard road as they always are.

Do you want to read about it?

OK!

I had planned and thought out the route in 2008, but that year I had to do

Hollywood

. Because it was the first year and I need a stop at our city's para-Sutro. The next year I decided I had to move it to the

beach

, because this is summer in L.A. and who doesn't love the beach? Plus I had water as a safe zone. Would I get anybody that would use that new rule? Too exciting to pass up on wait another year on. Actually I designed all three routes at the same time in 2008. With only minor adjustments along the way.

The one thing I wanted to change for this year was the start/end point of the race. I made it the same place, because in previous years people drove to the start and had no idea where the race would take them, so I had to shuttle people back to their cars very late at night. I wanted to avoid that this year. So the easy solution was to make the start and end point the same place. I chose Pershing Square. Being right in the middle of downtown and at a subway stop helped my decision making.

I also scheduled better so as to avoid any conflicts with my theater friends to help boost the number of participants. Speaking of participants, last year I did a terrible job of promoting the event, mainly because I was leaving for Burning Man the day after Journey. So this year I vowed to promote better. And I did. Flyers, announcements in local L.A. newspapers and blogs, a facebook page that I pushed to everybody I knew and saw. So one would have thought turnout would be better than previous years. That wasn't so much true as not true. We had maybe thirty runners start the race. I didn't count.

Anybody want to help me promote next year's?

I also played with length and format a little bit. This route had eight checkpoints. Which I think is more than any other Journey ever. But the length of the course was just over seven miles, which is shorter than the two previous years. I thought about having fewer but there were just so many cool things I wanted people to see downtown. And the fact that close checkpoints makes for tighter chokepoints for potentially getting caught which amps up the adrenaline. Plus, a lot of the route was accessible by subway, so the more checkpoints, the more disadvantageous taking the subway everywhere would be. I think. Plus I wanted people to ride the subway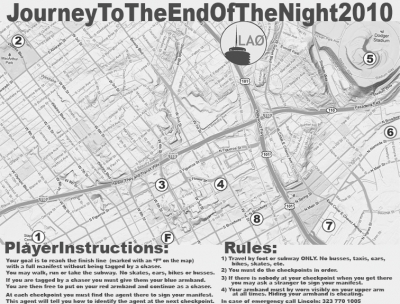 which is still fairly new in L.A. (the first line opened in 1992 and didn't connect much to much), because I think not many people have actually ridden the subway, and it is awesome. So I steered the route to use the subway at least once.
And eight checkpoints meant eight teams of checkpoint agents. Which was a lot of planning to get done. In previous years I was a bit controlling on the style and vibe of what the checkpoints would be. I kinda designed them, or planted the seeds of their eventual feel. This year I pretty much was completely hands off (following Dax's lead from how he handled Oakland). I was available to answer questions and offer guidance, but the big choices were with the checkpoint agents. And I had great checkpoint agents.
But I'm not going to talk about checkpoint agents. Maybe some of them will complete this task as well. But I will talk about one checkpoint. It's the one idea I did come up with. That one is checkpoint #3: The Bonaventure Hotel.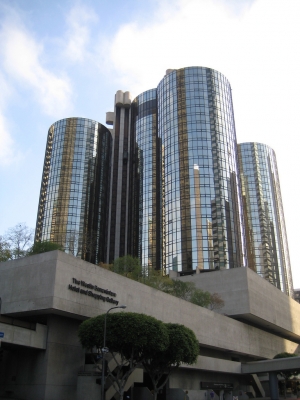 This has pretty much always been my favorite building in Los Angeles for as long as I can remember knowing there were buildings in Los Angeles. My father told me all about it when I was very young. He pointed it out to me when we were driving past on the way to a Dodger game. And then not long after he took me to it and we went inside and we rode the elevators all day. I had never seen or heard of elevators on the outside of a building before. I had also never seen a circular building either. This had both of those things. So I knew I wanted to man that checkpoint as well as the start and finish line. So I carefully and purposefully made it the third stop of the night to give me time to get there and back. And my other checkpoint agent: my dad.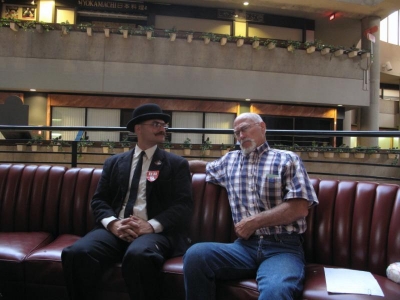 So me and my dad manned the Bonnaventure Hotel checkpoint (with the company of Selkie, as she had been diving all day and felt she'd be too tired to run the race, so The Walrus ran alone and left Selkie with me). And the thing I had come up with to make runners earn their signature was to ride one of the elevators to the top floor and take a picture of themselves up there on the 31st floor. So I brought two cameras so there wouldn't be too big of a wait for just the one camera while other groups were going to the top (I had other cameras that were loaded to me, but my father forgot to bring them, but it didn't become a problem as there was never a wait for a camera). And I sent them up there to take pictures. It was also a great way to get people to see how awesome those elevators are.
These are the pictures the runners took: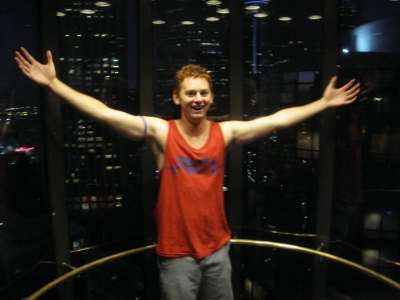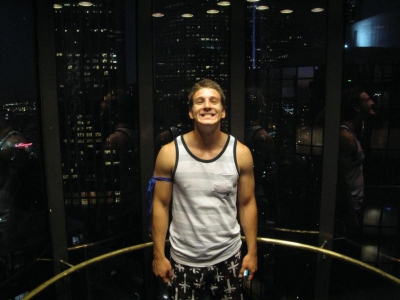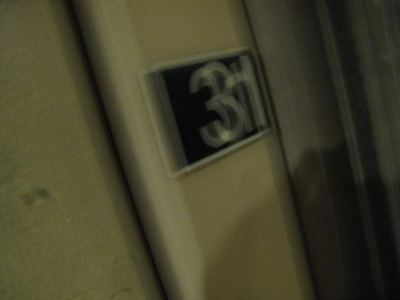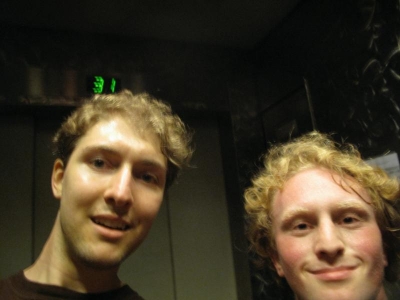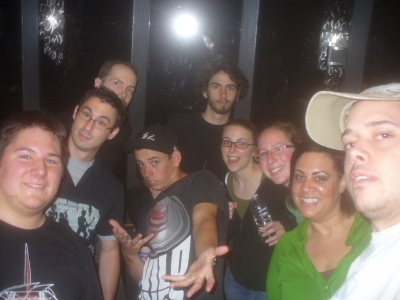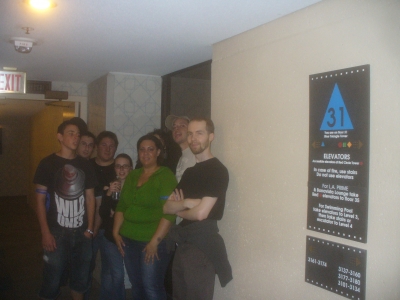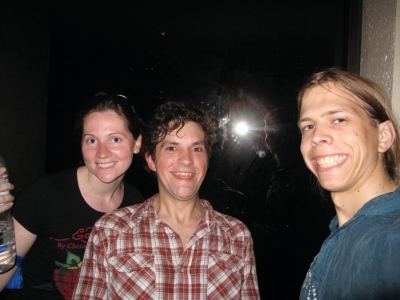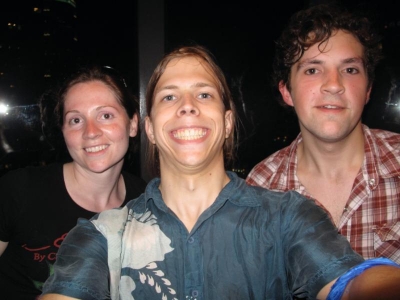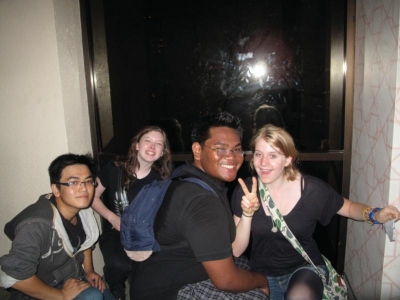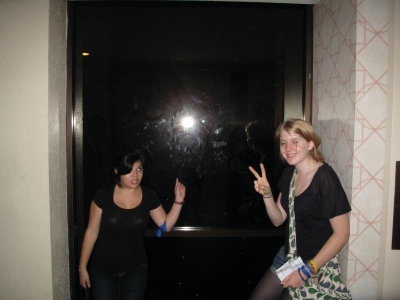 When they got down from taking their photos, my father challenged them all to feats of skill. He played a game where he would snatch a quarter out of their hands before they could stop him from doing so, and he also did a quickness test with a dropping piece of paper. Once somebody in the group could best him, we signed their manifests and sent them on their way to Disney hall.
22 runners made it to The Bonaventure Checkpoint.
When the last of them made it through our checkpoint, we closed it down and walked over to the Disney Hall to see how they were doing over there. We showed up just in time to miss Spidere & Dumble perform.
Then Selkie and I went to City Hall to keep checkpoint #8 company. The last checkpoint is always the hardest, because the wait is the longest, and the gaps longer. It can get boring. It was a good thing there were three really fun ladies there to amuse and be amused. I split out of there and headed back to Pershing Square when I saw Scott roll in there alone. So I waited for him (or somebody else) to show up.
And sure enough, it was Scott who finished first. Again. He got to every checkpoint in the game first.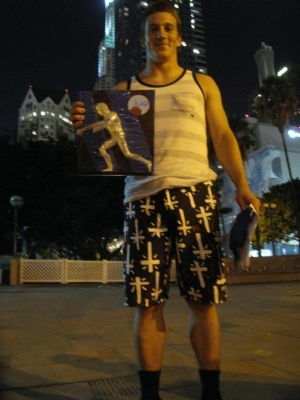 And then once all of the chasers rolled in and we counted blue armbands, Celila was deemed the most prolific chaser with three.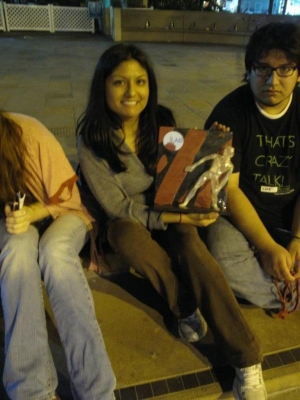 And thus wraps up another year of Journey To The End Of The Night Los Angeles.
See you next year!