50 + 40 points
July 26th, 2011 8:23 PM / Location: 34.074843,-118.3558

Pre-race
I'm not sure when I started planing this year's Journey, but it was probably the week after last year's. I like to pick out routes and find places that would be cool to see and run through. I also like to feature different parts of this city that I love so much to show off.
The thing that inspired me was the streetlight sculpture out in front of LACMA, I knew I wanted people to run through, and or see that thing all lit up and beautiful at night.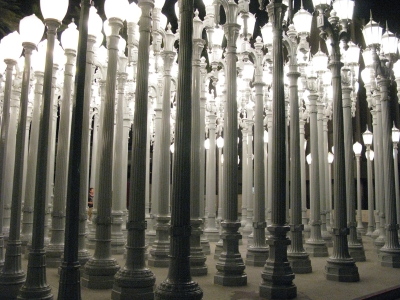 So every year, I come up with a potential map using Google maps.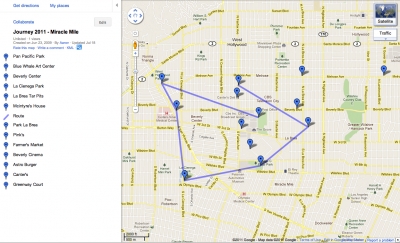 I share it with C.M. and he sends back notes and revisions if any. Then a few weeks before the Journey, he and I walk the route to make sure it's viable and the things we want and the places we want will be open and accessible.
This is a fun time for us.
This year we did our route walk on Saturday July 9th. Two weeks ahead of the game. We parked near The Grove and skipped the starting point, because we also intended it to be our finish line as well. So we figured we'd just skip it and check it out at the end of the night. So we start walking to the Pacific Design Center.
Right off the bat we see some really cool graffiti, and we each photograph it. Like we do.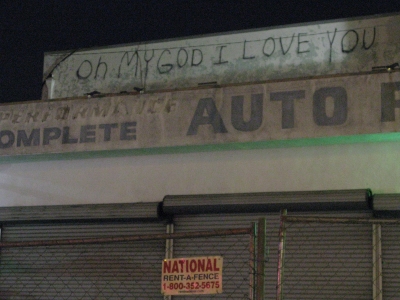 Also right off the bat we both have to pee, so we find an office complex that might have bathrooms on Melrose and go up the stairs and we realize it would be a bitchin' place for a bonus checkpoint. I wasn't planning on doing any bonus checkpoints, but I take note of the location anyway. The bathrooms were locked, but the drinking fountain wasn't so first me, and then C.M. pees into the drinking fountain. And yes, we wash it out pretty good. We're not heathens after all.
We get to the Blue Whale and have fun running up and down the little grass hills, so we decide that is what we shall make the runners do. Plus other stuff that Lefthandedsnail comes up with.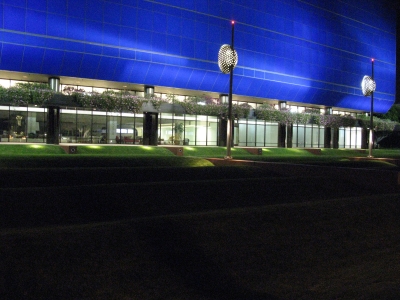 When we got there it was later than when the runners would get there (we like to shy to the side of getting there later than the runners just so we know worst case scenarios), and there was nobody there at all. We were sitting on the grass after having run up and down the hills, when a security guard comes by and tells us to get lost. So we do. Making a note to not have our agents on the actual property, but to use the sidewalk, just in case.
Then we walk down to the Beverly Center. We know that this is a possible chokepoint for Chasers to stalk prey because of how close the checkpoints are to one another, so we take all side streets through residential neighborhoods. We try to take a shortcut down a street that says it's a dead-end to see if it's just a car dead-end or a real dead-end. Turns out it's a real dead-end, but if properly motivated, the fence at the end would be little challenge for a Runner. We did not hop the fence, but found a hole through a hedge that took us out to La Cienega and just a few blocks to the Beverly Center.
We found the perfect place for the checkpoint under the Northside escalators. Having found that we walk around the West side of the Beverly Center. We played
Escape From The Camera
together when we found a cool loading dock.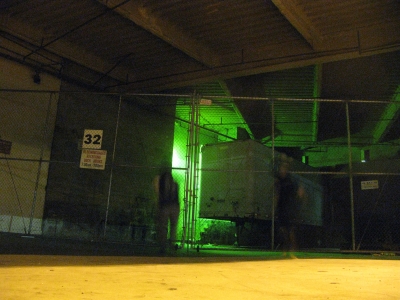 We took a direct route down to La Cienega Park by following La Cienega all the way there. The hospital across the street was under construction, and we considered making the runners go in there, but they're going to breaking enough laws as it is, we better not force them to do it. On the way we found to well dressed black guys trying to hail a cab, and so C.M. and I decided to try to help them, by going out into the street and really trying to stop a cab. But we scared them by talking to them, and then ran away down some side street. I suppose we're pretty scary.
We get to La Cienega Park and there are no longer bocce courts like there used to be. So we decide to let the checkpoint agent figure out what to make the agent do. I remember sitting on a bench and C.M. went and played on playground equipment I think. When he was all done, we headed off to the La Brea Tar Pits.
On the way there, we found three people sitting outside of an office building having a smoke break. But it was 11:00pm. Why was anybody working at 11:00pm? So I had to ask them. They confirmed our guess that they were on a smokey-treat break. From work. At 11:00pm. Satisfied, we moved on. But at the corner of Wilshire and Fairfax we saw Elvis and Mr. Miagi sitting on a window ledge presumably waiting for a bus. We couldn't believe what we had seen, so we went back to take their photograph. They decided to pose for us (which wasn't as cool as them just sitting on the wall there, but they insisted).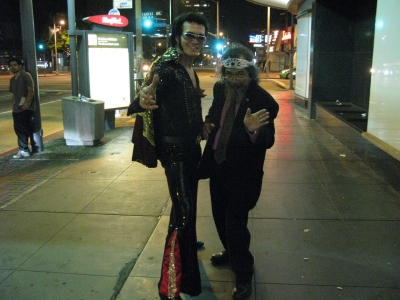 We passed the great art sculpture made of just street lights and photographed and played around in it. I love it when it's all lit up at night.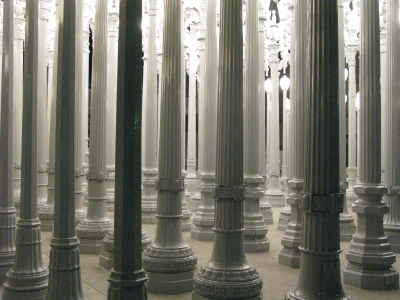 Then we got to the La Brea Tar Pits and it was closed and locked up. We discovered that it closes at 10:30, so we just had to make sure that that checkpoint closed at 10:30, so that Captain Barbapoca wouldn't get hassled. We decide to forgo going to Mcintyre's place because we knew where it was, it didn't close and we didn't tell him we were coming over. So we went to Pan Pacific Park. When we get to the park, we look to see when the park closes, but the sign has a sticker pasted over the one piece of information we want.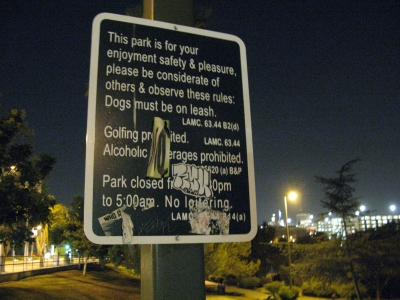 So we go in to check out the amphitheater where the race will begin and end. We get there and it's lovely. We sit down and talk about what is left to do. Then a cop car comes trolling through the park to break up a party that was going on down in the kid's playground. Then the cops left and the guys that were in the park all scattered. So we realized that maybe this park wouldn't be the best place to end the race. Then we hear some guys calling to each other in the park by doing a yelling type of bird call thing. We confuse them by mimicking the call. But we get bored and decide to head out. C.M. has never seen the Holocaust Museum in the corner of the park there, and the design of the place is pretty awesome. So we explore it. When C.M. is down by the door, and I'm above him looking down, a couple of cops come up to me and tell me to get down and put my hands on my head. I comply. And then they handcuff me. I ask what I was doing and why I was being detained and they say trespassing. They soon capture C.M. as well, and we are both handcuffed, and told to sit on the curb. They keep us detained and refuse to talk to us for about twenty minutes. They write us tickets and the only time they talk is to get our information. So once they give us our tickets, they uncuff us and let us go.
We go back to the entrance we came in and take pictures of all of the signs posted, the one we came in was clearly not legible, but we also found another one that was equally illegible.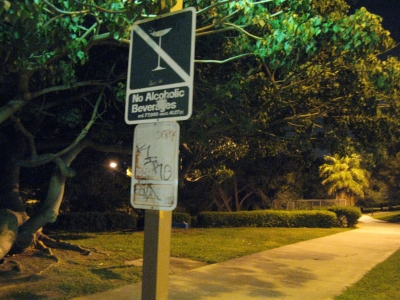 So we decide we have to find a new place to end the race. The next day I call my friend who runs the Greenway Court Theater and he tells me they have no show that night and it'll probably be doable. So I adjust those particular plans.
So in the coming weeks I make the Runner and Chaser trophies.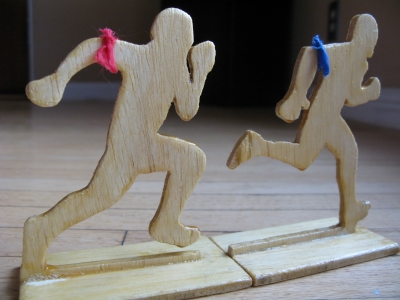 And I make the manifests and sign in sheets and Certificates Of Awesome that all Runners that finish the race will receive. I unearth my bags of red and blue armbands. And I feel prepared to go.
Race day
I finish putting on a few more coats of varnish on the trophies and then get a call from one of my staff Chasers (who won the Chaser award last year) saying she can't get a babysitter and will likely not be able to chase. Also I was counting on another chaser who I found out had to work a few days ago. that meant that I was down to just one staff Chaser. But the morning of the race, my niece (who can't be at the race as she was going to see Dolly Parton) has a boyfriend (who is 17) who was interested in being a Chaser, so I call him and try to lock him in. I can make it work with just two staff Chasers. But as the day unfolds more fortune smiles on me, as I get a message from Loki saying that he and anna one will be in town and willing to help in any way I want. I ask Loki to be my third staff Chaser and anna one to document (as I know how good a photographer she is). They agree and I feel like everything is falling into place.
I head off to the Greenway Court Theater to meet my friend and get the keys. I get the keys, am instructed how to lock up and turn on the alarm and then I head off to the park and wait. I'm about an hour early. So I sit and watch a very beautiful woman taking a kickboxing class with a personal trainer. My staff Chasers are supposed to meet me at 5:30, and my first guy, Jorge shows up right about then. Then slowly the rest of my staff show up. My father shows up with a table and an old friend of mine to help with registration. The 17 year old Riley and anna one and Loki show up. Then C.M. and Heatherlynn and Lefthandedsnail and I discuss the rules of Chasing with the Chasers and then send them off to go plan with their maps. I tell two of the Chasers not to catch anybody before the first checkpoint, but to scare the hell out of Runners by chasing them.
Then the Runners start arriving. I love this part where we sign them up and give them ribbons and explain the rules. One player runs up from the park and does a Kong vault over the back of the amphitheater and my dad picks him to win the race I disagree and say the parkour guys don't usually do as well as you'd think. Maybe they have too much hubris. Once they are all gathered I explain the rules at about 6:57 hoping to set them off at 7:00.
I blow the train whistle and get them all going at about 7:03. We watch them all scurry away looking for an escape from the park. When they have all gone, we pack up our shit and prepare to head out. I look up and see my friend (who is not the most athletic guy ever) walking up along The Grove Blvd. wearing a red armband. The game wasn't even five minutes old. Oh well. Hopefully he'll have fun chasing.
Just as we're about to leave, two guys run up and ask us what's going on, we explain the game and they want in. So we give them armbands and manifests and try to quickly go over all of the rules. While we're explaining the rules, two more guys show up wanting to play. So we go over all of the rules again, hand out the supplies and send them off on their way. Now we're really leaving when a players wanders down to the amphitheater and sits down. He has a red armband and his right sleeve is torn off and the back of his shirt is all ripped up. He has a huge raspberry on his shoulder and a matching one on his knee. He claims to have a concussion and needs to sit. We try to help him and when his friend shows up (with a red armband) he perks up and they head off together. I overhear that they're part of a group called Parkour L.A. and another of their group also got caught.
As my father is driving my to the finish line, we're driving along Beverly Blvd. and about to turn right on Fairfax when I see the two new guys running alongside us on the sidewalk. I then notice across the street in the direction they're running are four Chasers facing away from them. When they get to the corner of Fairfax, the new guys don't turn to avoid the Chasers, they run straight at their backs. I wonder if I explained the rules well enough in the short amount of time I had. Oh well, nothing I can do about it now. Except watch what happens. What happens is that both guys raise their arms up into the air with their blue ribbons waving in the breeze like flags and then push their way through/past the chasers. They sprint away from them hurling taunts back at them. The Chasers are stunned at first, but quickly recover and begin chasing. I don't see what happens as we turn the corner.
I get out and open up the Greenway Court Theater and sit by my phone giving out and receiving updates all night long like a command center.
The first runner arrived at checkpoint 1 at 7:31.
The first runner arrived at checkpoint 2 at 7:54.
The first runner arrived at checkpoint 3 at 8:30.
The first runner arrived at checkpoint 4 at 9:13.
The first runner arrived at checkpoint 5 at 9:34.
The runner that won arrived at the end at 10:04.
At around 9:30 the Chasers started swarming around the finish line. I was going to say something about being unsportsmanlike, but they had all been caught and wanted to give as good as they got, plus there was a trophy on the line. At 10:00, when I began to wonder if anybody would finish at all. If I made the course too hard, if I had too many staff Chasers. As I was wondering this the Chaser stationed right in front of the theater went in to use the bathroom. Minutes later Eric walked into the theater. Just walked in. And won. No opposition.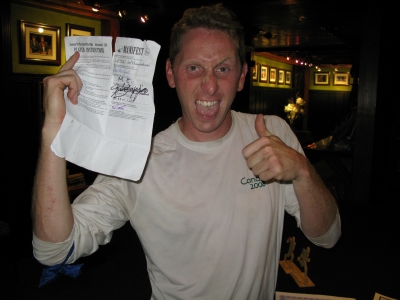 From then on Chasers started to trickle in, and even a few runners made it in. One made it in by just running faster than the others. One made it in by hiding behind a couple walking down the street, and then just stepped out from behind them into the safe zone. The people got more numerous and the stories started to roll in with them. I want to tell all of the stories I heard, but I want the people who lived them to tell them, so I'll give them that chance.
I will tell a part of one though. Our winner Eric, having difficulty leaving the park at the beginning, decided to leave East away from the first checkpoint counting on finding no resistance that way. He heads many blocks over before turning North, but still finds a Chaser to chase him. He flees and finds himself on Santa Monica Blvd. and realizes he's only a block from his friend's bar. so he goes in, sits down, has himself a rum & Coke and collects his thoughts. For twenty minutes. Yes, twenty minutes. Then he leaves and continues the race. And eventually wins.
At about 11:50 I'm getting ready to award the trophies and preparing myself for the hardest Journey ever as only four people had finished. When over the next fifteen minutes, eight more runners successfully finish the race. Five of them cross by being in the middle of a giant human ball of chaos that threw itself at the sentry Chasers. I think four got caught, but five crossed the finish line. Two guys climbed up and over the building to get to the safe zone and win. One guy got to within literally one step from the safezone before being caught, I was going to call him a winner for getting so close, but realized that would tarnish the win the Chaser got for getting him there. And that guy would have been the second guy to cross the finish line. I remember something like that happening in Oakland too.
At midnight:10 I award the awards. The best Chaser caught 10 Runners.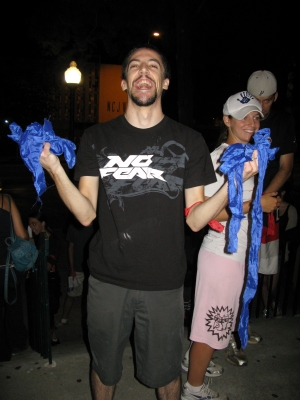 I should also point out that one of my staff Chasers also caught 10, but being a staff Chaser I figured the tie would go to the player.
We spent the rest of the night telling tales and enjoying each other's company and listening to tales of triumph and heartbreaking defeat. Another of my favorite parts of Journey.
Some stats:
74 runners started the race.
12 runners finished the race.
That's 16%
Of the 74 that started the race 22 were ladies.
That's 30%
Of the 12 that finished the race four were ladies.
That's 33%
8 vote(s)
Terms
(none yet)
6 comment(s)