15 + 145 points
November 30th, 2007 10:40 AM


OK, first play this:

All right, now that we're in the proper mood, some back story.

In the winters it's my job to hang Christmas lights on rich people's houses. It's awesome and fun, but the hours are very very long. So every chance I get to add some awesome to my days, I take it.

And the houses look beautiful all lit up.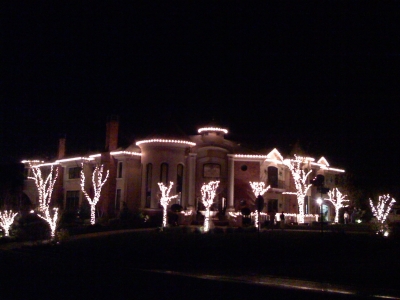 When I first read this task, I thought about my winter work. We have one client in particular who has many trees on his property that we light up for him. And they look beautiful. But on his side yard, there's a giant oak tree. I mean giant. Look at this thing.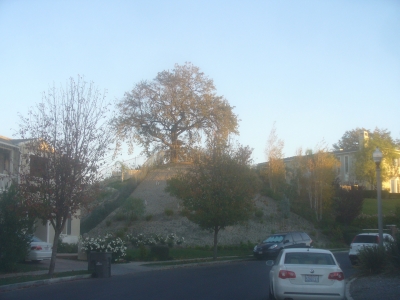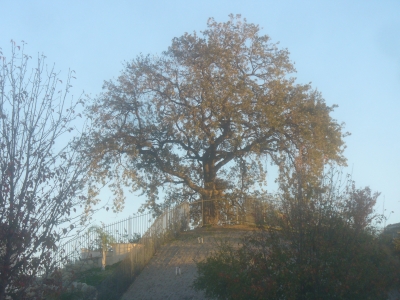 It's probably fifty feet tall and just as wide. And I've always wanted to light it up. And I'm no stranger to lighting up big trees, this is my father's tree that we decorate every year: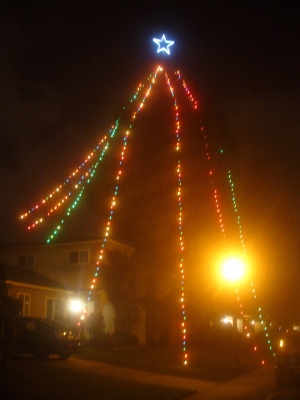 But the giant oak I speak of is not on the homeowner's property.
See?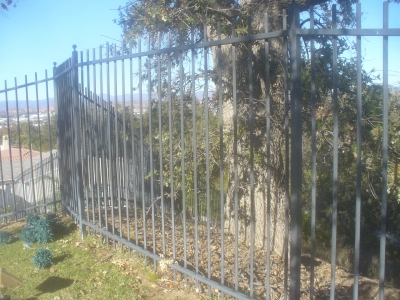 Clearly on the other side of his fence.
Public space. None of us have any right to be doing anything to or with that tree. So I have my public place and my plan to install a strange and wonderful light source.
On the downside it's a protected tree by the state of California, so if we damage the tree in any way, the homeowner would be liable for it. So risks are being taken.
Every year I do his house, I joke about how cool it would be to light up the oak on the hill. And we always dream that it'd be cool. But what I had this year that I didn't last year was SFØ.
Knowing I wanted to do this task, and knowing that lighting that oak was what I wanted to do to complete the task, I gently persuaded the homeowner to light the oak outside of his property. And after hours of prodding, he threw caution to the wind and agreed to letting me light the tree.
Now a lot of credit for this task has to go to Dr. Michael McCray who not only agreed to do the tree, but paid for the lights and supplies the power to light it up every night. And my hard working crew helped out in a big way, as I mostly stayed on the ground and tossed balls of light up to them as they strung them up in the tree.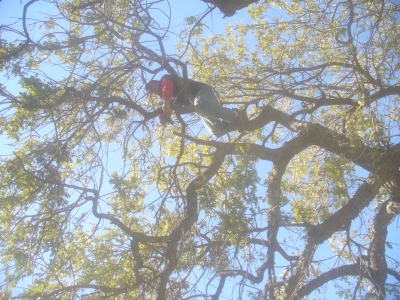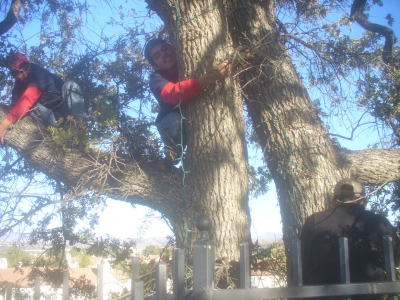 So, me, my crew and Dr. McCray give you:
Lux Aeterna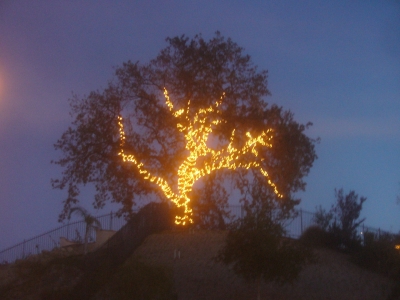 29 vote(s)
Terms
shplank
11 comment(s)