80 + 110 points
January 3rd, 2008 12:41 AM / Location: 34.251186,-118.3571


I decided to construct a bust of one of my favorite and most mysterious philosophers

Sir Francis Bacon

.

Because I think he would have been cool to have around the house doing arts and crafts with and packing a bag lunch for me every day. We'd play in the park and write plays together and laugh and laugh and laugh. I sometimes like to daydream about Sir Francis Bacon tucking me in at night and reading me bed time stories, maybe even plays he'd ghost written. He'd take me to the beach and blow up my water wings and buy me an ice cream cone. He'd also force me to do my homework, but not in a mean way, I'd be able to tell he really cared about me. He'd be tough, but not too tough. We would have an awesome loving relationship.

I know that Francis Bacon was a master of codes and secrets and deception, but I believe we would have an open, caring, understanding relationship. And because our relationship would be so open and transparent. I decided to make a bust that was transparent.

The only materials used to make this bust of Sir Francis Bacon was Saran wrap and packing tape.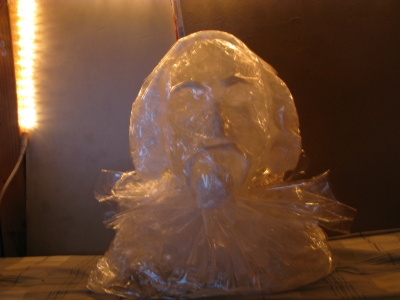 "I have taken all knowledge to be my providence"
And this is how it was done.