15 + 171 points
January 4th, 2008 12:00 AM / Location: 34.251175,-118.3571


My favorite player photo belongs to Bex. She's in good company though. Some players have gone out of the way to be awesome in their player photo, I won't start listing players with awesome photos, because that'll take all night. Know that there are many that I love and respect. But Bex has the best one. So, as a tribute to her, I have chosen her for this task. And since I had just learned a new art form to complete

another task

, I decided to apply that new skill here. So I give you a sculpture of Bex (the hero) in packing tape and Saran wrap: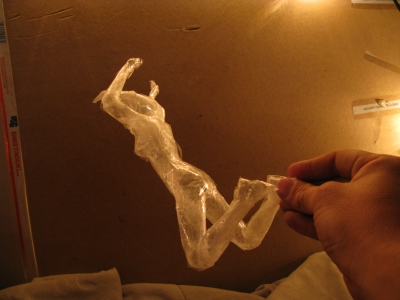 And I know this doesn't really follow the letter of the task, as I haven't painted her, but it does say I can use any medium I like, so I chose packing tape as my medium. This is what a painting in packing tape looks like.
Also, what I'm going to do is give it to Bex when next I see her. Because she deserves it.
And this is how it was done.
And an update late 2009: I added a few ASCII portraits that I did for fun, and because I was inspired by
Palindromedary's take on this task.
You can find those below.