15 + 100 points
July 15th, 2009 2:00 PM


When I started this task, I planned on documenting all of the animals that live with me every day. A photo of each for every day for an undetermined time. I have many many pictures of these animals if anybody wants them. I had them all loaded up and then looked at the praxis and realized that it was a very bad idea. It was a lot of photos with no real good payoff. Just the same animals over and over again. So I scrapped that idea. And all of those photos.

So I thought up a new (better) way to do this task. I will document with a very few pictures and a lot of my words as I try to recollect my memories of all of the animals that have been a regular part of my life. Regularly. We'll start with the first and the best.
---
Brandy
1974-1992
Brandy was the best, and nothing will ever compare to Brandy. We got her when I was very young, maybe one or two, and we didn't know how old she was when we got her, but she was a rescue dog, so it was just guesswork, but the consensus was that she was about the same age as I was. She was an Australian Shepherd and I have yet to find a breed of dog that is better. She was loyal, caring and always looked out for us. My father didn't have any trouble letting us play out in the front yard and run around the neighborhood as long as we brought Brandy with us. She could play any game, she was patient and had endless amounts of energy. When we played war and had to lie on our bellies in a planter to wait for the other team so we could ambush them, she had no problem lying patiently and quietly with us. She also had no problem jumping out with us to attack. We had a fun game where we would put on roller skates and sit with her on one corner of the block while somebody else went to the far corner and the person at the far corner would call her and the person with the skates would grab hold of her leash and get ready for a crazy ride. And she was fast. Real fast. There were a few times when one of our skates would hit a pebble or we'd not jump over the crack in the sidewalk where the old tree pushed it up in time, and one of us'd fall, and it wasn't a fall you could just brush off and walk away from. Those falls were serious injuries with a serious road rash that you'd have to wear for days. But all of it was worth it. There's a story of Brandy pulling us on our scates around a parking lot all day long and when we got home, we didn't understand why she didn't want to walk, or come be with us in the living room or whatever, and sensing that something was wrong, we checked her feet, and she had worn her pads off. She had pulled us on our skates all day for so long that she literally wore the pads right off of her feet, but rather than quit, she ran on her bloody paws until we were done having fun. That is a crazy absurd kind of loyalty. Brandy was that rare exceptional kind of dog that just makes everything better just by being there. I'm a little sad to admit that I took her for granted when she was alive. I was a kid the whole time I knew her. My entire childhood, she was there under my feet as I ate, by my side as I made models or puzzles or painting or whatever. She died from living a long time. We were both eighteen when she died. I was graduating from high school and wasn't spending too much time at home. I wouldn't say I was neglecting her, because she had a full house with a whole loving family with her, but for those last few years I had a girlfriend and we'd be out quite often and I was pretty much living at my uncle's house in Venice. I wasn't there when her back legs could no longer move her even far enough to get her to go outside to pee. I wasn't around when my dad had to carry her to the car to take her to the vet to put her down. But I saw her quite a bit those last few months when she was struggling to get up, and would often not even bother, even when she really wanted to be with us. We all knew the day was coming. But I was a little sad that I wasn't there with her for that last day. But in retrospect I'm kinda glad. Every animal now lives up to the high standard that Brandy set. And I tell you it'll be tough to top.
---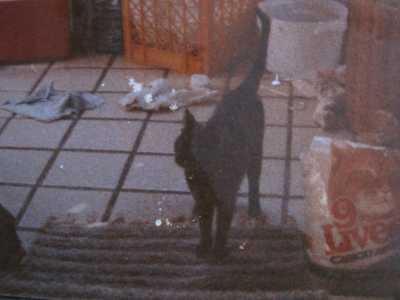 Acorn
1979-1986
In high school I started spending a lot of time at my uncle's house and soon I was practically living there. My senior year of high school I rarely went home. Most of my time was spent at my uncle's. My uncle had three cats. The first was named Acorn. Or Corny as we sometimes called her. All of my uncle's cats had several names, it gets confusing, but not incredibly so if you pay attention. Corny was my favorite. Nobody ever got to touch or go near her. She was pretty much wild. She lived inside with us and sat on our furniture and ate our food, but she always had a way out. And she hunted. She was a lean mean, fast lithe hunting machine. She was amazing to watch. I loved to go out in the back yard, or sneak up on the roof where she couldn't see or hear me and watch her stalk her prey. She was amazing. But as wild as she was, she loved to spend time inside with us and the other cats. There was one time when my cousin and I were in his bedroom playing Dragon Warrior when we saw Corny leap out from under the dresser and jump over the bed that was in the middle of the room, and in mid-air she caught in her paws the moth that had been flitting around the room. She landed on the other side of the bed with the moth under her front paws. And then she ate it. Crunch crunch crunch. As much as I loved her, she didn't last long. She died sometime in the 80s. We think she was poisoned by a neighbor or was shot. But she went out one night like she did, and then never came home.
---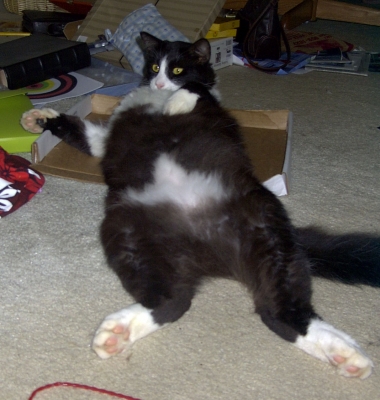 Joey
1980-1998
Joe. Remember how I just told you that all of my uncle's cats had many names? Well, that wasn't true of Joey. Joey just had the one. That's all he needed. Joey was the leader of the pack there at my uncle's place. And Joe was big. Not only was he one of those big boned, large sized cats, but he was fat on top of it. He would sleep on his back with his legs sprawled wide open with his huge belly spilling over both sides. And he was a typical fat cat in that food ruled just about every decision he made. He was uninterested in toys or cuddling or being funny or playing. Unless there was food at the end. I remember he once got his head stuck in a glass trying to drink the milk at the bottom. He wasn't mean or rude, but he would sometimes just walk right in front of you when you were eating and just park right in front of your food and eat it like it was his own. And when you kicked him away he wasn't offended or hurt, he understood. But he would almost always at least try. In his love of food and his desire to get more of it inside of him, he amused us, and in amusing us he was a valued member of our family. Joey died when I was away. He got the cancer. I saw him a few times between when he got it and when he passed away, and it was very weird and heartbreaking to see him getting so skinny. But oddly enough, and it sounds weird to me even writing this, but he prepared me a little bit for when one of my best friends got the cancer and wasted away in the same way.
---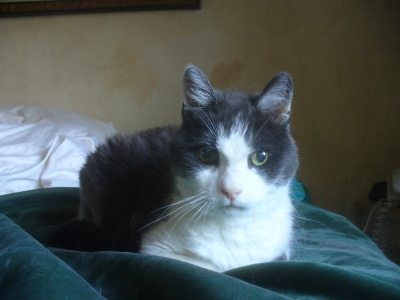 Unis Diane
1982-2007
Unis Diane lived the longest of my uncle's cats. And she had the most names. Every member of the family had a different name for her. I called her Unis Diane. Her real name, or at least the name on her vet papers was Jasmine (pronounced haas-meen), and the people at the vet pronounced it jazz-men, and we'd laugh at the impropper pronounciation. My aunt sometimes called her Amanda, and my cousin called her Kitty. And I guess most people knew her as Kitty. But the four of us came to call her Unis Diane after about ten years or so. But to everybody else she was Kitty. Kitty was dumb. I mean really dumb, like Chrissy from Three's Company dumb. And not only was she dumb, but she was clumsy as well. She would walk into things all the time. And fall over, and lose her balance, and trip, and mis-judge jumps. Not graceful at all. But she was very very lovable. She purred and cuddled and would sit on your lap all day if she could. I played a game where I would grab her face with my whole hand so she couldn't see or move her head and see how long she would stay like that. This game could go on for hours and I would often lose. She was the best one to hang out with. Of the three cats I would imagine that everybody that walked into that house would say that she was their favorite. And she was pretty good. She was great company.
---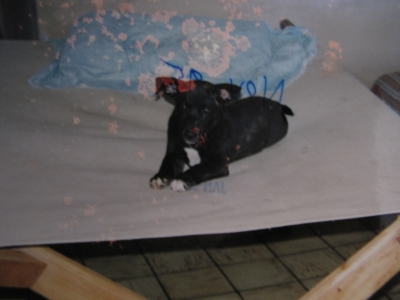 Pequinito
1992-?
This puppy makes my list because he slept with me every night for about a month when I was in Mexico in a little town called Bahía de Los Angeles. This little dog would sleep under my chin every night and play with me every day I was home. He wasn't my dog, in fact there are few animals on this list that were really mine, but he was a regular part of my life for that month I spent in Mexico. He wasn't always there all of the time, but eventually every night he would come and jump up onto my cot and sleep with me. And some days he would stay with me for the day. He was a good friend and it's really nice to go to sleep with another living being. I was actually sad to leave him there when we finally decided to leave.
---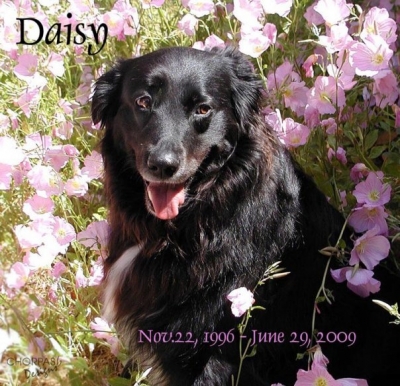 Daisy
1996-2009
Daisy was my father's dog that he got after Brandy died. When he got her, she was just a tiny little fat puppy. And the week he got her he went away on vacation for a week, so for that first week I had to watch her. She didn't have a name yet, so my brother and I came up with a long list of cool names for her. Many many great names were on that list. Like Chopper and Jim and Vonnegut and Pan and many others, but she was a big fat little puppy that wasn't too eager to do anything at all, and would often times just sit calmly in the my pocket of my coat, the best name we came up with for her was Lazy. But when they returned they chose to name her Daisy. What a crappy name for a dog. Guh. Well, there you have it. But I continued to call her Lazy, and luckily it was close enough to her real name that she never knew the difference and most people never caught the difference either. But Lazy was far more appropriate as she had no motivation to do anything unless it involved lying on the ground. She didn't enjoy running or playing or fetching or much of anything. She was a fine dog but certainly not a suitable replacement for Brandy. Not only was she not very fun, but she wasn't very personable either. She didn't like to hang out with people very much. And she was fat. A friend of ours called her inkstain. Because she always kinda just spilled onto the ground like an inkstain. She lasted a pretty long time too. She started getting a bit too old to do much walking at all anymore, and then a week ago, she was hit by a car out in front of my father's house.
---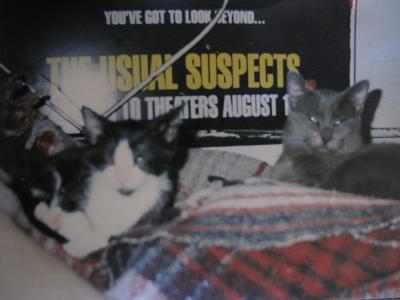 Nate & Cornelius
1996-?
Cornelious I found under the theater at my old high school and I kept her and raised her and she was this amazing beautiful grey color much like Acorn, and it didn't occur to me until much later that she looked just like Acorn and I named her Cornelious which we often shortened to Corny. So I named her after Acorn who she looks like. Weird. I wonder if I somehow did that subconsciously. She was a good cat, but I lived in an apartment in Venice kinda near busy streets so I didn't let her out. One day when she was mewling and whining at the window wanting to go out I couldn't take it, and I gave in and got out of bed, and opened up the front door, Corny ran out and this tiny little black and white kitten ran in. I looked down a little bit puzzled, but after a few moments I thought "fair trade", closed the door and went back to sleep, and the little kitten that we would end up naming Nate followed me to bed. He curled up at my feet and purred all through the (rest of) the night. Corny eventually came back, and she and Nate became best friends. They hung out all of the time and often snuggled and slept on top of one another. They were fun to have around and were very loving and pretty awesome. And one day my roommate was gone after not having paid rent in many months and all of his stuff was gone and so were Corny and Nate. He took my cats.
---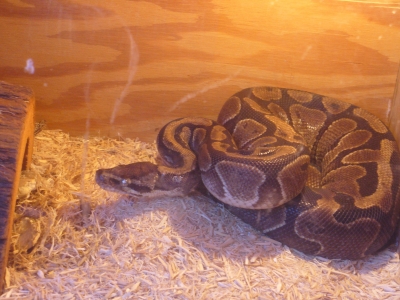 Africa
1994-
Africa. I was asleep one night in my Venice apartment when I heard a commotion out my window. There were people yelling and very excited about something in the building across the breezeway from my place. That usually doesn't happen, because of us being on the second floor, so I went to investigate. I looked out the window and saw a whole lot of people, maybe twenty, all gathered around the second story landing on the place across from mine. and more on the ground looking up. One of them on the ground said "Get a broom, and kill it." and I looked to what they were looking at and there was a large snake clinging to the wall of the apartment. My uncle and especially older cousin are reptile freaks and a bit rubbed off on me. I knew it was a ball python when I saw it. I also knew they are a pretty harmless snake, and make good pets. As soon as I saw it, I jumped up, threw on some boxers and ran outside, downstairs, over to next door, and ran up the stairs pushing past everybody that was on the stairs, past the lady who had already gotten a broom, and ran up to the snake and grabbed her and then ran back down and to my apartment without saying a word to anybody. And realizing how funny this was, I looked back out the window to watch their confused looks and speculation about who I was and where I came from. I kept the snake with me in bed that night, and the next day took her over to my uncle's where he had an extra terrarium. So my uncle kept the snake and named her Africa. If you haven't guessed by now, I spend a lot of time at my uncle's so I get to see Africa very often. Actually, now that he's moved to Mexico, I don't see him or Africa very often.
---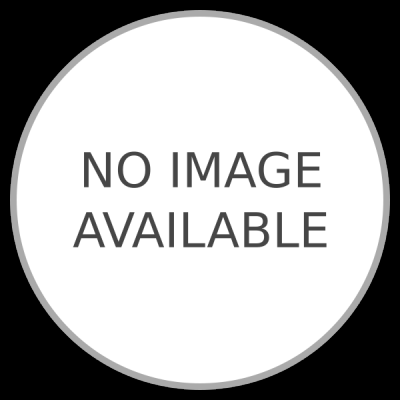 Potato
1996-1998
Oh Potato. Potato, you were the best. I had a couple of friends who moved in together and thought it would be a great idea to get a dog. So they did. But they came to me at a new year's eve party with a tiny puppy and asked if I would take care of the puppy for them. Until their place was made puppy safe. I said sure. Even though I was literally living in my car at the time. It was a big car, well not really a car so much as it was a tank. I drove a long range recon vehicle that was made by the army. It was made of diamond plated steel and had lots of room inside. Enough room for me and a dog. So Potato and I moved into Lurch and we were very happy. We went everywhere together. I spent a lot of time training her. Every day we worked on ways to better communicate. We got to a point where I could just look at her and she would know what I meant. If I tapped my thigh, she would stop and look at me for instructions, and all of our signals were non-verbal. But she understood verbal commands as well. But mostly we communicated with slight hand gestures. And sometimes less than that. Sometimes my body language was enough. I have never felt as bonded to anything else in my life. We were truly a team. She had my back and I had hers. I loved Potato. Eventually I found that living in my car wasn't the best thing for her, because she loved to run, and we did every day, but I wanted to give her more space, so I moved in with my brother. At the time my brother was living with a girlfriend who had a little white fluffy poodle-like dog who was one'a them yappy dogs. I didn't like having Potato in that environment, but I was also grateful to have a roof over our heads. So Potato had to live with a bad example dog. But to my delight and joy, she never picked up any bad habits. But because of that dog's constant yapping, she upset many of the neighbors. We got many letters complaining about the noise. And eventually we got eviction threats. And it never occurred to anybody living in our house that Potato had anything to do with it, because she had nothing to do with it. Potato was a good dog. So I tried to spend as little time as possible at home. I was out walking the earth with my companion at my side. Potato was the best trained dog ever. I spent every day training her. I had most of our commands non-verbal. If I slapped my thigh, that meant I was serious. A thigh slap meant business and she really came to attention then. But simple little hand gestures were all I needed to get my point across. And usually not even that much was needed. Usually just a look into her eyes was enough. She could sense my meaning. And the common, everyday things, she just knew to do, like sitting and waiting for me at every corner before crossing streets. And that kinda stuff. We had a bond. She had my back and I had hers. Then one day she got sick. She started throwing up and not eating. And then she lost control of her bowels. So, in the middle of the night I piled her into the car and drove her down to the 24 hour emergency vet in Venice. I sat in the cold dark lobby downstairs in that vet for hours all alone in the middle of the night waiting for word. They brought her back out with a bag full of pills I was to give her every six hours. She looked OK and they said I could take her home. So I did, and I gave her the first of the pills and went to sleep with my alarm set for five hours and forty five minutes later. And when I woke up to give her her next pill, she was too weak to stand up to eat it out of her food bowl, so I had to put it down her throat. A few minutes later she threw up[ the pill and everything else. This wasn't how it was supposed to be. I tried to get her to come with me to the car, and I had to pick her up to her feet to get her to come, and she managed. But we didn't get too far down the street before she fell over. She threw up again, and then she just emptied. Her bowels just gave up. It was like she liquified, all of her strength just left her. I was on the ground on the street corner with her in my lap, as her body twitched weakly. She looked up into my eyes with a look of pleading desperation. It was like she wanted me to help her somehow. Then her eyes rolled back in her head and she went limp. I had been crying since she threw up in the house, but now it kicked up a notch. Now it turned into serious soul sobbing. I picked her up and tried to support her lolling, lifeless neck as I brought her to the car and the vet. When I got to the vet I was so upset, having driven the whole way with her on my lap, not moving, and knowing there was nothing they could do now, and pissed that they didn't do anything last night. When I got there, I threw her over the counter at the poor receptionist that was working there. She was upset, but she saw my red eyes and wet cheeks and understood. And I tried to say something about it being all their fault or why they didn't keep her or something. I don't remember. I know I just left her there and walked out and never looked back. I have had many people ask me how she died and I always answer the same way "I dunno. Doesn't matter." People never understand this. They always want to know how it happened, like that'll help ease the pain or something. I have no desire to know why, because no amount of knowledge will bring her back, so what difference does it make? My brother thinks that a neighbor, pissed about the noise slipped some poison wrapped in a hot dog through the mail slot and Potato was the unlucky one who found it. Whatever. Gone is gone. I know this might be a dick thing to say, but I have never been more sad about anything ever in my life than losing Potato. No deaths of the many friends I've known who have died, no break-ups, nothing. I cried a lot just writing this account up. I loved her like I've loved no other living thing before or since. I still miss you Potato.
---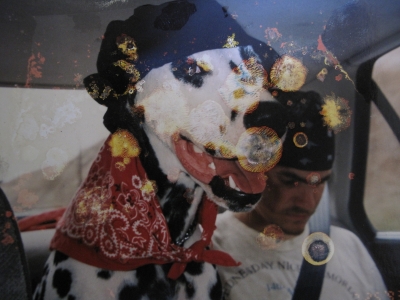 Oreo
1994-?
Yes Oreo is a dalmation. Yes he's black and white and yes, his name is Oreo. I didn't do it. I came up with all kinds of good names for him, but they settled on Oreo. I was not happy about it. But Oreo wasn't my dog. Oreo was the dog of my best friend. And I moved into their garage and renovated it into a loft in the late 90s and I had a dog called Oreo that I lived with. Oreo was a bit of a freak as I suppose most dalmations are. Very timid and unfriendly and difficult to love. He didn't like to hang out with or near anybody and was always a bit twitchy. he was cool enough and I lived with him for two years, and knew him for much longer, but of all of the animals, Oreo was probably my least favorite. Maybe it was because I had just lost Potato, and I wasn't giving any other animal a chance, or maybe he was just a lame dog.
---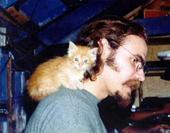 Phoebe
1999-
I was teching a show at my theater late one night and had been in the booth for many hours and went outside in the two am range just to get out into the night. It was a hot summer night and the booth was really hot, so being outside in the air was really nice. While out there I heard a soft mewing sound. When I went to investigate I found two tiny malnourished kittens between a wall and a garage at the far end of our parking lot. I took them both inside with me. That night I took one of them home and the director took the other one. I named my cat Phoebe and he named his Veep (because he already had a cat named Mr. President). And I brought Phoebe with me to the theater every day, and she sat on my shoulder and hid under my hair all of the time. Eventually she would roam the booth when I was in there for long periods, but mostly she stayed on my shoulder. And when the show was over, she stayed in the loft I made out of my friend's garage. I spent months constructing platforms and shelves and walkways up on the ceilings that she could run around on and play with. When I had people over, she would walk around above us and look down through little holes I'd made and generally freak people out. She would also open and shut the door to let herself in or out. So she had free reign to come and go as she pleased. And like Acorn, Phoebe was a hunter. She would stalk prey and bring back all manner of small animals to me, so proud. I had a deep connection to Phoebe that might have only been possible because of what I had with Potato. I had a connection with Brandy, but the difference was that Phoebe like Potato before her was mine. Brandy was the family dog. But Phoebe only knew me. We lived alone. She slept on my back. She would wake me up in the mornings by putting her nose against my nose and gently kneading my chest while purring loudly. And she loved attention and was very affectionate. But not too clingy. Just right. She did have a bad habit of sitting on my keyboard when I was writing. But she was so cute I didn't mind. My friend's mother who owned the house decided to sell the house and move to NoCal so I once again had to leave and live in my car. But this time I thought it would be totally unfair to have a cat living in there with me. So I arranged to have a friend of mine take her and keep her. My friend already had a cat and a dog, so I figured she'd be the perfect person to take Phoebe. Plus they'd met and they already liked each other. So Phoebe went to live with somebody else. When I eventually wound up living somewhere again, it was suggested that I go get her back, but I felt that would be unfair to my friend and her husband who had grown attached to Phoebe. So she still lives with them. I've seen her a few times, but I try not to go over there too often. It's a little sad. But she's in a great home with a loving family.
---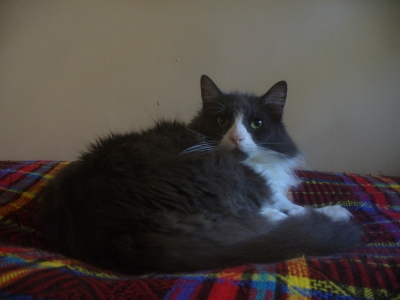 Chuck
1999-
Look at him, he's so cute and fluffy. Don't you want to touch him? To lay with him? Yeah of course you do. But don't.
Chuck is an asshole. He's all fluff and cuteness, but if you get too close he'll take a swipe at you. Just because. Chuck is another cat of my uncle's. They got Chuck after Joey died, because after Joey died, all they had left was Unis Diane. So they supplemented with Chuck here. And Chuck really isn't his name. His name is really Mosley. But we rarely call him Mosley anymore. At first people called him Mo and then one day my uncle found Chuck and it stuck. I call him Jerk or Asshole or Dumptruck or Punk or Punk-Ass Bitch. But he's mostly known as Chuck nowadays. Which suits him. He's not mean to my aunt or uncle, and even myself and cousin can escape his angry mischievous wrath if we don't provoke him. But he's not fun to be around. He doesn't play, you can't really pet him and he's always in a bad mood. I think he's pretty fail as far as pets go, but he's not mine. I spend a lot of time over there at my uncle's and that time I almost died and had to convalesce for months, I did so at my uncle's. And I tend to be over there a lot and always cat-sit whenever they go out of town. So I spend lots of time with Chuck and his uncertain fury. I wish I could train him. But I think he's gotta be the way he's gotta be.
---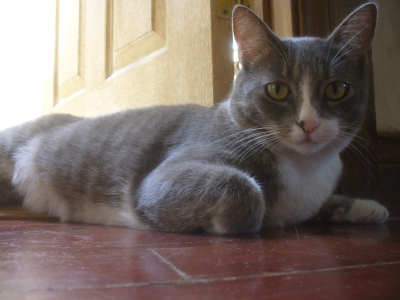 Moco
2002-
Moco came after Chuck to bring the cat population at my uncle's back up to three. Moco is mostly called Baby among the inhabitants of the house, but I still like Moco. They got her as a baby, and my aunt still thinks of her as the baby, hence the nickname. But Moco is fun. I like her. She goes out every night and hunts, she likes to play, she will sometimes cuddle up with you when you're watching a baseball game, and she'll purr if you pet her. But she's not as good as Phoebe. Before my uncle and aunt moved to Mexico, they lived in a canyon, and during the days, the doors would all be open all the time, so the three cats could go in or out whenever they pleased. The problem is that they live in the wilderness (not really, but kinda. I did
this
in their back yard) and there are wild animals, the most prevalent being coyotes. And as we all know coyotes love to eat kitties. So every night before it gets dark it's really important to bring the cats in. Unis Diane is always easy, because she's blind and doesn't like to leave the property, and by late afternoon she's already inside usually. Chuck doesn't go out very often, and if he does it's just to sit in the sun on the deck. But usually he's chilling on the bed. So the problem is always Moco. He's always out galavanting about looking for birds to try to catch or lizards or whatever. But he's never home when we need him in. So we have to play with his noise making toys and/or clang around his dinner bowl and usually just wait until she decides to come in of her own accord. But other than that Moco is pretty great.
---
Snootsnout & Big Daddy
2005-
1996-2011
Big Daddy and Snootsnout. These are my friends' dogs. I have know Big Daddy far longer as the friend that owns Big Daddy didn't meet, date, move in with and marry my other friend until recently. When they moved in together they got Snootsnout. Big Daddy is cool, she's calm, mellow, and goes with the flow. She likes people and does what she's told and she's getting very old now. She's having trouble standing up and moving around, but she's been like that for a few years. Snootsnout is young and vivacious and full of attitude, she barks at everything and runs away from everything that gets too close. She is full of jumping around and spazzing out. Not my kinda dog but still she's cute. For about a year, both of my friends had full time jobs that had them working long hours so I went over to walk them and keep them company at least three days a week. I wound up spending a lot of time with them. Big Daddy I always loved, but Snootsnout grew on me. The more time she spent with me, the more relaxed she got, and eventually learned to just chill the fuck out. So that was nice. I don't see Big Daddy and Snootsnout so much anymore. But every time I do they remember me and think it's time to go for a walk or an adventure.
---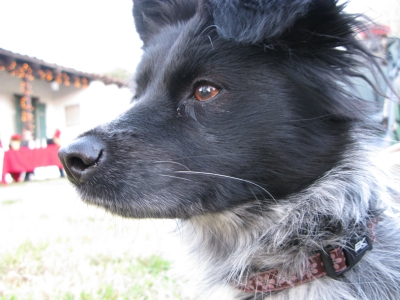 Clover
2006-
Clover is another dog I didn't name. I had the chance to effect change to some degree, but eventually I was beat out. They chose Clover. But I call her Chloe. Nobody can tell the difference. Chloe is my brother's dog. His wife loves her more than the rest of us do though. Don't get me wrong, we all love Chloe, but she loves her a little bit more. I spend a lot of time over at my brother's either just hanging out with my nephew & niece or building things on their new house or whatever. I spend a lot of time over there and spend a lot of time with Chloe. I spent a lot of time there when they first got her, so I spent a lot of time with her training her, as it's a thing I'm good at and I have a pet peeve about untrained dogs. So I spent many a day with Chloe teaching her commands and how to avoid streets and how to wait at corners and how to obey. I did so much of this that she believes I am her pack leader, even when I'm away for months at a time, when I come back she pretty much becomes my dog. She is also a shepherd and you can totally tell when I go out for walks with my nephew. She likes to go after him and make sure he's OK all of the time. She keeps an eye on him and on me to make sure we're both within eyesight and we can see each other. Once she had to make a choice as she knew we couldn't see each other and she was the only thing tying us together, and it was tough for her, but she eventually made the choice to go and keep an eye on him. She sleeps up with me whenever I'm there and she goes wherever I go, if I'm working in the yard, she'll come out and just hang out with me out there. She's calm and has an amazing disposition, but when she needs to run, look out. This is one of the fastest pooches I've ever seen. She can run. And it is very fun to watch her run. I kinda love this dog. She is well trained, she looks out for others, and she's happy and content to just be near me or others. She sometimes goes out onto the front steps and just sits out there watching the world go by. She doesn't have any interest in barking or chasing people or other animals. She's just a good dog. And I'm about to spend a month with her. Just she and I alone. And I'm excited thinking about the adventures we're gonna have together.
---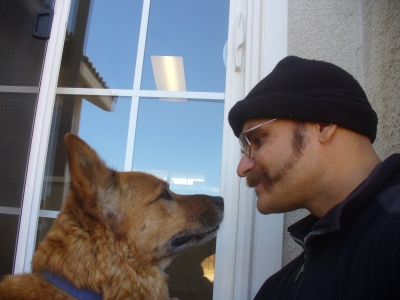 Arko
1996-2005
When I moved in to where I live now, there were four dogs living here. Arko was my favorite. He was just cool. Calm, relaxed and just nice to around. He wasn't pushy but he liked attention. He was smart, he listened and could follow commands and liked to sit with his head on your lap. Just an all around good dog. Shortly after my moving in he got weak and wouldn't play or move around much anymore, so he was taken to the vet where he was diagnosed with cancer. And this time, unlike Joey, I got to see him waste away. And he died gracefully with his head held high. When Arko died the rest of the pack never really recovered. They didn't behave as well, they got a little more unwound, he was kinda the glue that held them together. It was pretty sad. But I didn't have enough time with him to really be heartbroken by his loss. But I still sometimes miss him.
---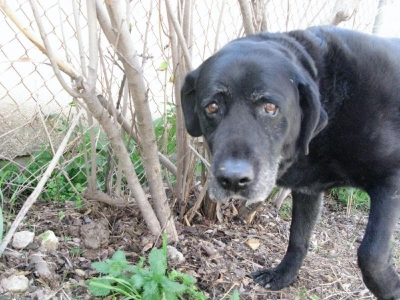 Sargeant
1995-2011
Sargeant is the biggest and the dumbest of the dogs. He seems like he's the pack leader, but it's hard to tell with these dogs. He's a bit too strong for how friendly he is. He can knock people over with his muzzle if he pushes too hard. and he likes to push his muzzle into you. But I don't like to pet him because he has two big hygiene problems, number one, he eats poop. His poop, other dog's poop, the horses' poop, I'll bet you he'd eat my poop if I made it available for him. So, the whole poop eating thing makes it tough for me to get too close to him because his breath smells, well, it smells like poop. His other hygiene problem (as if eating poop wasn't enough) is that he's an outside dog, well, they're all outside dogs now that their owners have a baby, but because of his completely outside nature they don't groom him all that often. They probably wash him once a year. I might wash him if he was my dog, or he didn't try to lick me with his poop-mouth all the time. So I haven't really gotten too close to Sargeant. I know that sounds superficial, but I just don't want to get too close to a dirty dog. I don't like to wash my hands after every time I touch him. Sorry Sarg.
---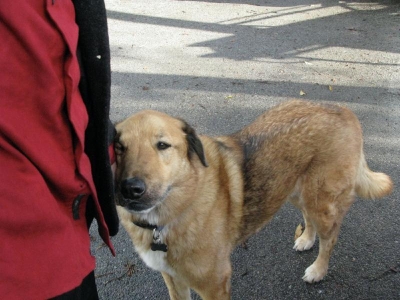 Kado
1997-2012
Kado is pretty great as far as these dogs go. He doesn't eat poop, he doesn't try to lick anybody, he like to be close, so he'll get right next to you and then just lean his head against your leg and wait for a pet. And even though he's also an outside dog, he doesn't revel in rolling around in the dirt quite as much as Sargeant does. So he's by far less dirty than Sargeant. Plus he's just kinda cool. He starred in
this
really old task of mine. He was a good model and took direction well. Which pretty much sums him up well. He takes direction well, he's a good listener and isn't offensive. I guess that's all it takes to be a good dog around here.
---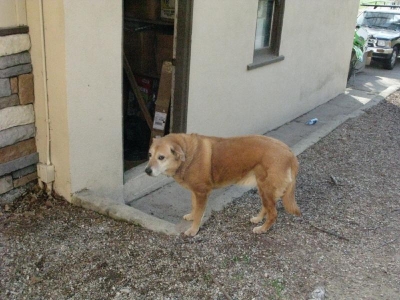 Ki-Ai
1994-2009
Ki-Ai was the worst. Worst dog I've ever known. Maybe. That little white yapping dog that lived with my brother that may or may not have gotten Potato killed might be worse, but I'm not sure. It's a toss-up. Ki-Ai ate poop like Sarg, she was dirty like Sarg, and she had the added bit of lame in that she was really twitchy and wouldn't stop licking you or trying to. It was constant with her. Constant licking. With poop-mouth. There was nothing you could do to abate the licking. So you couldn't get close to her for fear of being poop-licked. And maybe it was a vicious circle. She didn't feel loved because nobody would get close to her, so she craved attention so she constantly tried to get close to people, and she wants to show how much she likes us by licking and the constant denials made her neurotic and twitchy. Who knows? She wasn't my dog. And about two years ago she started losing control of her back legs, and she walked like an old lady. Because she was an old lady. And then a couple weeks ago she finally got too old to walk anymore, so they had to take her to put her down. They told me they were taking her the day before, so I spent some time with her that night. I got close to her, I held her head in a headlock so she couldn't get me with her tongue and just sat with her and petted her all night. Then the next day she was gone.
---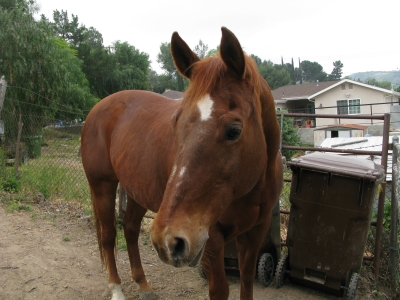 Posey
1999-
I wish I had more to say about Posey but I'm underwhelmed by the personalities of horses. She came to us when a neighbor told us one day that they were moving and giving their horse and mule away. The woman who lives with me on the property here has always loved horses and grew up with horses, and asked if she could have Posey. Her owner said sure, but she kinda promised her to somebody else. Well, he liked my roomie more, so broke the previous promise and later that day we had a new horse and mule living with us. The mule's name was Sam, and we were told that Posey had always had Sam as company and they were great friends and they couldn't be separated. So we took both animals. A few months later Sam died. We were told he was getting old, so it wasn't a surprise. As far as horses go, Posey's pretty great. She's mild mannered, doesn't like to buck, takes a saddle well, and has a pretty good attitude.
---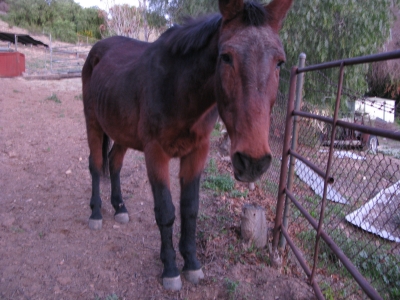 Buckshot
1990-
Buckshot is an ex-rodeo horse. He has seen some adventure and hard times in his life. He is retired now and loves to just walk around his yard and not do much. He is living the life of leisure he has earned. We got Buckshot from a friend who raises and keeps horses on his ranch. He got Buckshot because when horses are done with the rodeo, they typically put them down. They're not much good for anything, and they're too old to sell, so they're tough to move. People don't want to own old, broken down traumatized ex-rodeo horses when they can have a pretty pony! So our friend took him in rather than sending him to the glue factory. And when Sam died, we wanted a companion for Posey, and Buckshot seemed like a perfect fit. We thought he would be traumatized in weird ways, but he was pretty mellow and cool. He likes to try to pull the hay out of my hand as I walk up to put it in his bin, he's never quite sure I'm actually going to give it to him. But other than that he's a good, cool, mellow horse. I like him.
---
Margaret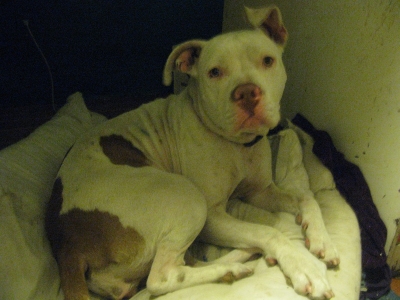 2011-?
A friend of mine found Margaret in front of her work in the valley. She kept her at work for the day and tried to look for her owner, she searched online for a lost dog notice, she looked everywhere. She took her home with her even though she lived in an apartment that doesn't allow dogs. She kept her for the weekend, looking for a worried owner that may have been looking for her. Then on Monday, she brought Margaret over to me, because I just moved and now have a large yard perfect for a friendly puppy. When I met her she didn't have a name, and she looked like a Margaret to me. But I asked others to see what they thought, I emailed a picture to a girl I love and she thought her name should be Daisy, but that was my dad's dead dog's name, plus it's just a bad name. So my roommate saw her and thought she looked old-timey, and suggested something like Doris, Betty or Maggie. Maggie. Same as Margaret. My sister saw her and thought her name should be Daisy. Weird coincidence. Then my roommate tells me that Margarita is Spanish for Daisy. So we all picked the same name pretty much. She slept under my bed every night and ran and played with me every day. I got Margaret in October of 2011 and my roommate lost her in December of 2011. So I had her for just under three months. I had barely gotten to know her.
---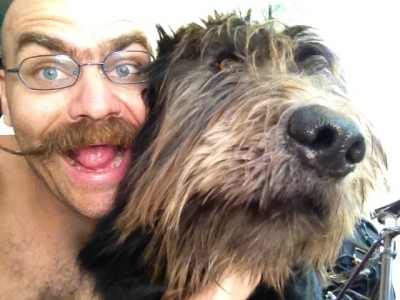 Jim
2011-
My sister found Jim wandering the streets by her house in May of 2012, with the help of her son, they went and gained his trust (which took over an hour), and brought him home with them. She took a picture of him, and put it up on posters and websites for lost dogs, and after a day of not hearing back, and discovering that her own dog Clover was getting jealous, asked if I would take him (knowing that I was still a bit heartbroken after the loss of Margaret). So I agreed to take him in. She brought him over, and he instantly discovered that he was my dog. He was amazingly playful and chill. He was still a puppy and had all of the usual puppy clumsiness and energy. But he's also really cool. He looks like a person wearing a bear suit pretending to be a dog. Either that or a muppet. Whatever he is, I like him a whole lot and I'm glad he found his way into my life. As I write this he's sitting under my feet asleep. When I go anywhere, he follows. When I'm gardening, he'll dig in the place that I just finished digging. When I go up to the top patio, he'll follow and sit in the dirt patch next to my comfy chair up there. And when I'm in my room, he'll either be here under my feet, or out in the doorway if it's too warm. But he's always following and right next to me. Which is nice and comforting, I wish I could bring him everywhere with me, but he's a really big boy. And he has the tendency that a lot of cats have, which is to get right in front of your legs when you're walking, and if you're not careful, he can trip you. He just wants to be as close as possible at all times. He's pretty great.