15 + 76 points
August 21st, 2009 2:00 PM


A memento from 1989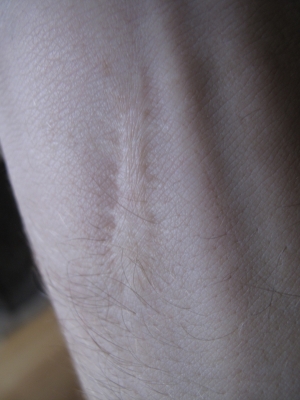 1989 wasn't a particularly good year for me as I'm sure ninth grade wasn't the best year for anybody reading this.
I had many problems with my life that now, looking back on them seem trivial, but in ninth grade they were everything. My home life was strained, my school life was tense.
A few years earlier (1983) my father married his second wife. She had two daughters, and my father having two sons, we were like a mini version of the Brady Bunch. The two girls were older than us two boys, in fact we were all roughly two years apart, me being on the bottom. I'm not gonna pretend that it was miserable or that I was anything like Cinderella (I don't look nearly as good in a ball gown), but life was tough with the new family. We were all living together and the older sisters were routinely mean and nasty. Especially to me. And they were mean just because they could be. It wasn't that they didn't like me or anything, it was more like a fun sport they could play.
Plus having them in the house was incredibly sexually confusing. Being fifteen (or sixteen, whatever) and having full grown adult sisters that were nineteen and twenty-one and looking like the girls in the playboy magazines was weird. Plus they weren't really my sisters, so there were all kinds of those fantasies going on in my developing little head.
And it wasn't any better at school. I was not a popular kid. I hung out with the losers and rejects, and I wasn't popular with them, nor particularly liked, it was more like safety in numbers. I had a lot of the aggression and angst that teenagers have so I got into a lot of fights. I was really good at fighting. almost too good. I realized quickly that fighting at school was bad for everybody. The school officials weren't very understanding of bloody broken kids. Bloody broken kids needed an explanation. And the perpetrator needed punishment, and punishment always got back to the parents, which made the home life less good. So to avoid that particular vicious cycle, I just found my fighting off campus. Which meant I would miss class to go look for fights in the neighborhood. I went to school in a bad part of town, near USC. And the missing of class led to bad grades and notes to the parents which led to a very tense home life.
Plus sexually I was inept. I was very shy around the ladies and I was at the age where I wanted the sex every minute of every day and had no idea how to get it. The stack of Playboys under the bed were getting worn out. I read more Penthouse Forums than I did Kurt Vonnegut. There were few awkward interactions that went very badly. And then having the really good looking step sisters walking around the house all day made it worse. I moved my bed in my room, so I could see out the crack in the door to see the hall outside the bathroom so I could see my sisters coming out of the bathroom in their towels. This was both good and bad. Mostly bad. It made it very difficult to connect with people in school. I had difficulty connecting with anybody.
I was socially retarded, mostly because I fought so often that I was always on guard, and because I was always on guard I never drank or did any drugs, which made me an outcast among everybody my age. And not fitting in at parties made everything very tough. And not fitting in felt a lot like rejection. And rejection did a real number to my self worth.
And then in a game of Truth or Dare behind the bungalows I kissed a girl called Star. She was the first girl I kissed. It was amazing. And later when I tried to talk to her because I thought we had something special, she ignored me. I had invented a whole scenario involving Star where we were in love and we were happy together and that fantasy was very strong in me. It was so strong that it felt a lot like reality. And when she ignored me, rejected me, it felt like the worst thing ever. It felt like my reality had shattered.
That night I went home and in a tsunami of self-pity found myself with a broken hand mirror in my hands and tears dripping off of my chin wallowing, in despair. I cut open my wrist with a broken shard of mirror.
And I remembered the old saying: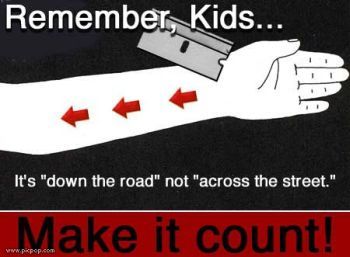 Obviously my story didn't end that day. Ironically it was my oldest sister that found me and rushed me to the hospital. I was sent to psychiatrists for a long while after that, I learned a lot about better ways to solve problems, and whenever shit gets really hard, I have a nice token on my wrist to remind me that everything is never as bad as I think.
17 vote(s)
Terms
(none yet)
3 comment(s)