30 + 145 points
May 21st, 2008 7:00 PM / Location: 34.090416,-118.3080


You know how sometimes you spend a

lot of time planning and working and toiling

over a task? Then sometimes a task just happens because you're out there living and doing things and you think, "hey, I could totally do ____ task right here under these conditions!" Well, that later thing happened to me the other day.

I was hired this last week to operate a steady-cam for a movie shoot.

I have never touched a steady-cam or operated any movie camera outside of the video function on my still camera.

I got hired to do this job because a friend of mine (who I don't see regularly) who I knew from doing theater with many years ago knew that my brother was a motion control camera technician and that I worked for my brother on occasion to help him out with the MoCo.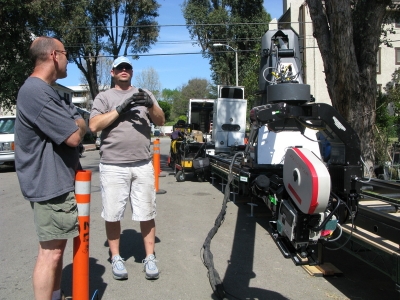 What my friend didn't realize is that my brother doesn't actually operate the camera (although he is probably qualified to do so), he sets up the track and levels it and adjusts and maintains the calibration on the motors on the camera rig. What I get hired to do usually is to set up or strike the rig, which usually means lifting very heavy track on or off of a truck. Sometimes I'm hired on actual shoot days to make sure all of the cables run smoothly along the length of the track on particularly long or fast camera moves.
My experience with film cameras on film sets is lifting and guiding. The most I get out of a day experience-wise are marks on my hands like this: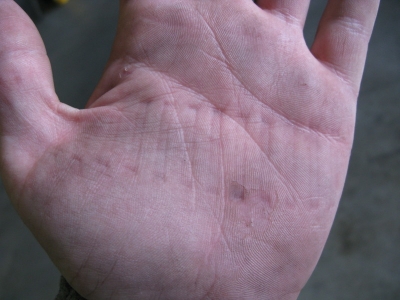 This experience however in no way qualifies me to operate any camera for any shoot.
Yet my friend hired me based on his mistaken assumption. I did not correct him. Because the job paid.
And really, how hard could it be?
Well, it was very hard actually.
On one level there was the fact that I didn't know what I was doing, so when the DP asked me if I was "all the way open" I had no idea what he was talking about and would turn the camera right and left looking at it. I'm sure he was talking about exposure, but I didn't know how to adjust that (or he might not have been talking about exposure, who knows?). So I would usually just say "I'm not sure... hang on..." and then he'd come over and check, and fiddle around and then leave. But just because I was ignorant, doesn't mean I am stupid. I watched what he did, and the buttons he pushed to get into the menus he used and so on and so forth and figured out how to do what he did the next time he asked for the same thing. So paying attention was very helpful. I managed to bluff my way through the whole three days of filming this way. I figured out where the focus was, how to use it, when to use autofocus, how to set the monitor for overscan, how to change the F-stop and exposure and all of that good technical shit I didn't know but learned by doing.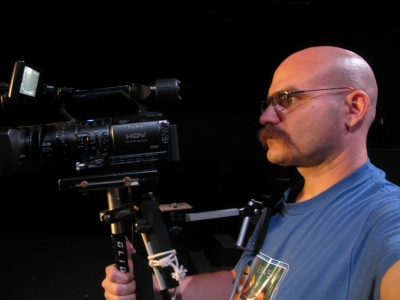 But what was really hard was the physical demands of the job. My back and thighs and wrist and arms and neck were very upset with me. Because my job was steady-cam operator, I had to be very steady. And the rig that we had was technically a steady-cam rig, but it was made for very fast moves. If we were running down a hill for example, this would be the perfect rig for that. But all of the moves we wanted were slow, steady fluid shots. So to get those I had to very slowly shift my weight around my body. Most of the stress being on my thighs. A lot being in my back and arms as I was holding the heavy camera out away from my body. But I muscled through each day, kept getting the shots. The job was made all the more difficult because the steady-cam was used in every shot of the shoot. Literally. Most days were ten hour days. And obviously we weren't shooting for that whole time, but we shot a lot of steady-cam those days. And every second above zero was more than I'm used to, so I got worked (anybody want to come down to El Lay and give a tired tasker a massage?). Guh.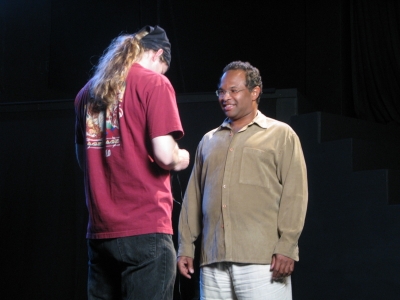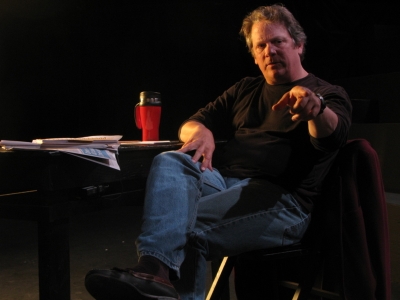 But the shoot was rather fun. I got to meet Holtz from Angel.
And Elvin from The Cosby Show.
So yay.
I don't know if I learned to swim after jumping in the deep end, but I did manage to learn to tread water.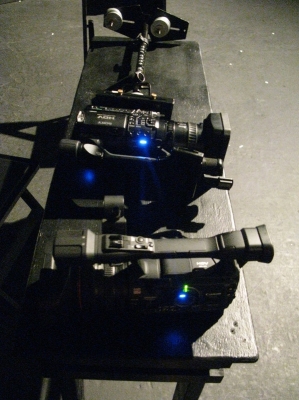 29 vote(s)
Favorite of:
Terms
surpraxis
11 comment(s)