15 + 50 points
December 30th, 2007 12:02 AM


I have been doing this task without the hope of ever submitting it. I just like the idea of welcoming new players because it's an intimidating place to just show up to, so I have been welcoming players for awhile now. I didn't think I was ever going to make a task out of it. But that was before the

Multilateral Task Exchange

Now, I have the power to post this.

I have been welcoming new players only for the last few months, because before that I still felt a bit too new to be able to welcome anybody. But right when I first got into this game, Burn Unit welcomed me. And I loved it (sure he was running for office and wanted a vote, but his sentiment was very pure and welcoming). Ever since then, I thought it would be a good job to be as open and welcoming as possible. And now I get to show all of you. Yay for the

Multilateral Task Exchange!

Flag or no flag.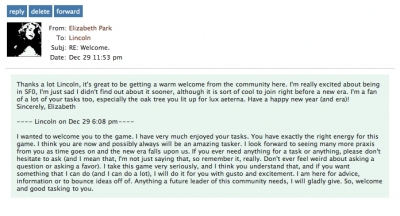 10 vote(s)
Terms
(none yet)
6 comment(s)