15 + 167 points
January 3rd, 2008 10:44 PM


I work hanging christmas lights on rich people's houses.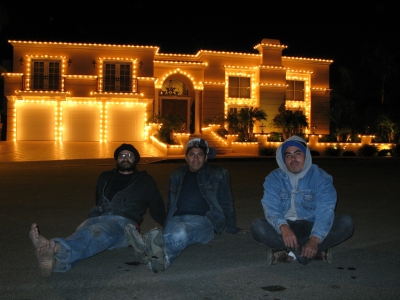 And now that the season's over, we are taking them down. Being rich enough to afford what we charge to put up lights is a bit of a problem. You get weird being that rich. Sometimes. Now these people aren't stupid rich like
these people
are, they're just wealthy enough to be able to afford million dollar homes.
Three days ago, we were taking down the house of a couple we have always known to be really weird, but I think she took the cake this day. There were a lot of airplanes flying over all day long. Like five F-15s in formation, and a B-17 Flying Fortress, and six World War I byplanes, in formation. It felt like fleet week in San Francisco. As I was talking to the woman, three Cesnas flew over in formation. I said "Must be an air show coming up soon." to which she replied "Oh, no. Those planes are here to
protect
us. (yes she italicized "protect" when she said it) I kind of stared at her to see if I could get any kind of vibe that she was joking. She was not. I replied "I don't think
those
planes are protecting anybody." To which she said "Yes they are." "I don't think they're in fighting condition, they're a bit old." I was trying to be soothing and rational. Then she busted out the whammy "They're protecting us from the white stuff." I stared at her for a few more seconds, and seeing no sign from her, got creeped out by the amazing amount of crazy and just turned and walked away and up on the roof to hide.
But I'm not here to tell you about that. I'm not here to tell you about the woman at the very next house when retelling her the story, she admitted that her brother wears tin foil on his head because he's convinced that "they" are out to get him. He believes he has microchips in his head, implanted by "them". To keep track of him. Now she was telling us the story because we were relating stories of crazy and she was sharing hers, except that the thing about her brother she said which makes him crazy, wasn't the tin foil or the chips, it was that he thought he was important enough to keep tabs on. Hmm. But I'm not here to tell you about her either.
I'm also not here to tell you about the house we went to today only to find it burned down. It was completely gutted, the windows all broken out, black stains above all of the windows and doors. But every single Christmas light is fine. So we took the lights down like nothing was abnormal. But I'm not here to tell you about that either.
I'm here to tell you about Harrison Ford. We put Christmas lights on his house. I'm sure it's no big shock to tell you all that he's a big huge pot head. When he came up to greet us, I almost got a contact high. And the shit he smokes is
really
good shit. I hang around theater folks, so I know from my weed smells, and his shit is
GOOD
. But I guess he can afford it, huh? But he was really nice and cool. As was his wife. Such cool people. And he is so famous that people camp out in front of his house. Which is why I'm not going to say where it is or anything about it and I won't be posting any photos I took of the property or of him because I didn't take any. I want to respect his desire for privacy when at home. And speaking of private, he has the most amazing and crazy security system I have ever seen. So many cameras, all discretely hidden of course. There were also motion and heat sensors every few feet around the property. Really a crazy amount of security. All of that and humans. Now just meeting him can go on my list of strangest things that happened to me all week, but I think he did a few things that I thought topped my list, number one was the $100 tip he gave me and every person on my crew. But I think the strangest was when we were trying to find out if there'd be power down in front by the gates so we could put lights on the gate some time, we found an electrical plate on the wall. No outlet, just a plate, so he asks for my leatherman, and jumps into the rose bushes and counterbalancing himself with his leg on a tree behind him, leans in and takes the cover off and starts pulling the wires out to see if there's anything we can use in there to get power. I told him I could do it, and he ignored me. He was willing and capable to be rummaging through an electrical box all by himself. Probably one of the most famous people in the world. Jamming a leatherman into an electrical box. At least he left climbing up on his 45° pitched roofs to us.
35 vote(s)
Favorite of:
Terms
(none yet)
17 comment(s)