75 + 82 points
June 20th, 2010 9:16 PM


What follows is our list of collaborators and where the live and what instrument they created.

- Ntan McNunofurbizwax

- Minneapolis

- Washtub bass. It could be tuned to any key.

- Spidere

- Washington, DC

- A series of glasses, filled with varying amounts of water. Sounds sort of like chimes/xylophone. Tuned notes rather than a continual range.

- rongo rongo

- boston

- large hula hoop with various bells, so it's probably more of a percussion thing, like a tambourine, except I have poor control over when it jangles

- Lincoln

- Los Angeles

- homemade cajón

-YellowBear

-San Francisco

-Slide guitar, can be tuned to any key

-KPrime

-Washington, DC

-Comb Harmonica

-Loki

-Loki was an original collaborator on the task, but repeatedly failed to create an instrument that was as awesome as the one in his mind. So to not hold up the group any longer, he pulled out of the production phase and instead kept everyone waiting for nearly a year and failing to fulfil his role, or, indeed, do anything at all with regard to this task.
This is our final product. It's worth noting that we did this without ever meeting face to face. We laid down a basic rhythm and everyone recorded themselves playing along. After a bit of creative editing, we came up with this. All of this was organized and orchestrated online.
Loki was an original collaborator on this task. But he didn't finish his instrument to his satisfaction in time to be included in the music making part of this task. But we love him and kept him on with the intention that he was to perform an interpretive dance to our new song in public to take care of the very important "Stage a public performance" part of the task description. And because he was late in getting his dance portion done, Lincoln went and dressed up as Loki and performed the dance out in public for him so that this praxis wouldn't be inappropriately incomplete. This is that dance: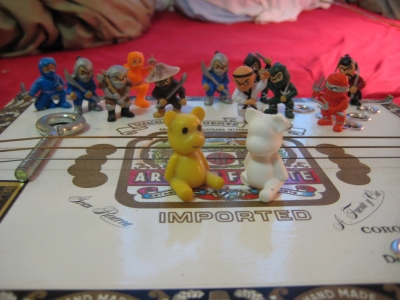 (Loki has dropped from this task and we hope he'll complete his own someday)