400 + 75 points
November 6th, 2007 9:01 PM


CLICK HERE FOR THE S.N.I.D.E. SIMULATOR (TASKS AND ALL)

The website linked above contains our entire proof for the Trajectory of Desire task. It seemed like an effective and easy way to present our ideas for a new group.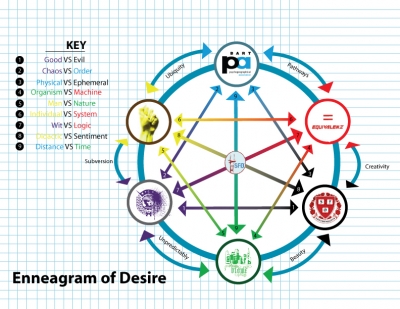 Here's a few words about what we did:
LANK:
When I received that original message, I was flattered, but wary. First of all, who's this clown messaging me? And they want to create what kind of group? But after seeing that comrades P00n and Lowteck were at the reigns of this beast, I was more confident.
My initial reaction was that I wasn't interested in a group that's all about nihilism and pranks. It just wasn't interesting to me. What got me hooked on the idea of S.N.I.D.E. was the deeper significance of the group's aim, and how that fell in line with my own personal philosophy. Specifically, I've always been interested in the dynamics of order vs. chaos and creation vs. (for want of a better word here) destruction. I love the cyclical mechanics of the natural world - how birth, growth, death and decomposition are all equally important parts of life cycles, for instance. I believe that the human race as a whole, FOR OBVIOUS REASONS, is very interested in and supportive of creation and growth, whereas destruction and decomposition is shunned. But there is art in the way things come apart, if you choose to look at it in the right light. Which ties in nicely with my belief that the best gift you can give a person is a new way to see the world. This relates back to the order/chaos thing. People put a lot of work into maintaining order in the human-made world, but too much order tends to make brains shut off. S.N.I.D.E. seeks to insert a rubber wrench into the cogs of our daily routine, and I support that whole-heartedly.
The issue of our difficulty keeping an Equivalenz player on board was a concern for me. I thought we were doing fine when we got Mr. Dragonscales on board to replace our original candidates, but he had to pull out just before our proof was released all over the Praxis. His departure is understandable - the GYØ Brotherhood is tight, and when GYØ calls, you gotta go. I thought we were screwed at first, but then I realized two things. First, Ben solidly did his part to get S.N.I.D.E. rolling, so we did collaborate with an actual Equivalenz player. Second, Mr. Idol is the perfect replacement candidate - he's a virtual Equivalenz player! And using him to complete our Cheat task was a stroke of genius.
I created some tasks and did a little tasking and gave what guidance I thought might be useful. Kudos to Lowteck, P00n and Mouse for all of the effort they've put into this. I'm very proud of our group!
POON:
The Idea of S.N.I.D.E. arose during my senatorial Campaign. I had the Idea for a prankster group. I had observed over my time in the game that the most dynamic and exciting moments were when two or more players, for lack of a better term, messed with each other, At the time, being before dueling was instituted as a game mechanic, there was not much of a means of instigating these encounters. I envisioned a group that would enter sf0 with a different kind of view. One that saw every task completion as a vehicle to not only have fun but have fun with their surroundings and shake things up. In my mind the ideal snide player would create completions that would force players and non-players alike to question their roles as well as reality and that player would do all of this with a touch of Lokiesque deviance. My aesthetic vision for S.N.I.D.E. was reminiscent of C.O.B.R.A. from old school G.I. Joe. The name came from that. I felt it needed to have a name that was part terrorist, part playful. The word snide came to mind instantly and the anagram developed from that. It started out as The Society for Nihilistic intent and Destructive Efforts, but even though the name was tongue and cheek I wanted to make sure that S.N.I.D.E would in no way misinterpreted as a negative force within SF0 so destructive naturally became Disruptive which allude more to change than destruction. I brought my Idea to Lowteck who ironically had been having the exact same idea for a new group. We joined forces at that point and selected a few more players to fill out our ranks that had shown the most propensities for creative deviance.
This letter was sent from S.N.I.D.E. to M0use, Mantooth, Jeremy, Lank, Lowteck and I, (Miss annaone was brought in to beef up our awesome once we found out about all the heavy hitters that BU had assembled for his project and Villain played the part of a double agent enlisted by BU to steal our secrets but ended up completing a S.N.I.D.E. task for us and what should be a S.N.I.D.E. task for Mr. Unit)
Due to your recent or past task completions, we have taken notice of you. We are offering you the opportunity to be a founding member of S.N.I.D.E. The Society of Nihilistic Intent and Disruptive Efforts. If you are interested in accepting our offer your responsibilities would be to help us develop the group identity. You would be asked to contribute ideas for what would become S.N.I.D.E. Tasks. You would also be asked to complete a task in the spirit of S.N.I.D.E. You must also commit to forsaking your current group and Joining S.N.I.D.E. once it is created. In return you will be added as a collaborator to Trajectory of Desire. All task completions, task submissions, any graphics, or text will be used in this proof.
this is a rough draft of our mission statement. please read it; contribute ideas if you are interested.
We are S.N.I.D.E. We are the Society for Nihilistic Intent and Disruptive Efforts. We are the adversary to order. We are the Pranksters. We are the Fools. We wish to administer a wedgie to the world. We act through the sole desire to reflect the system in a fun house mirror; to show that everything is a game, and nothing is worth any more than the value it is attributed by the person perceiving it.
Other groups believe that what they are doing has meaning. what we do is devoid of dogmatic trappings. We understand that every action enacted in the world creates a ripple of effect and consequence. This consequence, being either positive or negative, is not the direct concern of the Society. We leave it up to our individual members to decide on their own in which ,if any, quadrant of morality they wish to reside. We are not destructive. The system must continue to function, For without it we have nothing with which to meddle. We are not cruel for If we alienate ourselves there will be no one around with which to play.
If you are not interested please respond asap so we can find someone else from your group to offer this to.
Thank you,
-IDOL
M0use Was the first to voice concerns.
Well im very much in and excited, im a big fan of chaos, play/games and creation through chaos so it sounds good to me. The line about this not being a negative force in the game cleared up my main concern, but i do still have one large worry.. the name.. Snide "Derogatory in a nasty, insinuating manner." are we branding ourselves in a position that were going to have to constantly explain we are not?
I responded
I Like the acronym, but I am open to other suggestions. I think if or mission statement clearly not aggressive or negative then the name will be a bit more innocuous. I think the idea of the group being slightly adversarial will make for good game play as a whole.
but adversarial in a playful way. No one needs car bombs or hostage situations
From the onset of the creative process there was an active discussion about our role within the game and possible danger for adverse effects. I believe Lank said it best with:
I think SNIDE fills a gap in the current compass of Groups, a gap so wide that one might think it was intentionally avoided. To me it's like legalizing narcotics - chaos junkies are gonna make chaos anywhere they can, but put the making of chaos into a legitimate context, thereby taking the stigma away, and maybe some real creativity will result.
I think with the numerous revisions of our mission statement and the level of consciousness with which we created tasks I feel that we have successfully overcome this issue leaving S.N.I.D.E. no more "dangerous" than another group. The second hurtle to overcome was the ability to keep = players. Mantooth and Jeremy vanished soon after the process began. Charlie Fish was our third and final attempt who backed out days before the posting. Thankfully I had the foresight to make S.N.I.D.E. = for this very eventuality. Mr. Idol made Himself an official player by stealing his way to the top of the front page there by completing the S.N.I.D.E task Cheat!.
Thankfully for me Mr. Lowteck might very well be the most thorough SF0 player in history. He repeatedly staved off the Task Hitting the Praxis every time for the better. He has done a marvelous and most dedicated job of keeping the whole project from falling apart. The tasks were created by all. I made the logo and the ennagram. LT created the web page (cheers) and we all managed some completion of a S.N.I.D.E. task. All in all I feel like I have put more of myself into this completion than any other. And I am very proud to have been a part of its creation and implementation.
-pp