75 + 446 points
December 6th, 2007 10:27 PM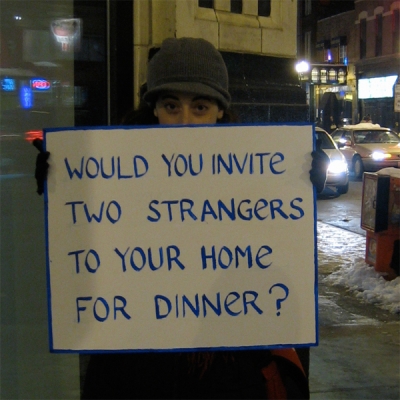 We made a sign. We put on our best dinner clothes.
Then we went out to the corner of North and Damen, close to the El Train station where people were returning home from work, and attempted to look as cute and approachable as possible.
Time:
6:25PM
Temperature:
25F, Snowing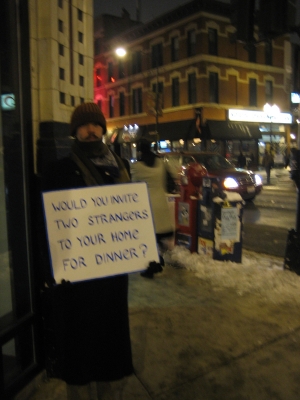 We were prepared to wait for several hours, and even then, did not expect any sort of success. We were assuming that we would be returning to this street corner several nights in a row in search of a single invitation. But this would not be the case. Apparently we are very cute.
Time:
6:29PM
A polite young couple, "E" and "J," on their way home, approached us after a brief couple-huddle.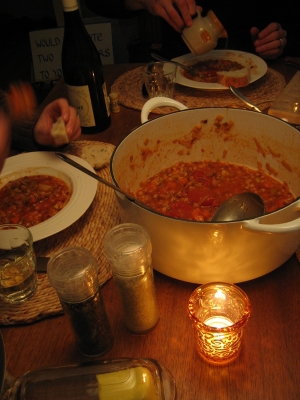 E
, to us: "You're looking for dinner?"
may1968
: "What are you thinking?"
E
: "We are going home to make some soup - would you like soup?"
may1968
: "Yes! Can we help you make it?"
Turns out E and J are
slow-fooders
, which is to say they enjoy their meals. This was the most incredible lentil soup we have had in days, served with fresh French bread (E is from France), and white wine.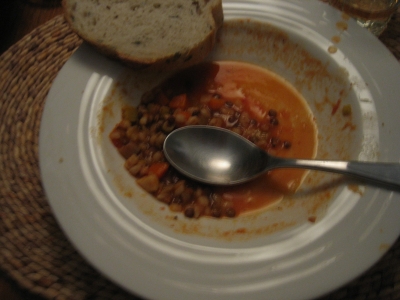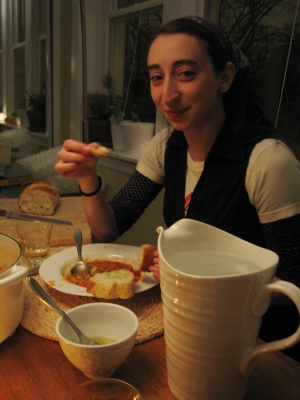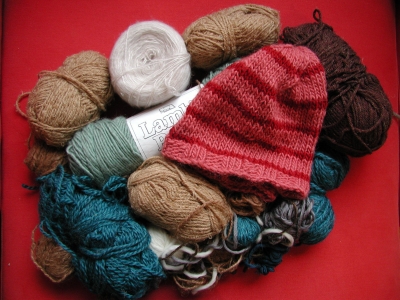 True warmth, E was kind enough to give me some of her yarn and a hat that she made!
While the soup was simmering, we helped them burn some sensitive documents in their barbecue... just personal records of course - nothing incriminating.
They had a lot of documents.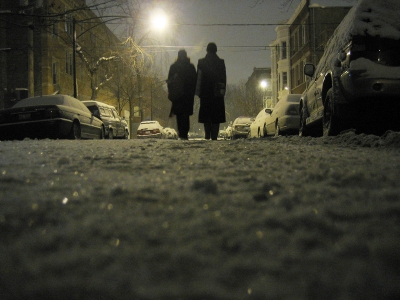 Time:
9:56 PM
Task:
Success
------
Notes from May1968:

This experience was simply uncanny. We had hardly been on the streetcorner long enough to snap documentation photos than this incredible couple invited us over. I never could have imagined such immediate hospitality. Not only were they friendly people, but horribly well-prepared for dinner guests. Their apartment was beautiful, their kitchen already stocked with the best ingredients, and their kitchenware immaculate and ingenious - a weighted potato peeler and a no-sharp-edges can opener were particular highlights. We had a wonderful time getting to know them in those few hours, found that we had some things in common, but many exciting differences. It is unlikely that we would have ever made the acquaintance of E and J under normal circumstances. For me, this was the perfect tasking experience; my thanks to everyone involved!

Before we executed this project, the question was raised: we are setting up a problematic situation by bringing together the elements of "sign," "food," "streetcorner," and "middle-class twenty-somethings." Considering how the night unfurled, I would count that we did something very good. But, the problem remains problematic - and I would like to hear what you all have to say.


Notes from Fox Glove:
Lonesome city looking for a connection...
The city can be a very lonesome place, and there are so many times when I want to ask strangers..."Would you tell me your story?"
I want adventures, partners in crime, but most of all, I want to know what sits hidden inside of the refrigerators and on top of the tables that fill this city. I want to hear the conversation that floats through your homes.

Context and the Power of Signs...
The power of a sign. In those 4 minutes outside with the sign, lonely and curious eyes wandered, hidden grins showed for fractions of a second. We were breaking through the walls of mundane routine.
To allow someone into your home for a meal is so much more than giving someone food. It is trusting, opening your heart and sharing a piece of your life in a deep and personal way.
Truly this task was beautiful, and opened my eyes to the kindness of strangers.

I can't stop thinking about our privilege. When we first started looking for a spot we walked past some people who I see on the street a lot asking for money. How and why did we get a warm meal and a meaningful evening of connecting with strangers?
Walking past people who do this every day to eat made me feel hesitant about this project. My goal going into this was to be respectful to others. I feel that we succeeded as best we could through our honesty about our identity in society (through the formal attire that we wore) and the message that we held.

I just wonder what if we gave the sign to others to hold, wore different clothing, were different combinations of genders, older, younger. And what if we weren't surrounded by our peers.


Conclusion I:
I'm not done with this yet. I think I have a great deal of meals to learn from, neighborhoods to visit, and Tables to experience. Chicago, I want to meet you, I want to hear what you have to say.

Conclusion II:
Wow, this really made me feel safe, maybe too safe. I just can't believe how easy it was. Much more simple, interactive, and meaningful than my experiences busking. In regards to privilege I don't know what to say, but I have a different kind of appreciation now.

Conclusion III:
Dear Table,
I think I have forgotten about you.
I apologize, couch, bed and desk, but you just aren't the same. Table, I love your curves and I miss surrounding you with hugs of warm food and friends. I put bills on you and use you to make P.B. and J. sandwiches so I don't have to sit at you.
And thats not right.
Save the Tables...yes, I think I must start a Save the Tables Campaign for you and all of your dear friends that have been neglected.
I will slow down, so I can have time for you, no not just you, us.

Luv,
Fox Glove

P.S. Food, I think I have neglected you as well,
maybe we can work out a deal with Table.
92 vote(s)
Favorite of:
Terms
(none yet)
31 comment(s)