50 + 150 points
April 20th, 2008 10:15 PM


First let me say that I am brand new to this site, thanks solely to the journey, and I really have no idea what I'm doing. That said, this was certainly a crazy weekend, and I'll try to capture it without being a total doofus. Though I make no promises...

Meeting up with everyone, you could just feel the anxious excitement all around. People's nerves translated into smiles and laughs and the thrill of the unknown, as this is the first time it's been done in Chicago, so no one really know what exactly to expect.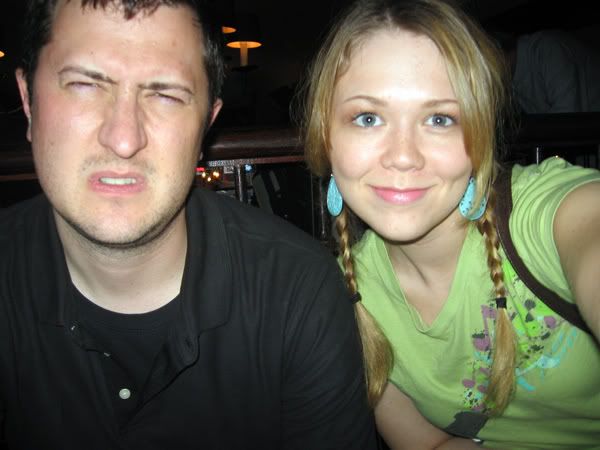 Rex makes funny faces.
We met in Wicker Park and, after hearing the rules and splitting into teams, SHOT OFF and scattered, running in the direction of the first checkpoint. I had no idea where I was going. I just followed my team, which was large. There were like 20 of us. But that wouldn't be the case for long. The group separated far faster than we all thought.
Anyway, we were runners with blue bands, and there were chasers in red bands - on bikes! "This is not unfair," the organizer said. It was absolutely crazy. At one point, Rex turned around frantically, shouting that a chaser was after Littlemonk. We ran across the street, and I suggested we hide in a sunken porch that was obstructed by trash cans. He was hesitant but agreed.
It was EXACTLY LIKE TV. The pressure to calm my heaving breathing, stop panting, and remain quiet as the bike went by almost took more effort than the sprinting. Then we had to stealthily check where the chaser was and dart out across the street down an alley.
Other moments were seriously like an episode of 24 as we were scouting areas and the silence was broken by a blaring cell phone, ringing out like a homing beacon on our exact location.
As I said, the group separated fairly quickly. I stuck by Rex, even though I think he wasn't too keen on me slowing him down, hah! We made it to the first and second checkpoints, though:
We still have blue bands - success!
We met up with more of the group there, but they wanted to take the el, and we weren't 100% behind that plan, so we continued off on our own once again. We may have taken the long, out-of-the-way route, but we got to a bonus checkpoint!
Score!
My feet were KILLING me at this point, but I trudged on. We made it to the third checkpoint at the Billy Goat, where I tried shoving napkins in my shoes for extra padding. In no way, shape, or form did that help, so I removed them. I then put my GLOVES on my FEET. Which felt better than the napkins...
We met up with more team members and started heading to checkpoint #4... I saw a Walgreens, though, and ran in to buy some socks, telling my team I'd catch up with them after.
As I frantically searched for socks and found some perfect cushy ones apparently designed for diabetics, I realized I only had $3 and change (I only brought a bit of cash and spent it on food earlier). Still out of breath and now in a lot of pain, I approached a kind-looking young woman and mustered up the most bizarre request she's probably gotten at a Walgreens.
"I know this is going to be the most bizarre request, but I'm doing this game where we're running all over the city, and I'm wearing gloves for socks because my socks are nearly worn through... you don't have $2.00 you could spare so I can buy some new ones, do you? I told my team to run on ahead, I'm sorry, I know this is SO weird!"
She asked what the group was, and I don't even think I told her the right name, but I showed her my manifest and thanked her profusely when she pulled the weathered Washingtons out of her purse. "This is your good Samaritan act of the day," I assured her, "Thank you so much!"
Socks and cash in hand, I turned to pay and saw Rex, Gremlin, and Littlemonk down the aisle. They came back for me!!! I was shocked and flattered and felt a strange little surge of team pride amidst the pain.
I paid, put on the socks, and we set out again. We coupled up, walking hand-in-hand with bands in the middle to try to obstruct them from the side view (though they were still fully visible from the front and from behind). Walking down Michigan Avenue was a great strategy, as the night was mild and the tourists plentiful. They provided great camouflage, and we blended right in.
As we turned a corner off Michigan Ave. to make it to a safe zone, Rex noted once again, as he did so earnestly so many times during the night, that we were entering very dangerous territory and asked if we were ready to run. Littlemonk seemed able. Gremlin was not so sure. And in that moment, I knew.
If I saw a chaser, there was no way I could run. I had to give up.
I FAIL.
Failure makes me scrunch up my face. (I asked Richard earlier if I should change my hair out of conspicuous pigtails. "Can you tuck it up?" I could, so I did.)
I really wanted to finish. I had wanted to prove something to myself. But apparently I proved I can do things halfway... and that's it.
However I also did something pretty crazy that I have never done before. I met cool people. I saw so much of the city. I got a workout. My adrenaline was pumping, and above all, I had fun. So I do feel like I accomplished something, even if I had to quit.
And I honestly would have continued on to at least make it to the finish line, had I not been worried about a few things, including going home alone at 2 am (not fun for anyone, especially a young woman with no cash for a cab) and making my feet even worse - it's my birthday on Friday, and I could not risk not being able to dance!
Tending to my injury at home, I cut open the huge blister on the ball of my left foot, fluid pouring out. SICK. But it's a battle scar I earned along the journey... so it's worth it – as long as I stop gimping and start dancing by Friday. ;)
30 vote(s)
Terms
(none yet)
14 comment(s)