250 + 1077 points
September 15th, 2006 1:40 PM


THE BEST BUS STOP IN SF!

8/25/07 - NEW VIDEO

The Documentary, in two parts.

Available courtesy of YouTube

Part the first
Part the second Lowteck

:

A WEEK IN THE LIFE OF LOWTECK

DAY 1 Tuesday

I began the long hunt for a suitable candidate for the bus stop conversion task. I ran around the city for hours taking measurements, examining the different MUNI structures, and brainstorming. As with many tasks, it must have been a strange sight, some weirdo standing on top of a ladder with measuring tape at 1 AM.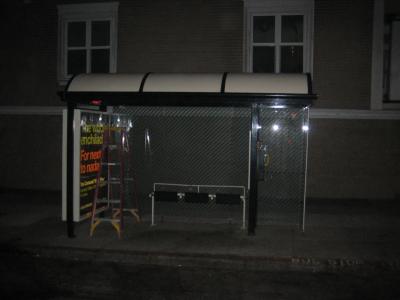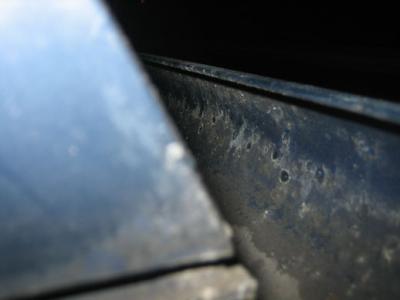 DAY 2 Wednesday
I began the long scavenger hunt for materials. I "found" a nice magazine receptacle that someone had ever so carelessly "left" on the sidewalk for me. I cleaned it up and painted over most of the markings. I got a huge sheet and some rope that we used to make curtains, a pokemon poster, random crap. I finally got a chance to use some of the enormous collection of random electronics that I have been hoarding for years. After that, I finished my muni shelter hunt. Again some weird guy poking around the top of a MUNI shelter in the early AM hours.
DAY 3 Thursday, The Big Day
After work, I began constructing a soundboard for the muni shelter.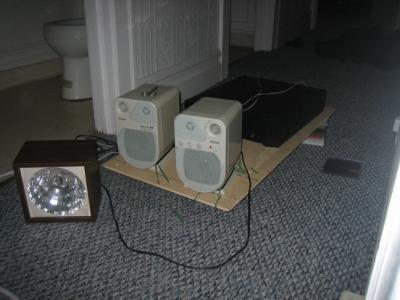 I gathered more crap and left to meet up with the others. It turned out great. Look at the videos, look at the pictures. I put in a lot of my favorite mixes that I've made and few others that have inspired me. I thought it was so neat that a MUNI shelter had house music 24-7 (with a strobe light too!!).
DAY 4 Friday, The day after
My grandma lives close enough to the improved muni shelter, so after visiting, I stopped by for a look. Some lady was enjoying it thoroughly while waiting for the bus. People had eaten some of the snacks and water and the music was still going. I'd call this one a success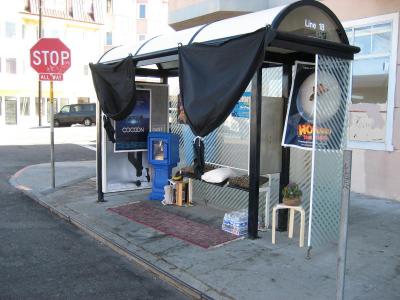 Britt
: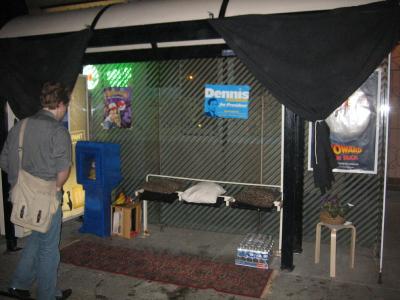 Orion
:It was cold and the citizens of San Francisco had no comfortable place to rest while waiting for a bus…or waiting through the night. A few hours of planning (and a trip to Goodwill) later and all that was about to change. Though I'm still fond of Britt's joking idea to turn a bus shelter into a working foundry (complete with anvil and a bellows to keep the fire warm), we were still able to heat things up with Lowteck's ingenious music rigging and some warm "dorm inspired" decorations like throw rugs, flowers, posters, and a Horn of Plenty full of fruits and crackers. There's even a strobe light. We were a bit wary of the police car that kept looping around…but I figured that, given a few minutes in our cozy shelter, even an officer of the law would turn down the $1000 fine offered to turn us in. I was quite adamant that all advertising needed to be covered, as a responsible BartPA member, but I'm afraid the only way to get this sort of kick-ass public seating installed city-wide would be through some sort of corporate sponsorship. Either that, or we'd have to spend many a cold night ourselves doing the deed…which might not be a bad idea.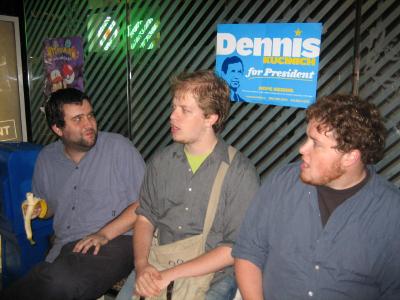 Cameron
: Unbelievable. Orion, Britt, and I thought we were such rockstars for bringing two endtables, a rug, some pillows and assorted knickknackery.
Lowteck brought a 5 disc cd player, speakers and a strobe light. Mounted to a board pefectly measure to fit in the eaves of a bus stop.
Amazing. Like Britt said: Lowteck don't fuck around.
I was most pleased by people's reactions. The few people who wandered by last night seemed shocked, but were still grinning as they stared at us working. The ones we could talk too seemed to appreciate the idea, but were stunned by it's existence.
The next morning, I came back to drop of some more magazines. To my great suprise, everything was as it was. Some food had been taken from the dispenser, and some new magazines had been added(!) to the magazine rack.
Best of all was the small crowd gathered out front. As I approached to drop of the new magazines; they slowly drifted away, but when I first pulled up, there were two smiling young guys taking camera-phone pictures and a half dozen other commuters staring from across the street.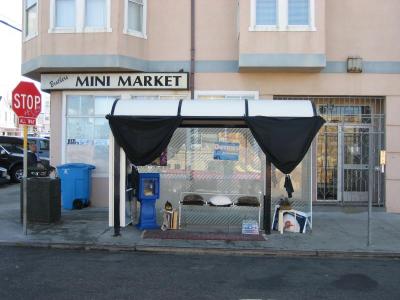 Like the fellow in the video said: "It'd be great if it caught on."
(If you get tempted to call the police for that 1000$ reward, don't bother. We didn't damage, deface, or destroy; and like Orion said, a Johnny Law drove by thricefoldishly. He seemed to get that we were up to the good kind of shennanigans, and the setup was all there the next day. )