15 + 50 points
January 28th, 2008 5:17 AM


Before I got to college, I had a summer job that involved playing around with a graphics program. That was fun, so when I got to college, I taught myself how to program in the Postscript language, which is a fairly common language that printers speak.

So it's kinda easy for me to make business cards, because I've been doing it for awhile. ;)

For this task, I was struck by the utter simplicity of the calling cards on wikipedia, so while I was tempted to throw in graphics into the background of these cards, I instead went all retro and kept it simple.
The phrase under 'bunny dragon' is a riff on the
A Song Of Fire And Ice
series by George R R Martin, which, sadly, I have not been able to keep up reading. (I got stuck on book two, and going back to reread book one was just too darn depressing. :) ) From that series, there are noble houses, each of which has their own "house words". One house, which guards against the unspeakable horrors from the wintery north, has the house words "Winter Is Coming". A reminder to the house's descendants of their duty. For me, I changed it into a wholly different meaning for myself.
I figure having some sort of explanation would be good advertising -- hence the URL and the different phrases. One is from the SF0 website, but I find it somewhat lacking. "a different kind of game" is meant to be all mysterious-intriguing, thereby tempting people to join. The last one, "art, people, a game" is my bias on SF0.
IMG_2942.JPG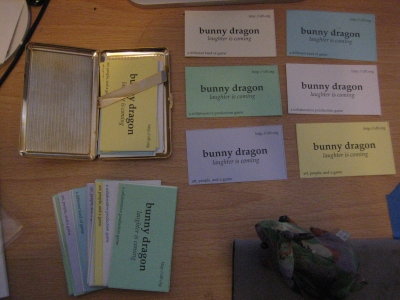 Six different colors. I have a cigarette holder that I got a long time ago to hold calling cards for a different game that I'm using for this now.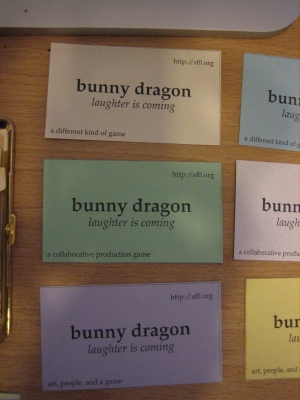 Three different phrases
10 vote(s)
Terms
(none yet)
0 comment(s)