Humanitarian Crisis
The City suffers from a humanitarian crisis and appeals for unilateral humanitarian aid, and basic human rights.
Humanitarian Crisis is an independent, non-profit, non-governmental organization working through field-based analysis, low/high-level advocacy and decisive action to resolve the devastating humanitarian crisis in the City.
As with all humanitarian functions, Humanitarian Crisis acts with a mandate from the people who have made a desperate plea for their basic human rights.
Our city no longer houses a "secret" humanitarian crisis: what was only recently undeclared and ignored by international humanitarian discourse (but in the open for all to see) is now acknowledged.
The plea is made, and with The Humanitarian Crisis Group taking on the role of an objective, aid-distributing and enforcing body, the international community and the bay area itself may finally bear witness to the Crisis.
Our objectives are clear: every single resident of San Francisco is entitled to basic human rights, yet only 1 of every 100 actually receives the aid that he or she needs to be considered a depoliticized Human. We work tirelessly to increase that number.
In times of crisis such as these, boundaries between social classes may fall apart, or they may crystalize. To supply residents with the supplies they so desperately need, we must ensure that boundaries break down. Only then can the distribution of vital, life-giving resources come to fruition.
After basic human rights have been restored, Humanitarian Crisis will bring the perpetrators of the Crisis to justice by establishing tribunals.
Whatever colors they may wear, these players have distinguished themselves by the number of tasks they have completed in the zone of Humanitarian Crisis: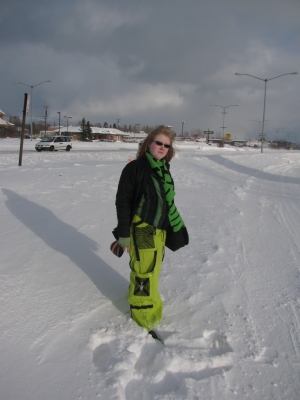 Added by
relet 裁判長
September 29th 2010 @ 8:55 am
Tie the end of a long piece of string to a stranger, without being noticed.
Tie the other end of the string to another stranger, again without being noticed.

completions by: Rin Brooker Pixie APR dreamlands relet 裁判長 Kattapa
level 5 :: 125 points :: 3 completed :: 6 in progress :: 6 comments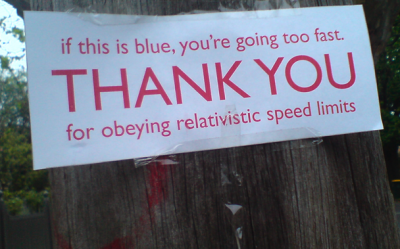 Added by
Emily Moss
June 13th 2009 @ 10:41 pm
Whilst in Scotland, I couldn't help but notice that along the roadway, there were signs posted, simply saying, "Thank You". These signs were as regular as stop signs, or speed limit signs.
I asked my grandfather,"why are there Thank You signs posted?"
He replied,"Well, it's thanking us for driving safely. Also, if you can't read the sign, you're driving too fast."
He may have been telling the truth, but I preferred to interpret the sign at face value, like a bumper sticker that says, "Don't be a jerk." Just "Thank You".

Make a Thank You sign, and post it appropriately.
Thank you.

completions by: Wolf Sombrero Guy gh◌st ᵰⱥ₥ing Happy McDeath Bryce
level 1 :: 10 points :: 66 completed :: 152 in progress :: 1 comments
Added September 28th 2008 @ 12:00 pm
Collect donations of goods or currency on behalf of a victim of the Crisis. You must not have a prior relationship with either the donors or the recipient.

You may retain a portion of the donations to cover the structural costs of The Humanitarian Crisis Group.
level 1 :: 15 points :: 0 completed :: 9 in progress :: 21 comments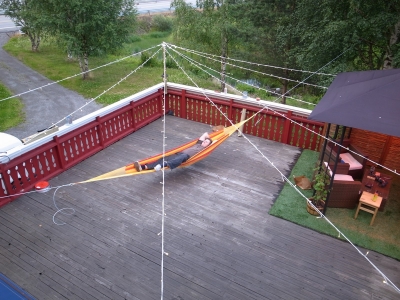 Added by
Kattapa
June 6th 2011 @ 11:09 am
Install a hammock somewhere.

completions by: relet 裁判長 Rin Brooker Thor
level 2 :: 25 points :: 2 completed :: 3 in progress :: 5 comments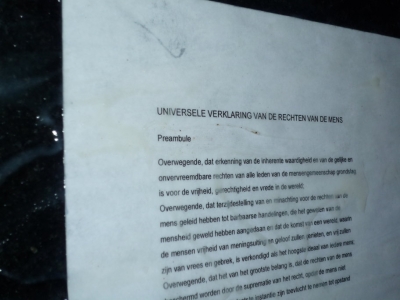 Added by
Moist
February 10th 2007 @ 11:23 am
Post a copy of the UN's Universal Declaration of Human Rights in your workplace lunch room. Document how long it takes for HR (or somebody else) to take it down.

Universal Declaration of Human Rights

Please get a photo of the document in place.

If you happen to be present when the document is removed, please get a photo of the person for evidence during their trial.

completions by: Ben Yamiin Picø ҉ ØwO Juxtapolemic relet 裁判長 Pixie
level 1 :: 15 points :: 19 completed :: 35 in progress :: 11 comments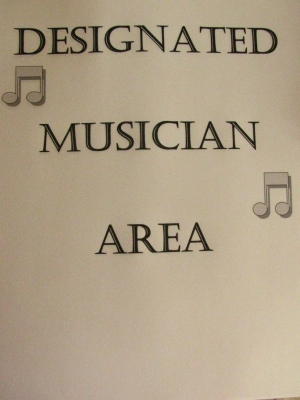 Added by
Poisøn Lake
March 4th 2009 @ 1:43 am
Designate an unused public space for a useful or amusing purpose. Bonus if you document strangers using the space for its new purpose.

Alternately, post signs announcing the designation of an area to a purpose for which it is already frequently used, but for which it was not intended.




completions by: Rin Brooker Kegan Pixie Lincøln Tac Haberdash
level 2 :: 25 points :: 4 completed :: 20 in progress :: 9 comments
more tasks