15 + 12 points
December 14th, 2012 3:25 PM


My partner has asked that I hide all sweets and "goodies" in the apartment from him. I am not a huge fan of sweets, so after one helping, I usually stash a treat away somewhere where he can't find it, and forget about it. This results in a lot of old candy and treats getting tucked away for months at a time, without notice.

For this activity, I ransacked my cupboard for all the old, hidden candy and sweets I could find, along with any other desert-related-finger-food I had stocked up.

Feeling cheery and holiday-spirited, and getting excited about the cold snap that just happened here....in Florida (It's 65 degrees!), I was inspired to create a portrait of winter wonderland romance. I hope it's intelligible.
Winter Gift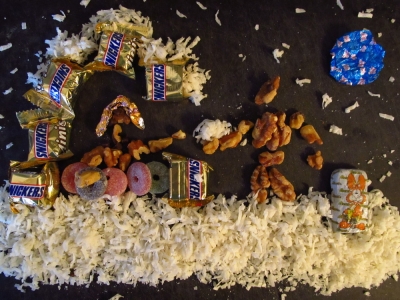 My husband wasn't so sure about some of the aspects here, but at least I hope viewers get the mood and idea of the scene.
4 vote(s)
Terms
(none yet)
0 comment(s)