15 + 19 points
December 14th, 2012 3:16 PM


As a rhetorician, one becomes aware that everything is a message, an argument, a statement. Because of this, clothing becomes much more than a utility, meant to avoid nakedness. No, all cloths are essentially costume, constructing a narrative about the one wearing the costume, building their character, displaying their imagination.

I've always felt that jewelry is one of the most telling aspects of a person's costume. It shows so much about a person's inner world, their imagination, their taste, their fancies, their personality. In a way, one could imagine each piece of jewelry as a character itself, which the wearer seeks to relate to, imitate, or befriend. A form of identification as well as imagination.

This is one of my favorite necklaces. I got it for less than $3, but it's lasted for quite some time.

Here's a picture of the character which this personified necklace is in my imagination. By wearing the necklace, I hope to snatch and exude a bit of her grace, suave, and seductiveness.
peacock girl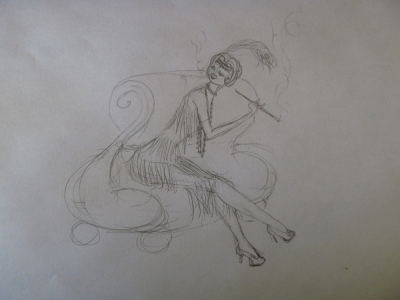 I imagine the peacock necklace as a flapper girl, with fringe, a long cigarette, and heals.
5 vote(s)
Terms
(none yet)
2 comment(s)