50 + 55 points
May 13th, 2008 5:59 AM


It was a difficult and important decision over which I agonized for some time. Journey to the End of the Night was coming to DC, and I had a choice: do I run, do I chase, or do I make large quantities of Jello?

I chose Jello.

But, let me back up a bit. I had heard such great things about past JttEotNs, and given the opportunity to participate I simply HAD to be involved. I have never been much of a runner, but I probably could've scared a few players as a chaser since I do have a talent for invisibility. On the other hand, working a checkpoint would be open to considerable creativity, and I do so love being in costume. I asked myself who would be friendly and approachable and yet most people probably wouldn't approach them? Mormon missionaries, that's who. And thus the Mormon-themed checkpoint was born.

But whence the jello?

In 2001, Utah made Jell-O the official snack food of the state. Therefore, no Mormon-themed checkpoint could be complete without copious amounts of the jiggly goo. But I knew that I obviously wouldn't have a fridge available and that the quantities I would be making wouldn't even fit in my fridge (apparently, my roommates like to keep actual food in there. The nerve!), so a search for a jello-like product that wouldn't melt if left out for an entire day began. Clearly, this was meant to be because before I could even tell anyone about my search, my sister emailed.

"In unrelated news.... I have a source for vegetarian Jello that jells at room temperature, according to the box. Yellow (

Mango

), Green (Banana) and maybe some other colors. They sell it at Sizar's Market in Columbia. There ought to be some creative uses for something like that, don't you think?"

This will henceforth be referred to as The Miracle of the Jello. Well, technically, "Jelly".

"Jelly"

is a product of Pakistan that comes in many exciting flavors (including mango, banana, apple, and lychee!) and is vegetarian-friendly and halal. The ingredients list is basically the same as jello, but with "vegetable gum" instead of gelatin. It is amazing. It does, indeed, set at room temperature and it definitely does not melt--it closely resembles the texture of gummi bears, in fact. I drove 20 miles and bought nine boxes for about the same price as official Jell-O--and the clerk didn't even look at me funny. Most of it came out great, but I lost one whole batch when I poured in the boiling water and dead spiders floated to the top. That left me scrounging around for something else to make up for it and I ended up with a whole lot of half-jelly/half-gelatin cups that never did quite set.

My companion, Sister Despain, and I donned our makeshift nametags, grabed our box o' jello and a couple jugs of water and headed down to Washington Circle to set up checkpoint 1. The main things I learned were that checkpoint 1 is BUSY--we barely had any time to sing Mormon children's songs--and that if I am ever asked to chalk out an entire traffic circle again I will make sure to wear clothing that is more conducive to crawling along the ground (instead of repeatedly standing and squatting) and/or I will find a way to attach chalk to some sort of pole or something.

Less than one hour and more than 195 people later, more than 20 minutes went by without a runner so we packed up and headed to HQ. We had some jello and water leftover so we gave it to a nice homeless man who had been keeping an eye on the creepy homeless man that was circling us like a vulture for most of the night.
An actual misisonary name tag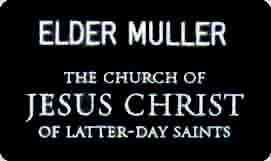 From a Swiss missionary who was so kind as to scan it in and post it on the Internet...
11 vote(s)
Terms
(none yet)
5 comment(s)