15 + 21 points
March 15th, 2015 8:59 PM


I work in a temperature-controlled laboratory. Found a file full of mundane work orders going back to the late 1960's. Nothing special- mostly orders for glass/metal/wood fabrications whose workshops no longer exist because it is cheaper to purchase such things directly from a manufacturer nowadays. I was impressed that the file is chronological and in quite an orderly condition considering the time period it spans. Found in a cabinet that looks like it is just passed down as is from lab supervisor to lab supervisor through the years, none of them having the time or motivation to bother cleaning out said file cabinet. I imagine these work orders will be here until the lab closes, if ever.
Page a day calendar note from 1979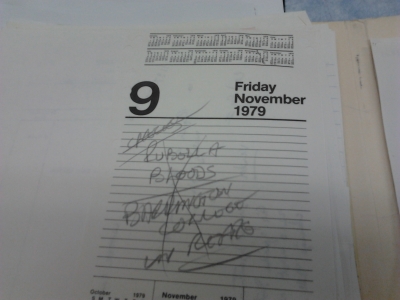 Found this in a file cabinet at work- work orders going back to the late 1960's. Because of the temp-controlled environment, the paper looks as fresh as it was written today.
6 vote(s)
Terms
(none yet)
0 comment(s)