15 + 33 points
February 2nd, 2013 10:23 PM


I don't have a house, but I often share an apartment with a certain

Norse God.

This is a picture of him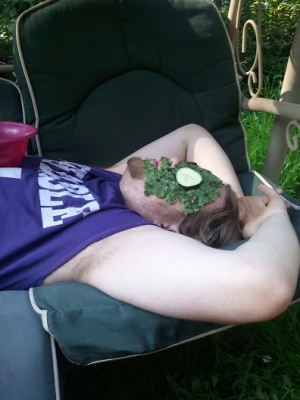 This is another picture (because I like looking at pictures of him)
Now that we have established what he looks like, we have to figure out how to objectify him properly. He is hardcore, and very into music, so there has to be some speakers with bass involved. He is comforting like mac and cheese, but his hair is much more suited to be spaghetti. He has the heat of 1,000 suns, so we have to figure out some way of making heat emanate from him. Looks like I have my work cut our for me!
---
Half an Hour later
Note that I am not the best at drawing. I have created a picture though. There are many objects to represent the many different parts of him. I note that if he were this particular object, I would be afraid of him.
A list of the parts (because the descriptions on the picture are ether blurry or backwards)
*Sunshine hair
*Beard-thulu: facial hair of the eldergod
*x-box 360 Arm
*Boombox chest (for the music in his heart)
*Mac and cheese lips
* Tentacle Arm
*Friendship leg for support
*Rarity's tail from MLP (because he is fabulous and generous and loves rarity)
*A dark and infinite void of a stomach for when he is hungry
With that, I hope you have a lovely day and hope to task again soon.
Love
Pixie
8 vote(s)
Terms
(none yet)
0 comment(s)