45 + 120 points
June 10th, 2010 6:20 PM


I completed

this
I at first tried to stay in a different place every night. Then i made it a little easier by making it so i couldn't sleep in my room. My eventual decline in health forced me to stop.
This praxis won't have any pictures which prove it, being that by nature, some of the non-players who helped don't want their info on the internet. I also sleep in places which may not be entirely legal for me to sleep. Lots of names have been changed, lots of information omitted. I'm putting a few things at risk for myself and the people who've helped me up here, so please don't be unhappy when i don't tell you more.
The other part of this praxis that i feel might come into debate is wether or not i completed it as worded, being that i didn't always sleep in public places. I'm a 110lb girl. i live in a city. i don't always want to sleep in places where the door isn't locked. I did find a lot of places to sleep, some friends houses, some in public places and some in offices of student groups. There is adventure and then there is stupidity. I think that i completed this as well as i really could for as long as i could. I'm just sorry i can't put up more proof.
---
Story time!
yay backstory!
So i dated TB from
2/14-5/22
. We didn't sleep in the same bed every night. but we did a lot. so much so, that i didn't really want to sleep in my bed anymore. So i thought i'd enjoy a little pre-tired tasking to help me get over it.
The first thing you should know is that i have 9 am classes 3 times a week. you should also know that i did a lot of napping (but not nearly enough.) You should also know that most of my friends are boys so there is a lot more sleeping at boys houses then girls houses. Not all of the "sleeping" i did was entirely platonic, but none of it what the phrase "sleeping around " normally implies (aka - NO SEX!) (hi mom... If you have learned to work the internet well enough to read this i love you! and i'm sorry about the emergency room bill.)
Anyway, what i learned to do was to keep all the things i needed in three bags. School things and laptop in backpack, sleep things in green bag (deodorant, alarm clock, blanket, toothpaste etc) and misc things in purse (wallet, fire poi etc.) I showered at home
---
May 22 - For the sake of the person involved, he gets a code name. Lets call him Elvis. We met randomly in the chitchat cafe (at 5 PM) and just connected. We talked, we had friends in common and similar jobs/interests. At 2 in the morning, we decided we were tierd and i went to sleep in his house. That beautifully simple. Now he is one of my best friends.
May 23 - I stayed at
Digital Watches
house. Again, 2 in the morning, we were walking and i did feel like going home. So i stayed over. I slept, he coded, then we hugged, i left to go to class at 8 and he slept.
May 24 - The couch in the office i completed Decoration of Human rights (the one that has a coffee donation cup. I love that couch sooooooooo much) I went to be around one... or two...
May 25 - A bench near a computer lab... at 3 am
May 26 - An office of a different publication on campus. Their a daily, so they get a much bigger budget and space then us. this means they have more couches. I got in because i have a friend in the office. They were putting out the next day's paper (which is a fantastic experience, everyone should watch a daily being produced!) I sleep at around 2
May 27 -
Remmy The Ghost's
house: this was where i met and recruited Remmy. It's by far the best place I've spent time in a long time!! I loved everyone i met, and i can't wait! to see them all again. I fell asleep around 5 am. woke up at around 9...
May 28 - TB's house (or his dorm.) We questioned the whole breaking up thing, and then decided that was probably best... but not before he gave me a place to sleep. I felt kind of bad about sleeping in the same place as TB again, but he was safe. I also went to be rather early, which was good!
---
From here on out it's blurry. This is around when my friend Adam came to visit. He was a boy, living in my house, and while it seems as if i've been staying with a lot of strange boys, i knew this one less well then the others (with the exception of elvis, who is now one of my best friends. This is also when i started sleeping in repeat places. made life a little easier, and i still had to do homework a lot during all this time. I also napped on our college radio stations couch at least once in this time... but the naps and the nights all start to blend together....
May 29, 30, 31 june 1, 2, 3 - I slept at Elvis's house, Vanguard office, Spectator office and Watches house, TB's room and my friend Mary's house. (Mary's house is the night i made most of babes hat) I do not remember the order. I will say that i started a new sleeping pattern that isn't too healthy.
---
June 4 - Adam Leaves, I go to Eugene. I stay the night at a friend or my sister from middle school's house. I stay up till 2 (because they did, in the room with the couch...) In the morning, my sister comes to pick me up and take me to the Oregon Country Fair to work!!!! (which is the best place ever!!!)
June 5 - I firedance!! which is fun, and i try to sleep in the passenger seat of my sisters car (she sleeps in the back seat), but can't. I spend a lot of time thinking and being uncomfortable, but sleep at about 6:30 am, when she wakes up and i take her spot to about 8:30 am, when she wakes me up to catch a ride back to PDX (I sleep two hours in the car)
June 6 - I'm sick by this point. Sore thought and light fever. Watches comes over to take care of me (this is the day before finals start.) we decide that spicy food will be good for my throat and so we go out to thai together. Then, we decide to see a movie! we decide on Pan's labyrinth, but then he gets a migraine (i call it a daemon.) I don't know what time we get to sleep, but i know that i spend a lot of the night holding his hands down so he couldn't scratch himself. I wish there was more i could have done
June 7 - I wake up very sick and with a fever. When i check it's 102. Watches walks me home, then i send him away so he can work on stuff. I lie in my bed and feel horrible. Around noon, i try to get up because i lost my phone and i want to let Elvis in (he was going to come to take care of me and text me when he got there so i could let him in) i make it into the elevator, and down to the first floor lobby of my building, then i pass out. then i wake up and puke. Then there is an ambulance. Then They pump fluids into me, tell me to eat, drink and sleep more and let me go. I went to my bed.
I've been sleeping at home ever since.
PS (8 am math final the next day, while i wouldn't take a moment of this experience back, it had some pretty bad consequences...)
Alarm Clock and Travailing Blanket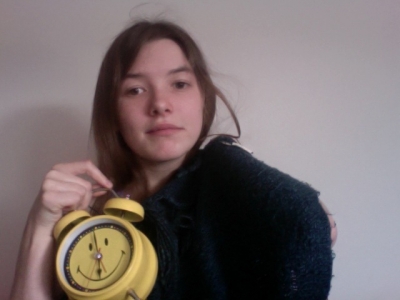 The former sings "You are my sunshine" and was given to me by my mother The later was lent to me by watches and is light and warm and soft, a great combo!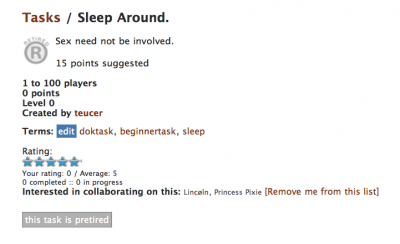 24 vote(s)
Favorite of:
Terms
neglect, dangerous
10 comment(s)