250 + 51 points
February 16th, 2010 9:00 AM




Come in, come in. Do sit down.

Pleased to make your acquaintance. I am the Road Scholar, your humble conical guide to all things urbane to the Urban, and germane to Main street. You are just in time for our first safari.


.
.


I believe it is important to begin at the beginning, so for this week we look back to our humble beginnings as a people. From whence does our civilization of caution come? Our inclination to designate, to mark, to connote the unseen dangers of life? Far from the rectilinear designs of the Metropolis, we can trace our vanishing point to a world far less accommodating to such notions as minimum visibility distances in walkable mixed-use catchment areas. Come with me, as we venture into the cradle of our ancestors, the rain forests.


.
.


Our specimen this week is the rare Lanceolar Nigripes, a South American Pygmy Cone.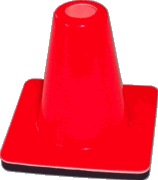 Although this species is solely a New World Cone, scientists believe it to be the closest living relative to our common ancestor with all living traffic cones today. Although none of us are likely to confuse this nocturnal jungle-creature for our own mother, the resemblance to us can be quite striking. It's name, Lanceolar, meaning little lance, and Nigripes meaning black-footed, characterizes the creature, in the grand scheme of things, hardly any differently than we must describe ourselves. Perhaps more remarkable than this beautiful creature's family resemblance, if you will pardon my pun, is his familiar behavior.

My team and I went to meet just such a cone. After several days of stumbling through the uncharted and unforgiving jungles of Costa Rica, our spirits began to flag. It was early one muggy morning when our photographer heard the mating call of a mature female Lanceolar Nigripes, and we knew the game would be afoot. You see, any males for several miles would have heard that call, and try to put on an eye-catching mating display. Whichever male was most accomplished in the arts of visibility,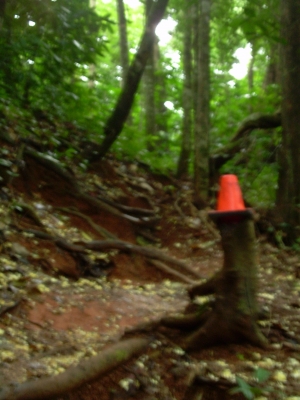 would draw the most positive attentions from the female. Hardly minutes later, we stumbled upon a young male considering a tree stump for his display. You can be sure it saw us coming before we spotted it, so keen is their eyesight, but you would hardly know it from the attention it paid to us. Recognizing us would be an act of submission counterproductive to his efforts to command attention, and hopefully attract the female's gaze.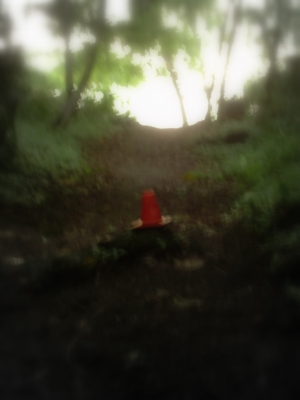 In a flash the young male had moved on from the stump, and we had to hurry at a very incautious speed to follow him. Following the remnants of a mudslide-qua-riverbed, he paused at several natural counterpoints to places you or I might pause in our day-to-day in the city. My photographer apologizes for the blurring of these images; our charge hesitated only briefly at each of these locations before moving on to a yet more visible point. We invite you to peruse our photolog.


.
.


In what turned out in retrospect to be significant to his strategy this day, the young male paused for several minutes by the obstructing trunk of a vast tree overhanging the ocean.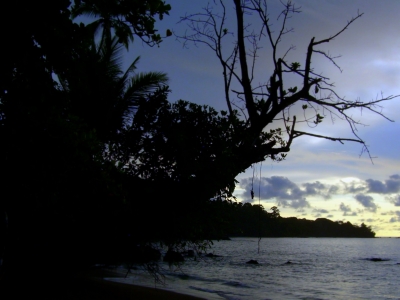 The young male stood, gazing up for several minutes at this tree, perhaps contemplating how visibly distinct this tree was from those around it. Then again, the beauty of the jungle may just be causing me to conicthromorphize the animal. In that place, faced with such natural beauty, it is hard not to lose oneself in the moment and see how similar we are, you and I, to our living ancestors. We are so barely out of the jungle.

After nearly an hour tracking this male, we found him back at the seaside engaged in a most unusual behavior. He had begun to burrow headfirst into the sand.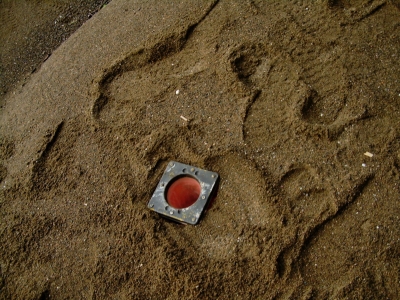 After some time, we concluded that the male had given up, and sought reprieve from our attentions. Our photographer heard again the mating call of the female, just around the rocks to our left, and went out around them hoping to catch a picture of the female on the next beach up the coast.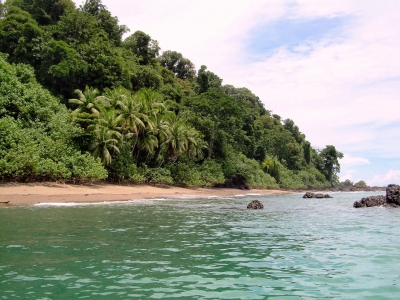 It was while he scoured the far-shore of the bay around the rocks that we began shouting for him to return, as we realized our young male specimen had in fact fashioned a most cunning display.

.
.
.


Once our photographer returned, the action was over, and we were holding our sides with laughter as he paced up and down the beachfront asking where the male had gone, and what we were on about with all that shouting. This is what he saw: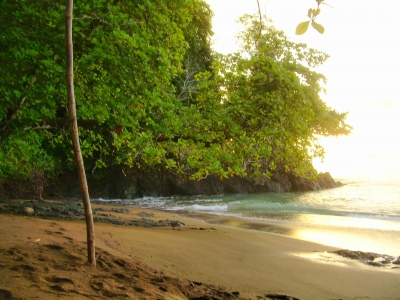 Eventually, he looked up.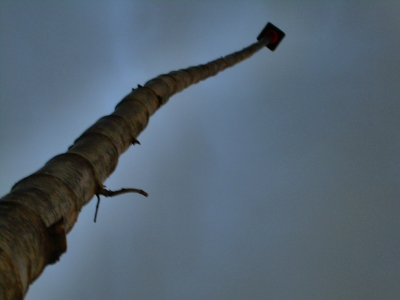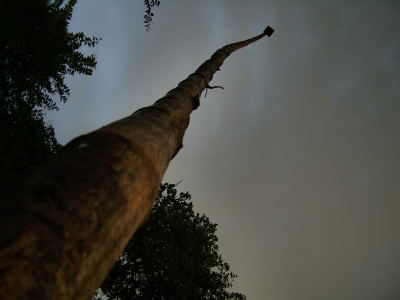 Some 34 feet off the ground, approximately 70 times the bodylength of the young male, towering over the beach with the treetops of salt-stunted growth nearby, the male proudly displayed. The simple foundation he dug in the wet sand proved the most stable of foundations for the upraised piece of driftwood; the uncharacteristic bamboo washed downstream from a mountainous region by the floods months ago, and deposited by chance on this of all beaches.


.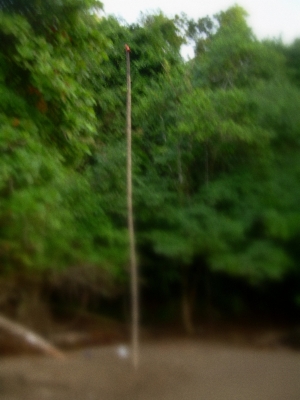 Marvelous, simply marvelous.

.
.
.

Hoping our diminuitive friend would be rewarded for his efforts, we retired to our camp to leave him and his potential mate some privacy. Back in the comfort of our homes, we may become too quick to pride ourselves on the grandeur of our civilized accomplishments, and our refined way of life, should we forget the majesty of nature, which all cones are graced with from the day we are born. We have come so far in our ways, because we stand upon the peaks of giants.



.
.
.


This has been the Road Scholar, reminding you to watch your step, mind the gap, and when your find yourself on that grand road of life; take it slow.

12 vote(s)
Favorite of:
Terms
(none yet)
7 comment(s)