30 + 40 points
March 4th, 2008 2:09 PM / Location: 54.869297,-6.274738


Well, Ballymena is a lovely place. Sometimes we like to go out and shoot things.

And Flea would like to apologise in advance for the drop in picture quality, due to his normal camera being out of use.
Text
Kyle's Chosen Photo: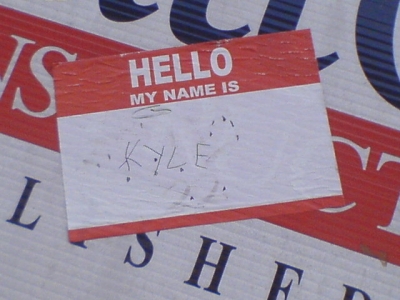 This was a sticker some fool had put up on a building area under construction. I decided to write my name where the large blank box is.
Dave's Chosen Photo: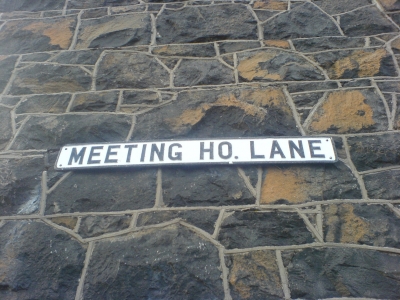 Not sure how much of an overlap with "Place of Business" this is...
We eventually decided that "Meeting Ho Lane" was the better Text picture simply for being slightly more witty.
Portrait
Kyle's Chosen Photo: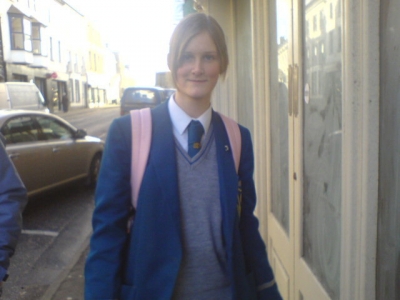 A friend who I coincidently met on my travel. She objected at first but I used my arguing techniques and how desperate I was due to lack of time to get a portrait.
Dave's Chosen Photo: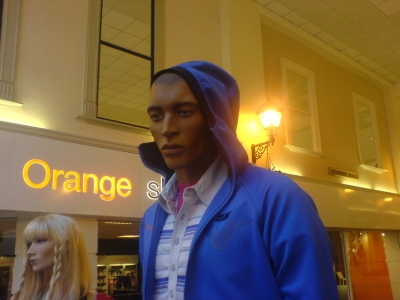 It kinda felt a bit cheaty going for a portrait of a mannequin, but still... Looks good, doncha think?
We decided that the picture of the real person was more deserving of a win for that category than a mannequin.
Black and White
Kyle's Chosen Photo: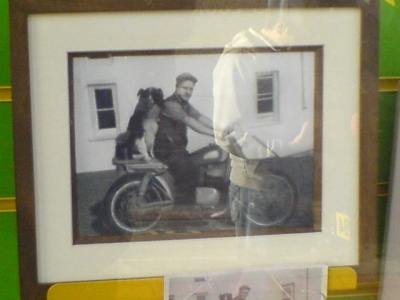 It is a man with a dog.
Dave's Chosen Photo: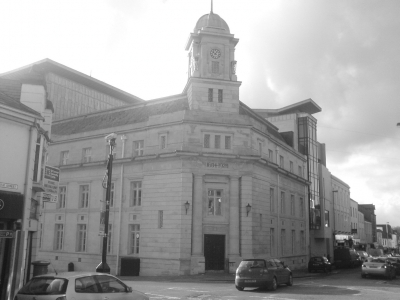 A picture of the Ballymena Town Hall, taken using the Black and White setting on my camera. The Town Hall is the building with the most history in Ballymena. Unfortunately, it's been torn down, so I took a shot of the new Town Hall instead.
Overall, we felt the Town Hall had an old feel and fit in better with the Black and White theme.
Place of Business
Kyle's Chosen Photo: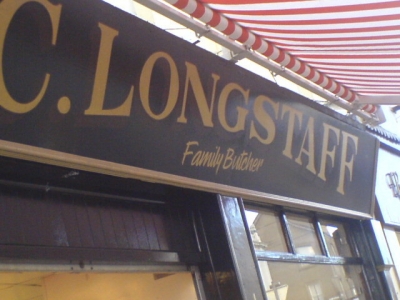 At first I thought this was an "adult" shop but the raw meat inside proved otherwise. I then thought this was quite funny that a man butchered families but Dave explained the actual meaning to me afterwards...
Dave's Chosen Photo: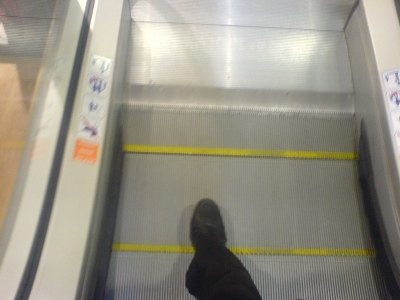 Unable to find any particularly interesting businesses, I decided to take the long and painful step off of the escalator in a department store...
We decided that Longstaff won it, because murderers and innuendo are far more interesting than emotions and stuff like that.
Corner
Kyle's Chosen Photo: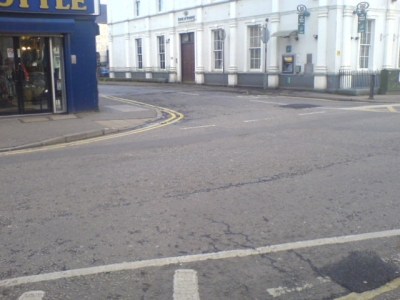 This is a corner. It's not very special. In fact, quite boring. Corners are quite boring. I looked for a car crash at a corner, but to no avail. This is a boring corner.
Dave's Chosen Photo: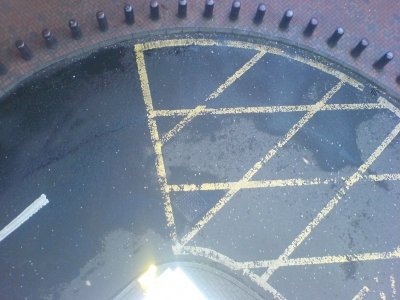 I went for the top down view of this corner, by climbing to the top of a car park and leaning precariously over the edge...
We decided that Dave's picture won, simply by being a more exciting view of a boring corner.
So, half way through the contest, and the scores stand at:
Kyle - 2
Dave - 3
And now...
Wild Card!
Kyle's Photos: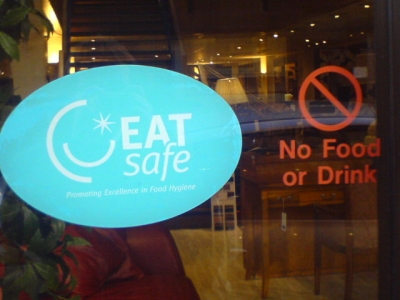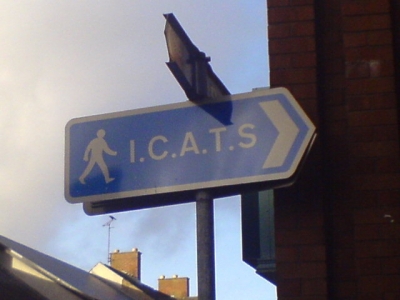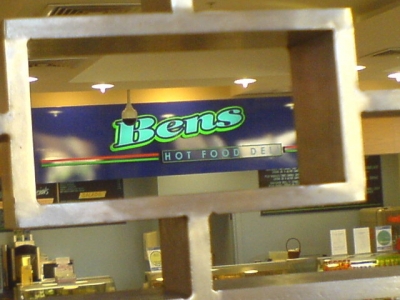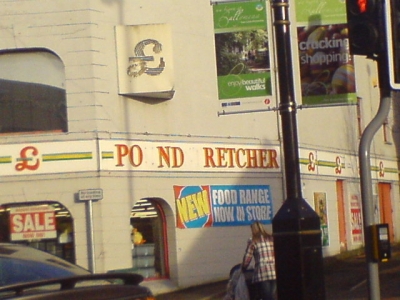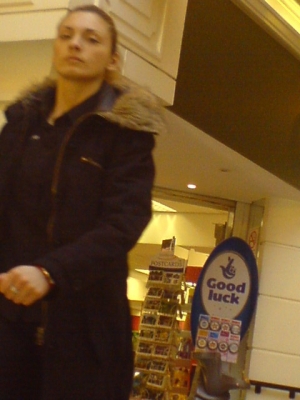 Dave's Photos: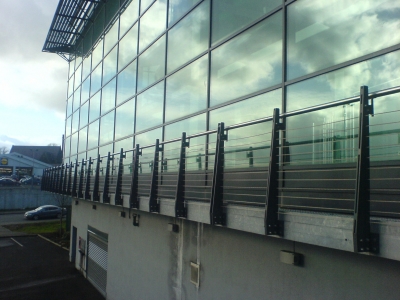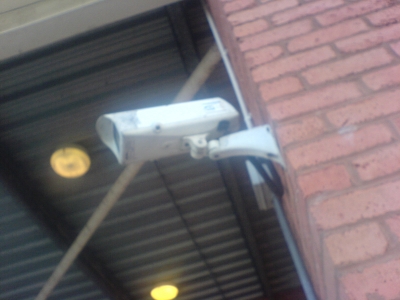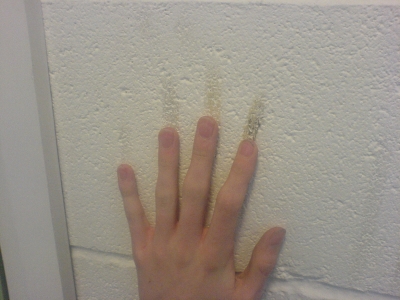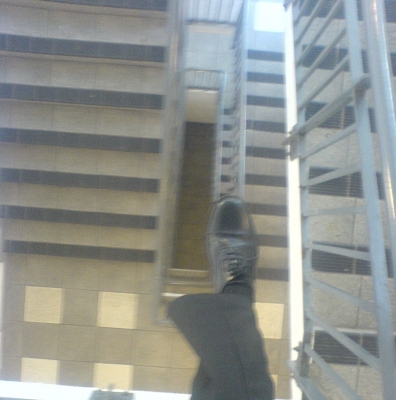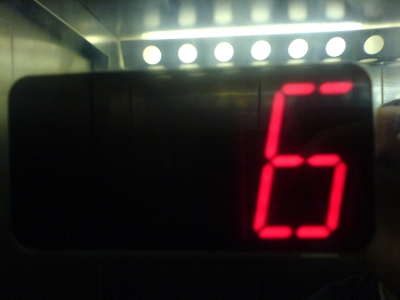 The winners were:
The Eat/No Food Sign - Contradictions are awesome.
ICATS - Cats are awesome.
Overhang/Shiny Window - Reflections are awesome.
Ben's - Makeshift frames are awesome
Pondretcher - Vanishing letters are awesome.
So, the final scores are...
Kyle - 6
Dave - 4
Clearly, Dave has much to learn from Kyle. Kyle, apparently, has learned all that Kyle can teach him.
8 vote(s)
Terms
(none yet)
3 comment(s)