25 points
September 30th, 2006 11:25 AM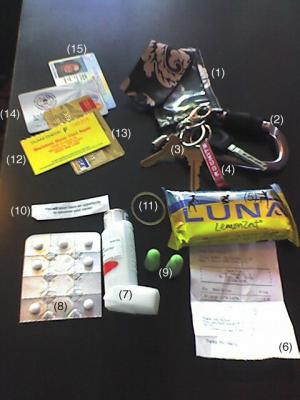 contents, detail:
(1) leather luggage tag, black with white floral print, worn, with split ring attachment and a 0.5" white metal lobster claw clip used to keep shut the flap, not original to tag. Items #10 and #12 - 15 found inside.
(2) heavy-duty locking carabiner, 4" x 2.5", professional climbing grade.
(3) ring of four keys on three split rings. (a) a VW car key, (b) a brass Yale lock key with imprint "AB1," (c) a brass Yale lock key with imprint "AB3", (d) a barrel lock key labeled "kryptonite"
(4) also attached to keys, a red metal bottle opener printed with "ROCKITS"
(5) lemon flavored nutrition bar
(6) a paper receipt:
Order for: Alice
Ticket #29657 (09/28/2006 10:22
Reg: 1 Store: 1000 Clerk: 110
************************************
* Java Train *
* 1342 Pascal St. N *
* St. Paul, MN 55108 *
* 651-646-9179 *
************************************
Qty Description Price
=======================
1.00 Large Caffe Latte 3.60
=======================
Sub Total: 3.60
Tax: 0.25
Total: 3.85
Thank you Alice!
Your account balance is now
16.15
7 coffees earned toward next free
Thanks for coming!!
(7) Inhaler, albuterol, prescription to same name as receipt, cards, and license.
(8) sheet of Lordatine tablets, sealed (OTC allergy medication.)
(9) pair of disposable foam earplugs.
(10) fortune cookie fortune reading "You will soon have an opportunity to advance your career"
(11) rubberband.
(12) Claim check #046305 F for Blackstone Manor Clock Repair in Minnetonka
"NO MERCHANDISE DELIVERED WITHOUT THIS CHECK. NOT RESPONSIBLE FOR GOODS LEFT OVER 30 DAYS NOR FOR LOSS BY FIRE OR THEFT."
(13) debit card, Wells Fargo, Visa.
(14) credit card, MBNA, Master Card, image of lantern surrounded by ribbons reading "The Alumnae Association of Bryn Mawr College"
(15) Class D Minnesota Driver's License. Female. Not tall. Weight misreported. Eyes listed as "Gry". Cramped signature. Organ donor. Address local to coffeeshop. Capricorn. Adult. License expires 12/2009. Restrictions: corrective lenses.
(17) (not pictured because I took this photo with it:)
Treo650
handheld device.
Analysis:
Unconventional: why is there no actual billfold or cash? Why keep disposable earplugs? Either sensitive to noise or a regular attender of loud musical shows. Significance of retaining fortune: dissatisfied by current career. Nutrition bar, carabiner, and bottle opener with local RollerGirls team logo all indicate a sportive person.
Conventional: inhaler, receipt, license, and bank cards provide traceable, consistent identity, including indication of college education and medical history (asthma and allergies.)
Possible conclusions:
"Tomboy" who carries no purse or cosmetics. Coffee drinker, educated, technophile, athletic, looking for career change. Hypochondriac or asthmatic. Music goer or light sleeper.
Owns or has responsibility for the following:
a broken clock
a volkswagen vehicle
a kryptonite lock (bicycle?)
two Yale locks (most likely apartment as indicated on license address)
handheld computer with phone and camera.
[note: I am in fact not particularly athletic. Ms. SpaceBug plays for the Rockits. The carabiner is to keep me from losing my "wallet", slightly more dignified than having it pinned to my shirt or chained to my back pocket.]
The one thing I have decided to add to this collection -- I haven't finished yet with my Material Response to Derrida-Stumping Question. But when I have, I promise to carry it with me whenever possible.
0 vote(s)
Terms
(none yet)
0 comment(s)