15 + 141 points
September 21st, 2007 2:15 PM


For this task, I corresponded with a notorious spammer, probably one of America's largest producers of spam. The transcript is below.

__________

Correspondence #1 - The following was filled into Hormel's contact form by Mrs. Samantha P. Amherst:

Hello,

My husband works as a legal assistant to an attorney here in Washington State and has been involved in recent litigation about illegal spam. He says that there are proposals for spam to be outlawed, even at the federal level. But he won't discuss the details with me, since his job requires him not to divulge information from of his cases.

However, as a mother, I also have to worry about the health of my children. For years our family has regularly enjoyed Hormel's spam products, especially the more healthy low-sodium option, with our weekend family brunch. But now I am worried. Is spam truly safe for children? If so, why are there lawsuits and proposed legislation to outlaw it?

Thank you,
Samantha A.
__________

Correspondence #2 - via email:

Thank you for writing to Hormel Foods Consumer Response. Your message has been
received. Our team is available to answer messages during the following hours; excluding
holidays:

Our team is available to answer messages Monday through Friday, 8 a.m. to 4 p.m.
Central Standard time. You will receive a personal response from one of our representatives soon. Messages are answered in the order in which they are received. Thanks again for writing.

Hormel Foods Consumer Response
__________

Correspondence #3 - arrived via email within 2 hours of Mrs. S.P.Amherst's message:

From ******@hormel.com
Ms Amherst,

Thank you for contacting us.

I assume that your husband would be involved in 'spamming' that has to do with
junk email that people receive through their computer; that would not pertain to
our SPAM Lunch Meat.

Sharla
Consumer Response Specialist
Ref # 1521721
__________

Correspondence #4 - outgoing email to Hormel shortly after:

Thank you for your personal response. Your assurances have assuaged my worries about feeding my children spam. I am glad to hear that spam is still safe to eat, and to know that it is not safe to send through the emailer in my husband's computer. I don't know much about computers except to use the emailer, and wouldn't even know how to scan in spam to send it to my friends.

One last question. Given that it is unsafe or illegal to send spam through a computer emailer, is it safe to send spam by traditional mail? How much postage is required?

Thank you,
Samantha P. Amhurst
__________

As of their customer service closing time this week (4pm central time Friday), there has been no further response. It is believed that this subtle and tricky spammer is consulting with spam scientists before responding to the postage question. Any further responses received will be added to the proof.
spam.JPG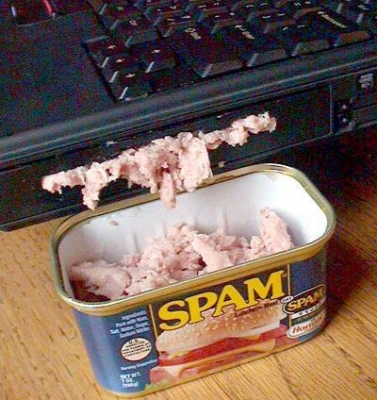 Dear friend Hormel, I am a widow to the late principle accountant of Sierra Leone central bank who was assassinated due to political hostility in my country. For the sake of our lives, we fled to the neighboring republic of Benin where we are seeking refuge until my son was evacuated to Europe recently where he is also seeking asylum. We decided to search for an external assistance because we are having problems recovering a large deposit made by our late father overseas since the company maintained that instructions left by our later husband the original depositor states that the funds be "released to my foreign representative only". Importantly, your ability to put the said funds into circulation wisely for our joint interest and relocating us is a major considerable factor regarding our request as our knowledge of financial matters is not enough to handle an amount of money above US$10,000,000. On your personal advise, we are also considering the below options as areas relative to our interest to put said funds working. In view of this, if you are touched to work with us in sincerity, by standing as my late husband's foreign representative to receive the said deposit on our belief, we shall embrace you as our new found parent/family and will compensate you accordingly. Please indicate your interest quickly, friend Hormel, to enable my son to give you further information relative to the funds and steps to take to finalize on the project.
29 vote(s)
Favorite of:
Terms
(none yet)
8 comment(s)