10 + 70 points
July 22nd, 2010 8:44 PM


I thought this task would be easy. I completed it many years ago at work, and the evidence was still around!

Nine years ago last week I started my first job after moving to Chicago. I noticed the posting in the Chicago Tribune classifieds seeking to fill a temp-to-hire office work position.

Not knowing what to expect, I applied, passed the interview process and was thus gainfully employed at a mid-sized public accounting firm as the "office assistant." This job entailed sorting and delivering the mail, making photocopies, carting off old files to storage, bringing back needed files from storage, and most importantly, finding lost or misfiled files.

Much of my time was spent in the file room.
After my first week at this job, and having to find at least a dozen "lost" files, I posted signs all over the file room. These all said the same thing "Please put your files away in the correct ALPHABETICAL order. If you can not comply, please see Brian."
So yesterday, having brought my camera in to work, I went to photograph my posted thank you sign. Much to my chagrin, there was no thank you on my originally posted signs... I had just been snarky and rude... go figure.
Also, there was only one of the original signs remaining. Throughout the 9 years of my employment, I finished my degree, and became an auditor, and now am in a supervisory position there. The current office assistant took down all the signs except the one in the very back of the file room.
I decided the nearly decade-long rude spell should end. I promptly type up an appropriate ending to my original sign. See the finished results below:
The original sign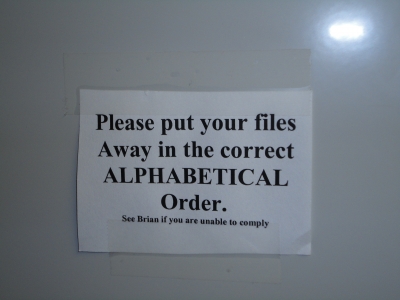 Posted approximately August, 2001. Also important to note, we moved offices in 2006, but the movers kept the signs intact!
End of an Era?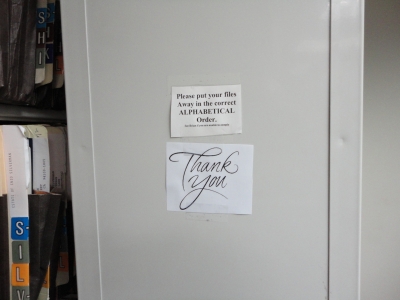 Never! I continue to find new and exciting ways to be rude and/or snarky to my employers and colleagues every day!
17 vote(s)
Terms
foecake, chicago
1 comment(s)