15 + 80 points
April 1st, 2008 4:49 PM


I did not intend for this to happen on April Fools day, but oh well. At least I didn't get Rickrolled and I gave my coworkers some laughs. When thinking about this challenge I thought about what constituted strange garb for me... and well, it's the opposite of most peoples.

For example, have a look at my clothes..
Notice what isn't there? Yeah, a whole lot of colour. From left to right the things that aren't black include a purple plaid skirt (cuz I have a plaid skirt fetish), a red button down sleeveless shirt that goes well with my various gothabilly skirts. A girl scout uniform for theoretical role playing. A black/white/red plaid skirt. The two things with actual colour (the light green and the brown w/ orange and teal dresses) are vintage dresses and don't count. A red skin tight chinese style dress. And, although you can't see them, there are two pink and black rockabilly and fetishy halter dresses. Also notice the lack of pants. I do own several pairs, however I almost never ever wear them.
So the goal for today: pants and colour. I even managed to wear non-black underwear.
Look how I did! This will probably only impress people who actually know me.
I definitely felt out of place all day and very much not like me. I changed as soon as I got home.
*whew* Better.
Wearing trousers and colour at work!!!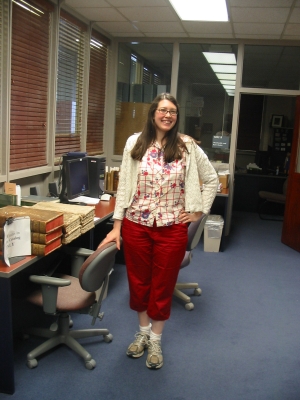 It's amazing that I can even put together a non-black outfit!
16 vote(s)
Terms
foecake
12 comment(s)