15 + 19 points
June 11th, 2011 3:55 PM




I chose to try and recreate an uncontrolled event. Unfortunately, I've never had a great deal of skill when it comes to visual arts, so trying to crinkle something the same way (while very cool) would have ended in frustration. So, I decided to try and recreate as precisely as possible the trajectory of a paper airplane. First I threw the plane with only a vague idea of where I wanted it to go. I only threw it once. Then, watching the video, I determined to the best of my ability where it landed. Then I attached bits of drinking straw to the plane, and ran a string from the starting point of my throw to the landing point, where it hit the wall. So a semi-random event semi-recreated.

This was fun. Thanks for creating this task!
Close-up of eyelet on the rear of the plane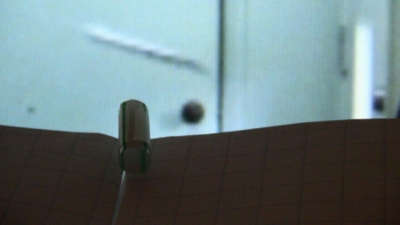 Just behind it is a freeze frame of the plane while sliding down the string.
6 vote(s)
Terms
(none yet)
1 comment(s)