15 + 65 points
April 7th, 2011 6:11 PM


There is no reason on the spheroid earth the FBI should have a file on me. I'm so harmless I'm practically invisible. On the other hand, I've seen people standing calmly in their 'designated free speech zone' be pepper-sprayed by les authorities for no reason I could understand. And I've read lots of Atwood.

Task accepted. It turned out to be slightly more problematical than I expected, but 20 minutes after I hit http://foia.fbi.gov/ I had the gist. I wrote out the formulaic request letter (Privacy Act, as I'm a citizen, requesting only info about myself) and the somewhat longer acknowledgement and acceptance of possibilities of Dire Consequence should I be lying to the federal government, added a bit of origami and sealed it with a kiss, and waited.

And the very day all the warning bells were sounding about the imminent shut-down of that federal government - maybe two weeks after I mailed my request? - I got my response: "Dear Chicky, we don't have anything on you. Could you be more specific as to what, exactly, we should have?"

Had to laugh: I'm just a little disappointed.

And what's this? David M. Hardy, Section Chief of the Record/Information Dissemination Section of the Eff Bee Eye has misspelled my name. Hmmm. Maybe there IS a file and they're being cagey about it?

David M. Hardy, Section Chief, has also helpfully enclosed an FBI Fact Sheet. The FBI would like me to know they do NOT keep a file on every citizen of the USA. They would also like me to know that, though I'll have to send cash money if I'd like a list of all my arrests, military service records, federal employment, and naturalization efforts, if they REALLY wanted to look for dirt on me they'd do a search including "a multitude of combinations and phonetic spellings to ensure all records are located." But they don't. And they didn't. They looked for my name, maybe the one I sent, maybe they one they're sending back to me.

And if you've a problem with that, feel free to file an appeal within 60 days from the date of this letter, citing your FOIPA request number. Have a pleasant day.

FBI fact sheet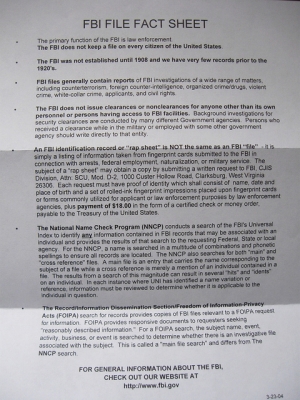 "Look, we don't have a file on everybody. Do you want to work here? Are you a criminal? We looked for your name. Now beat it."
16 vote(s)
Terms
(none yet)
0 comment(s)