15 + 45 points
November 17th, 2011 12:23 PM


warning

: this praxis is unnecessarily wordy and contains sleep deprivation, pixie magic, complaints, no pictures for the last two days because the camera died, and more about comit than you ever needed/wanted to know. please skip this if any of these things bothers you.
---
Despite research, I was unable to determine which day a journey typically begins on. My personal guess would be Monday, if only because...well, because it's Monday, and
something
has to go right or nothing will. Let it be noted that it would be really, really nice if things could also go right on Wednesdays, because that's when I have most of my classes and it's really not that pleasant to be stuck in a classroom until 7pm.
(11.10.11) Thursday.
My journey begins on a Thursday, both because I have synchronicity issues and because my timelines tend to be a little screwed up anyway.
Note: I'm a music teacher (well...a private lessons teacher, anyway). I have work on once a week, on Thursdays. As of now (slightly past midnight on Thursday), I feel frightfully unprepared. I need to get things together, and find a better way to teach a bunch of sixth graders how to play in thumb position on a bass. That sounds kind of awkward, actually. At some point I also need to find a better way to word that.
The early part of the day (1am-8am) was spent in a sort of hazy, study-filled daze. Bio exam at 9am, so cramming was unfortunately inevitable. I slept from 1-4, and then again from 6-8.
Biology test. Ouch. Not the best way to start the day, waking up with your hair looking like straw and the weight of an inevitably bad grade on your shoulders (read:
science fail
). I needed something that would make me happy.
And, lo and behold, I found a new sandwich shop on the way to work (hadn't eaten lunch yet), called Phuong Nga. Vegetarian banh mi? Yes please. Happy cm is happy.
Thursday's gift was a fantastic lunch.
(11.11.11) Friday.
Went shopping in town, since a friend needed work clothes. I'm a proponent of sales, generally. And I found me some cheap new taskin' shoes.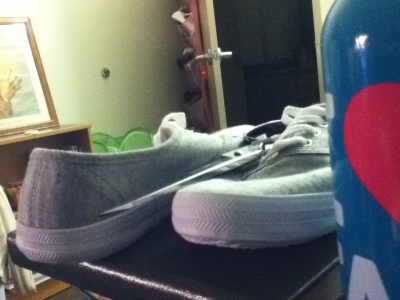 A friend showed me
this
, and we discussed the probability of it happening after college. Research on things like this, such as we did today, most definitely makes me happy. I've wanted to live in a hobbit hole since sixth grade.
Friday's gifts were shoes and hope.
(11.12.11) Saturday.
So, sometimes Saturdays have to be grocery-shopping days. The aforementioned job allows me a little bit of food money (for variety- it's best to not eat in the dining hall every day, i think. increases entropy and possibly mental enthalpy!)
Today, instead of plain yogurt, I decided to go for something new to make me happy.
Siggi's comes in strawberry now. Hooray!
Saturday's gift was fun new yogurt.
(11.13.11) Sunday.
Today I got lost in Chinatown.
I only wish that I had pictures to enforce the thoroughness of my inability to find my way in unfamiliar places. Okay, so it doesn't help when all the business signs are in another language, but you know how it goes. I'm still getting used to driving in town, navigating the freeways and all that. But thanks to today, I can get back to the university from most neighborhoods.
After some initial confusion I ended up at May's Ice Cream. Team TXØ- I'm giving you a mission. Find this place and get something delicious, even if you can't read the menu or understand exactly what it is that they serve. It's not really ice cream.
I ended up with
red bean something
, sort of like bubble tea but also entirely different. It was sweet without being cloying. New tastes, awesome!
Sometimes I wonder if my happiness hinges on knowing my location. Well...no, I don't mean my physical location. I am more comfortable wandering without concern for that. But feeling like a stranger in your own city? It's at once sort of wonderful and weird.
Also. OH! So the other thing that made me happy is just sort of silly, I guess, but it's all about the warm fuzzy feelings.
I see my family semi-often. Once a week for sure, because of work. For most people my age, it would be more than enough. But we operate a little differently. We function best as a unit, if that makes sense.
So today (actually, just as i'm writing this, at 9:58), I got a text.
It was just something simple. Parents at home are going to sleep. The obligatory "good night" message for when you can't say it in person. But this kind of thing just warms me up. I'm such a sap.
And at the same time, I was carrying on a conversation with my mother, the woman known as "Mama M" to all who meet her (mostly because no one can figure out how to pronounce her last name).
It reads
"haha like that time i sprayed myself in the face with paint"
. We lead such interesting lives.
Sunday's gifts were a new location and family comfort.
(11.14.11) Monday.
Today I made a decision about the future. I don't want to go too far into it right now, because I'm not sure how concrete it will end up being.
For the last few weeks I've been worried about where I'm going with college, and what happens after. I know I have a while to figure it out, but there's intense guilt attached to the feeling of wasting money, and scholarships only take you so far.
But today I had a conversation with my cousin (who will henceforth be known as the advisor), and we got a few things sorted out. Mentally I am now back on track. I'm excited again, about what's going to happen in the next few months/years. Not freaking out anymore.
Monday's gift was a new direction. It's a good day.
(11.15.11) Tuesday.
So today I was whisked away by Pixie, all the way downtown. We dressed up (sort of) in red dresses, with rainbow socks. It was wonderful.
We did a lot of walking. We found a fleur.
We got sparkling cider to celebrate this Tuesday.
We danced in the rain.
We road a metro train.
We got lunch and pie.
Tuesday's gift was Pixie!
(11.16.11) Wednesday.
Okay, well, technically I gave myself an extra half-hour of sleep this morning. That was nice. I definitely felt more rested than usual.
But really my gift for Wednesday was coming home tonight instead of tomorrow morning. Even though technically it's because of a person in the family being hospitalized. I guess my gift for today is kind of vague. It might be coming home early. It might be visiting the person in the hospital (I like hospitals, and I like this person, so none of it was bad except for the fact that this person is in the hospital in the first place). I think mostly it was coming home early.
There's something nice about falling asleep in your own bed (not the one you've had for the last three months, in the room you happily share with a new friend, but the bed you grew up with). Especially if it takes place after watching South Park with your brother and reading more than your fair share of new (to you) fantasy novels.
Wednesday's gift was falling asleep in my own bed. Definitely. That was really nice.
(11.17.11) Thursday
This morning, while the sun was still struggling to rise, I went out back to the garden and pulled a basil leaf off of its plant.
I rubbed it between my fingertips. It smelled like summer, like when we have fresh tomatoes with every meal, like when you look straight up to the sky and see the way it seems to turn a darker blue when it gets hot.
Thursday's gifts are memories like these.
---
Seven days later:
Perhaps this changed me more than I thought it would. I find myself thinking,
is this my gift for today?
even when it doesn't apply. Or maybe it always applies. Further research will be done.
But as for learning things- small things make me happy. I didn't really realize this before. Sometimes it's a sandwich, or seeing something new, or a familiar sensation or face. I realized that a week at once much longer and much, much shorter than I thought it was.
This task doesn't end with the end of the week.
I'm going to keep giving myself gifts, and finding at least one thing each day that makes me happy.
I am still determined to be cheerful and happy, in whatever situation I may be; for I have also learned from experience that the greater part of our happiness or misery depends upon our dispositions, and not upon our circumstances. (MW)
This task made some happy, introspective waves in my life.
10 vote(s)
Terms
(none yet)
5 comment(s)