15 + 4 points
October 11th, 2008 6:38 PM / Location: 52.607926,1.7291879


Finding the highest place in a place notorious for being flat generally means that when you find a place that could well be the highest place in your flat place... Well, it's going to be a man made structure.

But where to look in Yarmouth? What area are we looking at? Is it a small area, or the whole town? Where is the most interesting high up place? Should we find a place and then define an area, or define an area and find the place?

This task has a lot of ways to complete it whilst still fulfilling the requirements. I mean, the highest point in my study that it's humanly possible to get would be standing on the desk. But that wouldn't make for a very interesting praxis now, would it?

Looking at Yarmouth itself, there are three high points which spring to mind. The Atlantis tower, as featured on our rather stylish LocalZero logo, recently reopened as a viewing tower after having a rather nasty dose of asbestos removed from it, would be one of them. The quite new addition, 'The Yarmouth Eye', which is at the far end of the seafront and rather shiny lookin', and finally Market Gates, the main place to shop in Yarmouth, which is currently undergoing some rather bus-disrupting building work.

Now, luckily for us we

have a little experience in

reaching a higher altitude in Great Yarmouth. And as you can see, we seem to have a favourite.

Now, merely scaling the carpark would be a pretty lame completion, and to be honest not that fun either. However, remember that building work I mentioned earlier? Well, it produces another level to scale. It's higher than the highest place, making it the new highest place in our place to select a highest place from! Place!

The bit of a roof that's not quite the top of the roof, but not quite the underneath of the roof either is rather springy. It was like walking on a giant sponge. Except the giant sponge was a shopping centre, and the view was nice. Very nice. Oh, and the sponge was covered in air-ducts and exterior light fittings. Perhaps is was more like an unfinished shopping centre extension than a sponge after all. Ah well, maybe one day we'll climb a giant sponge, and then I can write a praxis about that, but until then, shopping centre extension.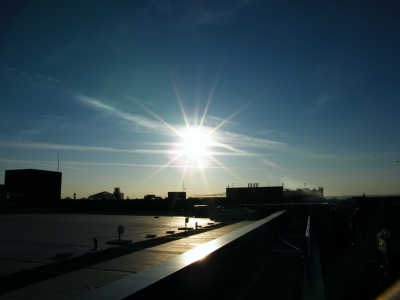 Yes.
It was pretty damn cool, and the fact that a construction worker saw us, spoke to us, but told us so long as his boss didn't catch us we were alright to keep looking around just made it better.
So this is the highest point of Market gates, which is the highest point of the centre of Yarmouth.
See the photos and captions for more.