15 + 42 points
December 30th, 2012 6:00 PM


From slightly cheesy dragon sculpture to lighted USB hub.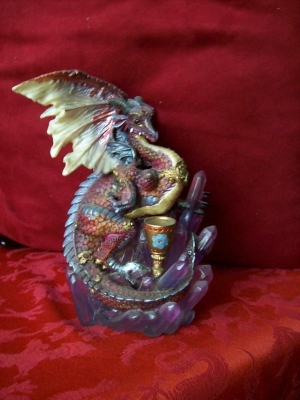 Oh yes, I've jumped off the deep end for this one. I found this charming statue for 4.99$ at the local thrift store years ago, and it has sat on a high shelf ever since. The challenge to turn a decorative object into a functional object seemed like a perfect fit for it.
It may be a bit hard to tell from the photographs, but the base of the sculpture is actually lightly tinted clear resin, which will conduct light is a really awesome manner. So, I thought first about making a nightlight, but decided that that was simply not functional enough.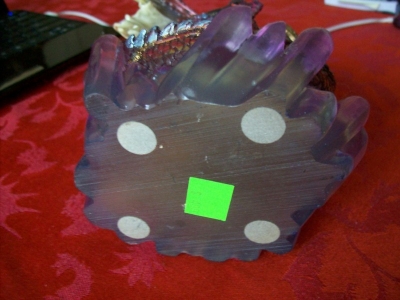 I wanted to make something that I would actually use on a regular basis. I immediately thought about making a USB hub, as most of them are really ugly (or at best, plainly functional) and the decorative ones then to be hugely expensive. I knew I wanted a powered USB hub, so that lights could be hooked off of the same power supply.
I was explaining my plan, in great excitement, when Sir J mentioned that he had a powered USB hub that he was willing to donate to the cause. Suddenly not needing to buy a USB hub for this project was clearly A SIGN that I was headed in the right direction.
I then started thinking about how I was going to connect the dragon statue to the base, where the USB Hub would be. I wanted to be able to undo the connection at need (what if the hub burned out, or a cable came loose?, but still have a solid object to sit on my desk.
I came up with a plan to use two layers of Polymer clay to sandwich the actual hub in, and to join them to the resin base of the statue with three screws. I was worried about cracking the Polymer Clay, as it can be fragile, so I decided to reinforce the holes with little tubes. I'm not sure what they are (some sort of plumbing fitting, I think) but they seemed like they should work.
However, in order to make the polymer base, I would need to tackle a truly horrible task: cleaning off my craft table. My craft table is the only place I'm allowed to work with Polymer, as I need a large(glass) surface and a table ledge to attach the pasta machine (I'll explain later) to. And my craft table is a wretched hive of scum and villainy. Or rather, abandoned projects, craft supplies that did not get put away, and a mountain of mending. This stalled this project out for a few months.
But eventually, as part of a massive reorganization I had a clear craft table. As part of my quest to finish all that tasks I had signed up for in 2012, I decided to actually take the time to finish this project up.
I needed to start by conditioning the polymer clay. I started out kneading the clay by hand, but my hands got more and more tired, I gave up and broke out the pasta machine.
The pasta machine (this one is dedicated to polymer clay) does most of the work of conditioning for you, by squishing the clay into a more malleable form. This made things go much faster.
I took my colors of clay: gray, silver, three shades of purple, two shades of pink, and some black, and started blending and rolling them into little balls of clay.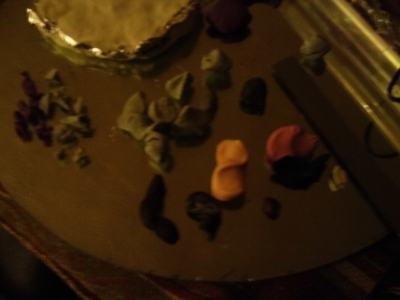 Then I used a razor blade to slice the sides off to make them look more like rocks.
I took tinfoil, and made a sandwich around the USB hub I would be using, and made a base of white polymer clay.
Then, I made a top piece of plain clay. I started taking my little polymer rocks, and placing them around the outside edge.
I finally managed to go all the way around, and placed the dragon on the top.
I needed to add a few more rocks to fill in a few gaps.
Then, I drilled holes in the base for the screws, and made matching holes in the polymer base. I then tried to add the string of USB powered lights. This is where it all went horribly wrong. My original idea of drilling holes in the base didn't seem like it would work, and my construction method had not left me much room. I tried a couple of different things, and finally just shoved them in the bottom. When I tried it, it mostly worked.
Then, I needed to bake the polymer clay. I took out the USB hub, and set it on some cardboard on my baking tray. 20 minutes later, it was done. I let it cool, and then put the USB back in. I then started trying to get the lights and the dragon to fit together. Almost 45 minutes of cursing later, several things became clear. A) the polymer had warped during the baking, and it didn't quite fit anymore, B) the lights were not going to fit, no mater what I tried, and C) the screws were not actually screwing into the base, despite the fact that it had worked perfectly earlier today.
A) I fixed with an x-acto knife, B) I gave up on, and decided just to go with the much more subtle light of the USB indicator light, and C) I decided would be fixed through the use of sticky back velcro.
And finally, after months of planning, and two days of work and lots of cursing, my USB hub was done.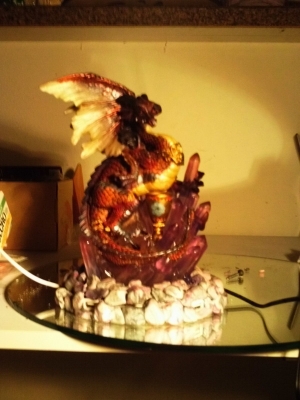 I tried to take a picture of the light, but it is dim enough that the camera registered only black. But it makes a nice nightlight.
9 vote(s)
Terms
(none yet)
3 comment(s)