45 + 210 points
February 16th, 2008 7:20 PM / Location: 38.633428,-90.20098

Ten? Really? Spend a
day
telling jokes and tell at least
ten
?
I've been telling jokes to strangers since I was a child. When I was a young teenager I would go up to strangers and tell them "I'll tell you a joke for a quarter." and there started my career as a street performer. I made a lot of quarters.
When I read this task I thought about how I supposed that not everyone knew ten jokes. Many people can't seem to remember one joke. In my head I started to review the list of jokes I most commonly tell . "What do you call a fish with no eye?... Fsh." "Did you hear about the fire at the circus?... It was intents." The list continues, but as it does so the length of the jokes get longer. I thought about by the end of the day being forced to finally tell my "Johnny Loves Clowns" joke. It takes about a half an hour when told well.
Before my trip to St. Louis started I was packing books to read. I saw the text above. 101 Pickle Jokes by Bob Vlasic. Again, I thought of this task. I wasn't sure how I was going to go about it, but I knew that the book would be the foundation for the task.
Then Miss Mryna Minx declared that we would be attending
City Museum
. I will digress to say that it is amazing. A real gem. I won't go into the details how how this place may seem out of context in a place like St. Louis, but I'll instead advocate that if you are ever anywhere near this place that you should make it a point to go. It's three stories of grown ups and kids playing in on and around some of the most delightful environments. The photos do it no justice. Go. Seriously.
Now with with the pickle joke book in hand we were off for the museum. Let me give you some insight into the book. It's from 1974. It's mostly all horrible. Some of the jokes were only understandable by people who were alive in the time it was written (which neither Myrna nor I were). At the end of this praxis I will list a few of the better (worse?) jokes from the book.
Before we entered the museum Myrna and I ripped the book in half. We decided that we would make it a competition to see who could finish first. It was a challenge to be distracted by the wonderful surroundings and also focus on telling people really really bad pickle jokes and feigning as though we really thought they were funny.
The variety of people who we encountered was indeed quite varied. Kids and grown-ups. Young children and senior citizens. All sorts of economic backgrounds and varied ethnicities. We learned that most everyone will politely laugh at a pickle joke told to them by a stranger.
We encountered two different wedding parties.
Three people told us jokes in return.
One lady even owned the same exact pickle book. This resulted in a dialogue on the cultural relevance of elephant jokes in the seventies and trends in humor throughout time.
We yelled jokes to people from inside of little cages fifty feet up in the air.
We told jokes while crawling on our hands and knees in a cave.
We told them to the staff and to the man playing the pipe organ.
By the end of our tour we finished with 101 Pickle Jokes.
We headed to Ted Drewes for some frozen custard and called it a day.
Now for the humor impaired I suggest reading the following jokes aloud and pretending like you think that they are actually funny. It'll help. I swear. We found ourselves giggling with sincerity by the end of it. (Think Fozzie Bear).
Ok here goes:

How do you say Pickle in French?
Pickle in French.


Should you ever eat a pickle on an empty stomach?
No! You should always use a plate.

What's the phrase most commonly heard at pickle card games?
Dill me in!

What's the difference between a ten cent pickle and a quarter pickle?
Fifteen cents!

Why did the pickle wear red suspenders?
The blue ones broke!

How do you make a pickle sour?
The same way you make a whiskey sour only use a pickle.

Why did the pickle take a ladder to school?
It was going to High School.

IQ test: A pickle worker was five feet tall and wore a size eight shoe. What did he weigh?
Pickles, of course!
How do you make a green pickle?
Cross a blue pickle with yellow one!


What business does a smart pickle go in to?
He opens a dilly-catessen!
Three story pipe organ.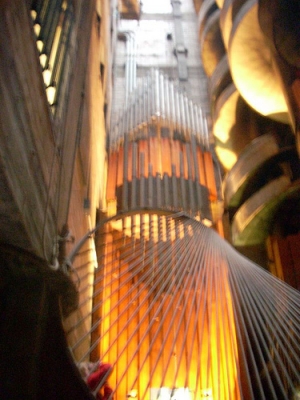 The player was so adepts that he could listen to a pickle joke while he played.
42 vote(s)
Favorite of:
Terms
(none yet)
15 comment(s)