125 + 166 points
November 23rd, 2007 12:12 AM / Location: 37.676617,-122.4577


Cyber Kitty

13OCT07 - Preparations begin. War is not a simple process. Today I solicited support from my fellow citizens of Guam and gathered 12 signatures for my official appointment letter as Warrior of Guam. (The same number as a jury of my peers - a coincidence? I hope so!) Not only did I get Super Girl to sign, but I also garnered the signature of

Ken Stewart

, prominent citizen of Guam!

14OCT07 - It was decided that some physical training was in order so General Kat ordered the troops (all one of them) to participate in a

short run.

General Kat was mildly disappointed in the

performance

of her troops, but was reminded by Super Girl that finishing at all was better than nothing

Two and half hours later, it was time for a well earned breakfast and a planning sesson. At this point it was decided that the invasion would take place in two parts.

16OCT07 - The plane departs for Hawaii.

16OCT07 - Deja Vu. With an extra day at my disposal, I settled down at

headquarters

for some serious strategizing.

19OCT07 - Day one of the invasion begins. In the two part plan, not one, but two islands are invaded. The first:

Ford Island

. This was ridiculously easy as there was only one, count them, one guard at the

entry to the Island

. After evading detection, the Island was mine! Now that the base of operations has been established, the main invasion is due to take place early tomorrow morning...

20OCT07 - Success! Many Prisoners were taken, with signatures and pictures to prove it, as well as a small bit of loot. War is tiring. I shall now retire to my spoils!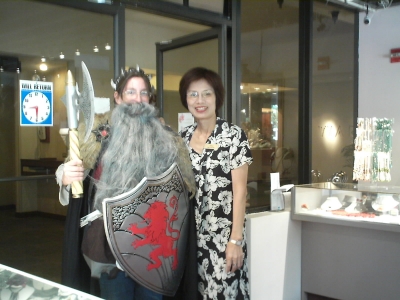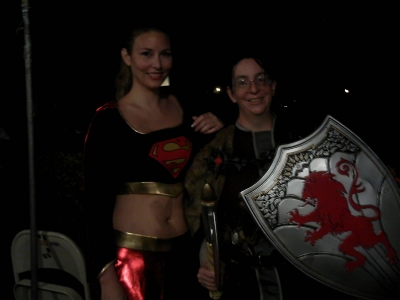 Commander One's Log Book:
06SEPT07: Initial preparations begin. Well, actually, the true instigators of this task began preparations sometime last year... in November (I think). But with one thing or another, people moved, got jobs and got distracted from the need to invade. But I didn't forget. I sent out a call to arms to those still on board and an invitation to the war-cat to join our invading force.
08SEPT07: Notification received that the then Kitty Bear 2222 will be in a position to invade the islands of Hawaii. Impending invasion postponed to facilitate greater epicness.
26SEPT07: Date of invasion set for the weekend of October 19th.
19OCT07: Battle plans are drawn up- the citizens of Colma shall bow down and surrender their lands to the Allied SFØ armies, returning our dead prisoners of war, providing future generations of San Franciscans the todenraum we shall require. A formal Instrument of Surrender is drawn up, replicating the requirements made by the Allied forces to the German command at the end of WWII. Maps of the area are gathered, providing attack and escape routes to and from the graves of strategic persons entombed in Colma's vast prisoner-of-war-graveyards. Particular attention is given to the location of Emperor Norton I, Emperor of these United States and protector of Mexico, who's resting place is surrounded by similarly important military figures of the Colma Command. Battle flags are prepared. After much celebrating, Commander One and General Lowteck decide that the late hour forces a postponement of the invasion.
27OCT07: While called to duty in Richmond, battling the locals with movie cameras and c-stands, Commander One enlists two pilots known only by their call signs, "Itchy" and "Spits" to the invading force.
31OCT07: Russian forces drag Commander One to graveyards far from home, but she returns victorious and full of secret knowledge of the dead's habits and battle strategies. This knowledge will serve the SFØ forces well in the impending invasion.
10NOV07: Spits prepares new tools for gaining the hearts and minds of the dead, while Itchy busts out uniforms for our intrepid foursome.
11NOV07: Itchy, Spits, Gen. Lowteck and Com. One move out to Colma! Our first target: the Woodlawn encampment. First to surrender to the Liberators is Emperor Norton I, as well as his trusty Owl friend. Near at hand, the Emperor of Colma (Stanley W. Boyd) sees Norton's fall, and capitulates as well. Baron Eichner, Empress Bella II, Empress Marlena XXV, and Absolute Empress Maxine VIII give up their ghosts as well. True to her husband, Empress Norton follows suit. The chilly air gives our Liberating army pause, but we push on to greater heights- flying the SFØ flag high atop the collonade of Henry Miller!
Our forces crossed the great El Camino Real to infiltrate the Hills of Eternity, where we were received by Levi Strauss, who led us to celebrations at the crypt of Funkenstein. Our brief respite gave us the rum-brave heartiness to tackle the infamous Wyatt Earp, who was held at gunpoint by the fearless Spits until he was willing to accept our command.
Now, over the breach into the vast alleys of the Holy Cross, where we were welcomed by William Randolph Hearst, and surprised by Lacoste who offered up an endorsement contract to Itchy, who's alligator impression struck him as a vast improvement on his ubiquitous logo. Our forces searched in vain for a long lost ally to the SFØ forces, one Charles August Fey, the inventor of the slot machine. In our search we were aided by the original Pinkerton, but alas, Fey was lost to the masses sadly overflowing those grassy fields.
As we sallied forth to confront the living, we were again surprised by the cartoony visage of local legend Steve Silver, creator of Beach Blanket Babylon, who welcomed our invading party with much joviality.
Onward our soldiers marched, straight up the steps of the Colma Command's highest military power- the Colma Police! General Lowteck demanded to speak to their leader, Spits proudly flew our banner high and forthwith we were elated to receive an official, signed and stamped surrender from Colma's last standing military force. Much celebrating followed.
Tired from our battle, we stealthily entered the fortress of the keepers-of-caffeine and upon discovering our presence the Commander of Starbucks accepted our terms and capitulated agreeably, providing us with sweet, sweet coffee as a peace offering. We were nearly satisfied with our conquering, but a few remaining items of business needed to be dealt with. Firstly, no battle would be complete without some token looting of our new territory- indeed, General Lowteck must be satisfied by a new addition to his vast street-sign collection. Sign acquired, we galavanted through to Colma's tallest buildings to raise our Liberator's flag high about the town, assuring that the population would know that we are now firmly in command. Flags dispensed, we retired back to HQ to toast our resounding success... late... late into the night.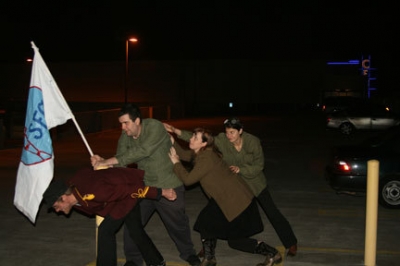 shenanigoat says:
we formed a raiding party and invaded Colma!!!!!!! anna one made awesome flags!!!!!!!!! we danced on funkenstein's grave!!!!!!! agent Itchy and agent Spits brought back the souls of the dead and we raised an undead army!!!!! we marched into the colma PD and i demanded to speak to their leader!!! they surrendered!!!!!! starbucks also surrendered!!!!! also, zip ties can solve most of life's problems!!!!!!!!