15 + 44 points
January 24th, 2012 8:56 AM


It's been about a month since I completed the gift giving part of this task, and I can now look back from the future and say how doing this task has changed my life. Practically speaking, my feet are a lot warmer at night. I can really get behind Dumbledore's desire for a good pair of socks. Psychologically speaking, I have a slightly better attitude towards doing things "for my own good," like exercising, because of reframing these actions as "gifts to my future self."

It was fun thinking of self-gifts each day, but it was also hard to keep doing it regularly. Looking back over a day and identifying which things were gifts and listing some things that I appreciated was also fun, but hard to keep up. I haven't been able to make this a permanent daily habit, but it has become something to think about now and then. So here's the detailed list of what I did; mostly text.

---

This week, I am giving myself the gift of time. Instead of hoping that someone will read my mind and do sweet, considerate things for me, I am going to do them for myself as a gift. Also, I will encourage my present self to give presents to my future self. At the same time, as a gracious receiver, I will be thankful and appreciative.

Monday, Nov 21
Today I gave myself two hours off work. One hour I spent having lunch with an old friend I haven't seen as much recently. We caught up a bit, and also agreed it was important to make the effort to stay in touch. My second hour I spent digging up the digital photos from my last vacation, so that I can pick some out and make a scrapbook.

I am grateful that I have old friends, and that I've been able to go on exciting vacations.

Tuesday, Nov 22
Today I gave myself six hours off work. One hour I spent thinking about how to organize a vacation scrapbook, and doing a partial pass through the photo to identify some good ones. At the end, I pretty much decided that my original topical organization scheme might not be the best, and that picking out chronological key events might work better. The other five hours I spent at the doctor's office getting various uncomfortable tests to rule out some dire but unlikely possibilities. This one is a gift to my future self, because it's sure not very fun for my present self.

I'm glad that I have a fun job with enough flexibility that I can go to medical appointments. This one was supposed to be 2 hours rather than 5, so I had to call and get coworkers to cover some of my obligations. I'm grateful that I have reliable, helpful, and intelligent coworkers. And medical insurance. And, so far as I know, no serious health problems.

Wednesday, Nov 23
Today I gave myself three hours off work. One hour I spent getting together with a former coworker whom I haven't seen much since she left the company a couple years ago. I always get anxious before get-togethers or even phone calls with people who aren't super close friends, even when it's with someone I know I like. But this was a pleasant time, and now I'm wondering if maybe we could become friends. The other two hours I spent laying out a semi-chronological organization for the scrapbook, and doing some more photo sorting.

I'm grateful that I live in a place where it's not hard to find interesting, kind, intelligent people who could become friends. I'm glad that my company didn't lay me off, despite quite a few years of struggling to bring in more work.

Thursday, Nov 24
A holiday for us, so I didn't need to take vacation time. I spent some time making two cards and writing short letters, one to my cousin and one to a woman I don't know. (There is a website, anysoldier.com, that helps link people up with folks in the military who hand out letters and care packages to soldiers who could do with a bit more mail. You can specify female or leave the recipient gender unspecified. This makes sense when you consider that personal hygiene items are popular to include in packages.) It was relaxing to draw the cards. It's a little tough to write to a stranger (since I never know if I'll just bore them) but nice to think that perhaps I could brighten someone's day. Certainly when I've gotten actual mail from strangers, it's made me happy.

I'm grateful that my job doesn't involve risking physical injury in the course of daily work. I'm glad that sometimes people I don't know, or don't know well, have mailed me cool letters or objects. The world could totally use more of those sorts of random connections. I am also grateful for friends and family who create delicious dinners, pleasant company, and interesting activities, and invite me to participate.

Friday, Nov 25
Another holiday. Today I gave my self a material gift (a pair of colorful fleece socks). Also, a meta-gift (by giving myself the pleasure of putting together a little care package to mail with the soldier letter). And, a mental gift, by deliberate avoiding berating myself for a dumb mistake early in the day. I'm the sort of person that can get so distracted thinking "Why did I do that? I should have done this other thing instead" that I then immediately make some other mistake. Usually, it's pretty pointless to even obsess over, since there's not much chance of undoing the error, or even avoiding future similar errors. But today, each time I started looping back into that train of thought, I just gave myself permission to stop thinking about it. Also, I took the time to try two new recipes (one for Greek lemon egg chicken soup, one for a light version of pie-less pumpkin custard) and they were both tasty and pretty easy.

I glad someone invented polar fleece. It's become one of my favorite materials. And I'm grateful that I have the kind of environment where making mistakes is okay a lot of the time, and that often I'm the only one who gets on my case about errors. Today I am also grateful for the way that you can find instructions for just about anything on the Internet.

Saturday, Nov 26
The weekend, so no regularly scheduled work today. This is another meta-gift, perhaps even meta-meta-gifting.

Backstory: A friend of mine has occasionally sent "Advent calendar" gifts. That is, a box with a small wrapped gift for every day of the month. Things ranging from a mini-candy bar to bottle of lotion or a pack of notecards. There have been some years when getting through each day took so much effort that a little gift, from a beloved friend, really made a difference. Anyhow, I've decided that this year, I'll make her a belated Advent calendar for January. But, because at this point in our lives, we might not get a much joy out of stocking stuffers as we used to, each day will feature a picture of a physical item plus a note with an interesting prompt for writing. The writing prompt will be something that my friend can use (or not) for her blog. And the actual physical item will be part of a Christmas package that was donated in her honor to a local school for girls who need intensive mental health treatment. Since a number of the kids aren't from happy families, part of what the school does is put together gifts for each girl, so no one gets left out.

Thus, today my gift is to go shopping for all the stocking stuffer items. Today I also received a gift from my past self---resharpened kitchen knives, which had been dropped off at the service center a few weeks ago. Sharp knives are so much better than dull knives.

I'm grateful that for the most part, I have enough money that I can pay for the fun ideas I come up with. I'm also grateful that I have enough uncommitted time that I can do things just for fun. I'm also grateful that I'm not dealing with any serious mental health issues.

Sunday, Nov 27
I photographed the individual items (everything from nail polish to gloves to craft kits) and made up writing prompts to go with each one. I plan to fold each one into a paper flower to go onto one big card. I spent most of the day doing digital scrapbooking, working through several days of vacation photos so far (drafted pages covering the tour group, Versailles, Chartres, the Eiffel Tower, and Arc de Triumph...next up is Notre Dame and Sainte Chapelle).

I'm grateful for all my friends, and especially to the Advent calendar friend, who has been a beloved part of my life since middle school. In addition to being a great friend herself, she's helped me figure out how to be a better friend myself, although I'm still sometime in awe of her talents in this area.

Monday, Nov 28
Took an hour off today to go to an interactive fiction lecture. Even though I don't play text adventure games, it was fun to hear about what it was like to create these games back in the day.

I'm grateful to be living in a place where there's almost always some stimulating and affordable lecture, concert, or workshop going on.

Tuesday, Nov 29
Took an hour off to work on my meta-meta-gift. I printed square photos of the items, and am enclosing them in origami tulips.

I'm glad that I work in a place that doesn't mind if we occasionally print out a non-work related file. Going to Staples every time I wanted to print out personal materials, like directions or these quick arts & crafts projects, would be a hassle. It's also very cool that I can just take a vacation hour on a random day, and don't need to clear it with anyone ahead of time.

Wed, Nov 30
Took an hour off to work on a different gift project. A friend of mine has been down lately, so I am inviting our mutual friends to get together for a few activities that he will enjoy. The current plan is a matinee movie showing on Sunday, followed by board games, and going out to a nice restaurant. Then I accidentally stayed late and worked an extra hour, canceling out the taking time off part.

Today I'm grateful for thoughtful people who have brought me unexpected gifts this year (pomegranates, glittery pens, books).

Thur, Dec 1
Today I am taking off two hours so I can go for a short walk and go to dinner. I also made plans to take a friend out for afternoon tea later this month, which is kind of a gift to my future self, because making plans ahead of time takes effort, even when it's to do something that I will definitely enjoy.

I also bought myself a frilly skirt that was on sale. Last time I went by this store, I saw a frilly skirt on sale that looked fun, but this friend who was with me said it looked too juvenile. Even though I don't actually care about looking childish, for some reason I was discouraged from buying it. But I've been thinking about it ever since, and so finally bought one. (Not the same item, of course...it's almost impossible to ever buy some exact thing from a store a couple months later.)

I have been wearing the fleece socks every evening since I bought them. They are super colorful and fun, and are definitely improving my life.

I'm grateful that the weather is pleasant and that I live and work in neighborhoods that feel safe for walking around, even at night.

Fri, Dec 2
Today I took 2 hours off to help a non-profit dedicated to raising awareness and then eliminating institutional policies and cultural habits that reinforce economic disparities (such as the practice of "legacy" college admissions, where some school set aside a significant number of seats in the freshmen class for the children of alumni/ae). We were preparing a large mailing, and it was fun sitting around a table with other concerned people, chatting and folding letters.

I'm grateful to have benefited from familial/cultural expectations around education and achievement, and to have gotten significant financial support from scholarships and loans when I needed it.

Sat, Dec 3
I went to an open house for an artisan's cooperative. It's an interesting idea, and definitely makes sense for people who work on large project that require specialized and expensive tools. Not sure if it would be useful for any of the small scale things I ever work on, but maybe taking one of their classes would be inspirational for working in the large. I've never been able to make big or sturdy items, and it would be cool to have that trick up my sleeve. Then, I went with a friend to a Peruvian rotisserie chicken restaurant that I'd been curious about for years, but is located in an area of town I rarely visit. Very tasty.

I'm glad that there are artists and artisans in the world, and that I sometimes get to be one for a while.

Sun, Dec 4
I went to see the Muppet movie. Usually, I see about 1 movie per year (and it's usually a Harry Potter movie), so this was a novelty. It was fun, and unexpectedly poignant. I also brought gingerbread cake, Jazz apples, and mandarin oranges to a board game party, which I had organized for a friend. A delightful long afternoon spent playing games with friends and eating snack foods was a gift for them, but also me. Finally, I went with Bunny Dragon and some other friends to a "chef's whim" special meal at a fancy restaurant, for an evening of culinary pampering. I wore the frilly skirt that I bought earlier this week.

I'm grateful that I have an extended circle of old friends nearby, some subset of whom is almost always up for a social plan, whether the plan is board games, exercising, or dinner out.

Mon, Dec 5
I didn't manage to take time off, but I did give myself the gift of renewed motivation for healthy habits by going to a Weight Watcher's meeting. Had time to make mashed turnips and roast pumpkin, as a gift to my near future self (because by the time I got home, I was hungry and had to have a quick sandwich while cooking, rather than wait to eat the cooking results).

I'm glad I can afford the time and money to devote to healthy eating.

Tue, Dec 6
Gift partly to future self. I have been going to these 7am exercise classes twice a week, starting a few weeks ago. They are a bit fun, but also a bit punishing. Between the getting up early part and the doing difficult physical moves to the point of muscle exhaustion, it doesn't always feel pleasurable. But getting a bit of early morning movement to classic rock music in is nice.

I'm grateful that my company has an on-site free gym and good exercise classes, and that I'm in good enough health to participate.

Wed, Dec 7
Ate some of the mashed squash. Sat down with a colleague for a long chat and some cheesecake, despite having work to get done. I find that when I hang out with my coworkers socially, I like them more, and that makes it easier to work with them while ignoring any potentially annoying quirks. So really, this is probably a gift to my current self and future self.

Thur, Dec 8
Dinner at Arby's. Since there are no Arby's within an hour of where I live, I like to take advantage of traveling to more fast-food-enabled locations. The BWI airport has an Arby's, but usually I can't go there because it is behind the security on a terminal that I don't fly through. But this time, I was at the airport early, and could take the time to go through the extra security line and experience "oven-roasted happiness" as they call it.

Always grateful to travel without any kind of drama, delays, or unpleasant surprises.

Fri, Dec 9
Ate more mashed squash. Also had mini-cupcakes and a bit of regular cake at lunch. I definitely notice that being able to take off less time this week, more of my gifts involve food. Worked on a beaded necklace for myself, with hand-tied knots between irregular polished pieces of garnet.

Sat, Dec 10
Went to an art exhibit of moving light sculptures, by myself.

I really like how there are cool free museums around here. I'm grateful for spaces to sit and be still and watch interesting shapes and lights.

Sun, Dec 11
Finished making myself a garnet necklace. It's a simple bead string with hand knots between each bead. I really like the way that this kind of necklace drapes. A while back, I took a bead necklace knotting class with the friend that I'm going to have tea this weekend with, and since then I've made several necklaces for myself. I'm not super good at it, so I haven't thought the results were good enough to make gifts for other people...but maybe that's an incorrect way of thinking of things. Maybe other people would also appreciate the imperfections as part of the look. Hmmm, maybe I should consider this as a gifts for others idea too.

Mon, Dec 12
Wearing the new necklace, and traveling again. I was on the subway in another city, thinking that I was getting hungry, when I realized that I could get off the train at Chinatown and get food. Walked around until I saw a window where two people were hand-rolling dough and making homemade dumplings. Sat by myself enjoying several cups of tea and some tasty dumplings. It felt very genuinely Chinese...the waitresses spoke to me in Chinese, and one of them actually stopped by as I was eating the first dumpling, and reached over to spoon some scallion-ginger sauce onto it. I think of this sort of handling stuff on your plate as a cultural difference --- it seems pretty normal in a Chinese context but I think it would be jarring in an American restaurant. Both the food and the feeling of being somewhere else made me smile all the way back to the subway and along the way to my hotel. On the street, I passed by a group of male teenager, talking to each other loudly in that profanity laden bravado way that male teenager do. I was surprised when one of them nodded and said "Hello, ma'am". That also made me feel like I was in some other place, as that is not typical behavior for teenagers where I live.

I'm grateful that I grew up and live in the US, but that my family's background makes me a little bit transcultural.

Sun, Dec 18.
Went to afternoon tea with my friend, as arranged previously. We used to hang out a lot at the gym, but lately my exercise schedule has changed around, so we don't see each other as often. One of the awesome things about this friend is that she is always so interested in hearing about whatever I've been doing or thinking, and remembers previous topics and follows up. It's a treat to be the recipient of this level of attention and interest. I always enjoy afternoon tea because it features many different cute foods, plus a leisurely amount of time for tea drinking.

Wed, Dec 21
My compost bins have been a little sad lately, because after 10 years, I ran out of the extra fasteners that they came with. (Being plastic and outdoors, the fasteners eventually wear out, and then the bin sags.) But today, I Internet stalked these fasteners, and found out exactly what brand and item number they are, and ordered more! So a gift to future me.

I also went to the library. Checking out books is a great gifts, and the best part is that when I'm done reading them, I can take them back. It's like having a gigantic supplemental bookshelf where someone else keeps the books nice and orderly.

I'm grateful that information is so much easier to find these days, and that you can buy very odd specific thingies without leaving the house.

Thur, Dec 22
Took advantage of being on vacation to spend all day at the local fine arts museum, where I saw a lot of objects that made me say "Wow!" and a few that made me say "huh". Particularly outstanding was the ice floe audio sculpture that made ice shifting noises if you sat or lay down on it, and a basket made entirely of glass squiggles joined together. They were also playing "The Clock" which is a very odd 24-hour movie, made up of short pieces of other movies where a clock or watch is featured. The movie is synchronized with real time, so that as you watch it, you see the time on all the on-screen timepieces advancing. I only watched a bit more than 2 hours of it, because there were a lot of other things to see, but I might go back again to see more.

I'm grateful for cool programs like the public library museum pass program, and corporate sponsorships and memberships, that reduce the price of museum admissions and make it more enticing to go out to museums. I'm also grateful that artists are creating cool things and that other people are buying them and putting them on display. Of course there are a ton of cool things being created and displayed outside of the museum establishment, but I'm glad there are museums.

Also, the fasteners that I bought online yesterday arrived today. How is that even possible?

Fri, Dec 23
I am making Christmas dinner for 8, and one of the things I will cook is roast duck. The little gift to myself is getting to eat all the giblets, hearts, livers, and necks ahead of time. This time, I cooked them up with barley. Delicious!

I'm glad that I don't have food allergies and that I enjoy a lot of different foods. And I'm grateful to have friends nearby, to celebrate holidays and special occasions, as well as friends far away, some of whom I may have never met in person. Thanks for reading and thanks for playing!
Meta meta gift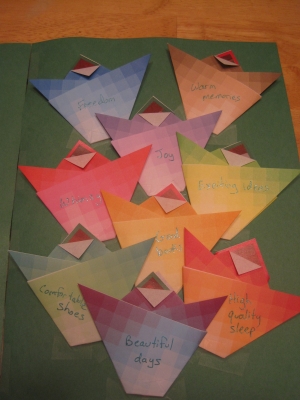 Giving myself the gift of making someone else a gift, which involved donating gifts in her honor.
9 vote(s)
Terms
(none yet)
2 comment(s)