15 + 82 points
September 26th, 2011 10:31 PM


I recently moved to

a far distant land,

and I've been having trouble. For one, I've been having trouble making friends and I've been pretty lonely. Now, it might be reasonable to suppose that a person under these circumstances might call a friend, or go out and meet people, but I am kind of a weenie and so I didn't do that much. That's been detrimental to my quality of life. So, this week, that changes.

The Present Prerequisites (or Donation Devoirs, for the polyglottal)

--> Every day, I must have an interaction with someone I like.

--> This must be a person I consider a friend, not just a pleasant passer-by.

--> An interaction must be conscious and reciprocal. Writing or receiving letters doesn't count.

--> Every day, I must use a different method of interaction. This will widen my understanding of the options, and make me better at friendship!

Day 1

Method: Accidental

Ran into my partner's sister's girlfriend at a coffee shop. Sat and talked for a while. Learned about the history of the coffee shop, and heard some news about my partner's sister, who is also a friend, and who has also relocated to parts removed. P'sS'sG talked about how nice it is that P'sS can be clear about her wants, and not take criticism of her behavior as criticism of herself. I started thinking about that. If you are feeling ok about yourself, you can accept criticisms of things you do, and change yourself for the better.

Day 2

Method: Telephone

Called around until someone picked up. The one in question was a friend from highschool, one of my oldest and most trusted. Caught up on his life, and got some good advice ("just go out there and be your awesome self"); also some bad advice ("if you're trapped in a mirror maze, have a child along, so if you're trapped for a while you can eat the child."). Feeling full of warmth and hope for the future.

Day 3

Method: Philanthropic

Picked up a friend from the GLBT library I volunteer at, and we set up a table at the local University's Community Involvement Fair, letting the students know the library 1. exists and 2. needs volunteers, in return for class credit. The fair was cool. Lots of people doing good things for the world, either through environmental issues, social justice, arts, education, or whathaveyou. We were the only GLBT group, in the "Women, Gender and Sexuality" section of the faire. The other two tables in that section were both about birth control. Anyway only about 25 people stopped at our table the whole 4 hours we were there, so mostly we made things up and laughed. There was a lot of laughing. I liked it! It helped me to feel positive and capable and made talking to other people easier. When I'm happy, everyone is a friend. Unless they are a dick. When I'm sad, everyone is a stranger, and they all turn their faces away. When I'm happy birds sing and everything is a musical number.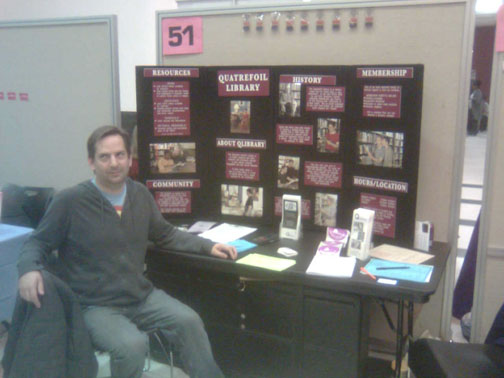 Day 4
Method: Schmoozy
The local opera company has a deal with equally local bloggers and webcomickers where they feed us fancy dinner and let us see the dress rehearsal, and in exchange we draw goofy pictures (or write blog posts) about the opera. This creates buzz among the young, hip readers of blogs and webcomics, and instills in them a desire to attend the opera. I go with a bunch of comics friends, and I was expecting to have a night of talky-talky-laugh-laugh with them. Indeed, a few of us walked to the restaurant together and we saw The Cutest Dog- it was a 10 week old Pomeranian puppy, sort of like a baked potato made of angora rabbit fur with hummingbird speed that LOVES YOU. But when we got to the restaurant, I inadvertently sat at the opposite end of the table from anyone I knew, so i ended up talking to a bunch of bloggers and Opera officials. Everyone was nice and witty, and I made a bunch of jokes, and everyone who could hear me laughed and we all had a fancy time. Bang, conversation! I am the mayor of you! Everyone thinks I'm good; I made them think that with my mouth and my brain. The male attendees had gin and tonics with lime and the female attendees had names like Tatiana. Faaaaaancy fancy fancy. It was a sushi restaurant, and the California roll was made with real crab meat instead of imitation, which is sort of like a gold-plated toothpick. Fancy.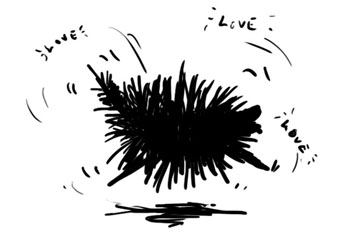 Day 5
Method: Assertive
Today I my pleasure in the company of others was not unalloyed.
It was Someone's birthday today, and I wanted to visit with them and give them birthday love. However, I heard about the day on Facebook and they did not mention any socialization to me, so I thought maybe they wanted to spend their birthday with close friends and family and it would be awkward if I invited myself. Also I'm not sure our relationship includes love. But too bad for them! So I called, and they said there would be games and I could come if I wanted. I felt nervous about being unwelcome, but I went and it was fine and we are friends. There were three people there, all of whom I hold in high esteem, and all of whom are very close friends with eachother. It made me miss my own close friends, and it made me a little sad that I haven't become closer with the three I saw tonight, but it made me happy to see how they loved and took care of eachother, and it made me happy to be around three wonderful people. I'm just glad they're in the world, and glad I know them. I will try to be more assertive about hanging out. If the victims of my hang-out spree don't like it, they can lump it.
Day 6
Method: Cultural
People in this state love to drink alcohol. In my previous home, people drank alcohol a lot, but I was part of a cadre of friends who didn't. This was not because we were prohibitionist, but because alcohol was never important to our enjoyment of eachother or the world. Here, people
love
to drink alcohol. At least the people I've met. So today I accepted a friend's invitation to Oktoberfest. That is how much they love beer here; Oktoberfest started in August. I had never been to Oktoberfest before, and it was neat! It's impossible not to be happy with polka. There were people dressed in ornate masks and silly hats and lederhosen, and everyone yelled "Hoy! Hoy! Hoy!" Sometimes I have trouble with crowds, but everyone here seemed to be cheerful and friendly and it was ok. Then they brought us giant plates of meat in weird shapes with gravy and fried eggs top. There was a lady who went around with a very small catapult, and people would give her money to launch things up their noses. It was
everyone's
birthday, and everyone sang. Some people drank out of glass boots. Everything was made of wood. I was very tired from hawking my wares at a bazaar all afternoon, and it was way too loud to hear anyone talk, but I was glad to see this cultural artifact. I felt at ease in the presence of my friend who invited me, and I liked her friend whose birthday it was.
Day 7
Today was kind of a fail, and kind of a crazy success. I had three encounters with humans, once by Method 1 over breakfast, once by Method 6 over role-playing games, and once via Method 2. But it would be cheating (cheating!) to use the same method twice, and what I really wanted to do today, I ended up just organizing for tomorrow (via Method 2.)
Today I feel like a hero, even though all i did was chat with friendquaintances over breakfast and play Gamma World.
Day 7: Day 2
Method: Clandestine
So at the recent St. Paul Journey,
Figment Lattery
and I both ran checkpoints. Afterward, one of the runners told how he saw a drug drop-off, and I posited that it was not drugs, but cookies. Figment got excited about that idea, so on Day 7 I set up a blind drop with her. By this time, of course, she had forgotten the conversation.
Essentially we said this:
Saturday: I found a supplier for that stuff you were interested in. They can drop it in Mears Park by the bandstand tomorrow at midnight.
Figment: ...You're being kind of quiet.
Saturday: I'm trying not to blow my cover!
Figment: Oh, is this a caper we talked about that I've forgotten?
Saturday: Yes! Just pick up the package tomorrow night, you'll know what to do with it.
So I made a batch of Fantastic Ginger Cookies (pineapple variant) and wrapped them in unassuming brown paper. I took them to a park by Figment's house and left them in an inconspicuous location. Then I hid and waited, and before too long Figment arrived with her backup and acquired the bag. They're such nice kids. Go Figment.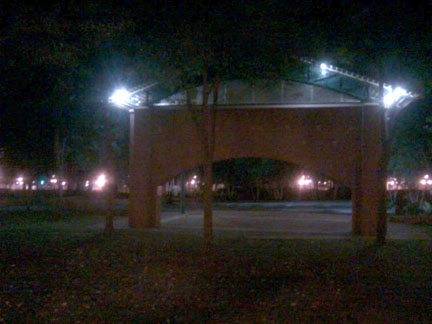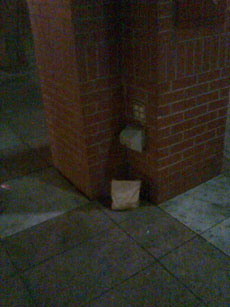 Today I felt sad, which is maybe an indication of how quickly human contact wears off and maybe an indication that i have more needs than just human contact. But now, at home after the drop, i feel happy to be living in the same place as these people. I still miss my people in the west, Rubin and Beetle Bomb and Spidere and Artmouse and July 4th and Major Flower and Kitsune and White Buffalo and Sir Queen and everyone, but I'm glad to be around people here.